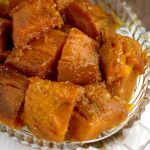 Print
Candied Sweet Potatoes
Classic Candied Sweet Potatoes baked in butter and sweet brown sugar are a sweet and delightful addition to your Thanksgiving table. Plus they're super simple to make.
Total Time
1
hour
5
minutes
4

large sweet potatoes

1

cup

brown sugar

divided

4

tablespoons

butter
Bake potatoes in a 375° oven until tender, about 45 minutes. I just stick them in the oven right on the wire rack, and I check them periodically because you don't want them to burn or turn to mush. Just soft enough to easily pierce with a fork.

When potatoes are tender, remove from oven and allow to cool for 10-20 minutes.

Take skins off potatoes (They should peel right off. I don't even need to use a peeler), and cut into quarters. (Cut in half length-wise, and then cut each half in half width-wise)

Sprinkle half of your brown sugar into a 9"x13" baking dish. Lay potatoes on sugar.

Cut your butter in 16 very thin pats and place one pat on each potato. Sprinkle the remaining brown sugar on top.

Return potatoes to you 375° oven and allow to cook for 10-20 minutes. Every 5-7 minutes take your potatoes out and spoon some of the sugary liquid over them. You'll be able to tell they're done when they turn a very rich orange-ish brown. Your sugar mixture will stay runny on the bottom.