How to handle life while parenting and raising Irish Twins, 2 children under 1. Tips for parenting 2 young children.  Advice is also great for 2 under 2!

2 Babies under 1
Irish Twins. When two children are born in succession within one year.  Having 2 children close together can be both a difficult and beautiful thing.   If you're pregnant, you're probably worried about how it all will work, and if you're a veteran mom of Irish Twins you probably have your own list of struggles and questions.  Raising Irish Twins can be hard, and here I'll tell you exactly what it's like to have 2 babies 1 and under and give some advice along the way.
But first I'll share a little of my story.  My first two are almost Irish Twins.  They didn't quite make the cut-off (missed it by 16 days, to be exact), mostly because my second son did not want to come out! My oldest two are 12 months and 16 days apart.  So...
How Do You Handle Life while raising Irish Twins?
You just do.  There's a learning curve for everything, and raising Irish Twins is no different.  Every experience is a little different, and you'll be surprised to find out just what you're capable of.  But to help with your worries, here's some common concerns about raising Irish Twins.
Leaving Your Baby for Delivery
This was one of the things that I was most concerned about before I had my second.  My first Irish Twin was also my first baby, and as such I was super over-protective.  He stayed with me, always.  And if there was a rare occasion where Mr. Gracious and I had a date night, we would still pick him up from the grandparents' before we went home for the night.  Having never left him over night, I was naturally scared of doing so.  He's never slept anywhere but home, and now I have to leave him for TWO nights while I'm at the hospital?! No good.
My advice if you're a protective Mama Bear, like myself, is to give it a trial run.  I know, I know.  You don't want to.  But a trial run will give both of you the opportunity to prepare for the birth.  You'll see that your baby will be just fine spending a night away from you, and he'll have some fun with the trusted sitter of your choice and adjust to the surroundings.  The last thing you need to be worrying about when you're trying to deliver a baby is if your first baby is okay.  You will probably worry anyway (because that's just what moms do!), but this will help.  Really.
Handling 2 (or more!) Things at Once
Being a woman and a mom, you're likely already an expert multi-tasker, but you also know how demanding a little baby can be (because you still have one!).  Babies are needy and clingy, and your brain is probably about to explode trying to imagine juggling two needy little babies at once.
My solution to this was (and still is, now that we have three small children) simple.  Triage.  Who has the greatest need right now, right at this moment in time?  Take care of that first, then move on to the next problem.  That's how First Responders take care of emergency disaster situations, and frankly, you may often feel like you're in the midst of an emergency disaster situation.  So, triage. Prioritize.  What need can wait and what need cannot?
The other issue I found myself running into was that while I was nursing or rocking my colicky second son, my first son would use that opportunity to try to get into as much trouble as he possibly could, knowing that I could really only snap my fingers and give him my "mommy-means-business" stern look.  My mother had a wonderful idea to make special baskets, used only for nursing time.  These baskets were filled with special new toys or DVDs, and my oldest also had a special "nursing chair" (a fun Elmo one
) that was right next to our rocker that he could only use while I was nursing or rocking the baby.  These "nursing baskets," as I like to call them provided a distraction for my oldest while I was dealing with my youngest. This helps your oldest to stay occupied (Hey! Fun, new things!), and it can help him feel like he's special too.  Sure, my little brother is having special time with Mommy, but I get to play with these special toys Mommy gave me!
Guilt
This aspect of having two children very close together was particularly difficult for me to deal with, especially before my second was born.  I felt guilty that I was "taking away" my oldest son's baby-hood, and I felt guilty that I wouldn't be able to focus as much attention on my second son as I did my first.  These are common feelings no matter how far apart your kids are spaced.  Don't worry, you're normal.  I don't really have a solution for this one other than to reassure you that those feelings die away with time.  You will adjust,  both children will adjust, and you'll fall into a schedule and a system that works well for everyone. Eventually, you won't even be able to imagine life without either one of your little blessings.
I did find ways to have one-on-one time with each of my children.  We started sending our oldest to preschool for one morning every week, and those few hours became my special time with our youngest.  Since my youngest was still taking two naps, while my oldest was already down to one, I'd hang out with my oldest son during morning nap time.
Exhaustion
I'm just going to be blatantly honest with you here.  You will be tired.  You will be so tired that you will only barely be able to function.  My first child totally spoiled us.  He was a phenomenal sleeper.  Mr. Gracious and I thought we were expert sleep trainers.  And then our second came.  He did not sleep.  Ever.  He still doesn't sleep all the way through the night without waking up for some silly reason or another, and he's three.  I was so tired for the first six months of his life, that I literally do not remember it.  I can remember that it happened, but can't recall very many specific events (you know, because sleep helps you to properly implant memories, and I was getting none).
But, even if you do happen to luck out with two amazing sleepers, you'll still be super tired.  All of that multi-tasking, constant diaper changing, feeding, taking complete care of TWO small, totally helpless children... It's really exhausting, even when you are getting good rest.
My advice? If someone offers to watch the kids for an hour or two, take them up on that offer.  Then sleep.  Seriously.  The housework will wait until you don't feel like you're dying from exhaustion.  I can also reassure you that the first 6 months is the worst.  If you can make it through just those first 6 months, you're golden.  It takes time for your body to adjust to the new work load, and by 6 months your youngest will (hopefully) be letting you get more sleep at night as well.
If you don't live near family or you just can't get a sitter for the moment, put the babies in the car and take a little drive.  The babies will likely fall asleep and you can have a moment of peace and quiet to let your mind wander and collect yourself before trying to take on the rest of the day.  I did this weekly, if not more, and I really think it saved my sanity.
Leaving the House
Leaving the house with two small children can get a bit tricky.  There are some things you can do to make it easier (because eventually you will need to run out and buy groceries, at least!)
Let's talk about shopping carts first.  These pose a problem because your oldest really still needs to sit in the cart (Even if he is walking, it's likely still slow toddling with lots of falling), and your youngest may not even be able to sit up yet.  I'm not sure if this is true of all Wal-Marts, but at the ones near me they have a double shopping cart with a place for a baby or toddler to sit and an infant carrier (it looks kind of like a bouncer and has straps like a car seat. See the picture below!).  Because of this, Wal-Mart became my favorite go-to grocery store when the kids were super little.  When they got bigger, I started shopping at Aldi again because they have double sitting carts, which is awesome.  My advice is to locate a store with one of these nifty double cart innovations and go there!
What if I can't find a store like that near me? I'm glad you asked.  We live in a small town about 45 minutes away from the nearest civilization (and Wal-Mart).  If I wanted to just run to a local store and not spend an extra hour and a half driving, I would bring my baby carrier (I had a Moby Wrap and highly recommend it.)  Your older baby can sit in the cart and you can carry your younger baby with your hand still free! Perfect set-up!
Another leaving-the-house-trick I picked up was to not carry a diaper bag.  I already had to carry 2 kids, and less is more here, so I started packing my car instead of a bag.  I have 2 bins in my car (yes, I still do this even though my oldest two are now 3 and 4).  One is for "necessities," and one is for "fun."  My necessities bin has diapers, water, snacks, a change of clothes for each, extra spoons, bibs, etc.  Anything I might need when I leave the house.  My fun bin is filled with stuff to keep them occupied, such as small toys and books.  Now, I only have to gather my kids when I leave because I already have everything else waiting for me in the car!
It's not all bad!
Yes, it's exhausting, and yes, there's tons of multi-tasking, but it's not all bad! In fact, there's a lot of really good things that come along with having 2 children very close in age.
My oldest 2 are best friends.  They are super close because they go through the same phases at almost the same time.  They like the same things; they play with the same toys.  They stick up for each other, even to me! Nobody picks on my brother!  
Being so close also lends itself to more independent play as they start to get older.  They love to play with each other, which gives me an opportunity to get some other things done.  Having 2 kids close together is like giving your children a life-time best friend (So stop feeling guilty!)
Like I mentioned, they go through phases at almost the same time.  I was completely done with diapers for these two in 3 and a half years! Done! That's so much better than diapers for 6 years continuously!  You get through all of the "bad stuff" so much quicker when they're spaced closely together.
Also, once you get through those first super exhausting 6 months, the children will likely fall into a similar schedule- same afternoon nap-time, same bed time, etc.  This will give you some time for yourself for showering or napping (or cleaning or Pinterest-ing,... oh, the possibilities!)
I love having my boys close together, and even though it's difficult at times, I definitely wouldn't change it.  Don't worry.  Everything will work out.  You can do it, Super-Mom!
If you're raising Irish Twins, what is your best advice? Or if you're about to have Irish Twins, what's your biggest worry?
Did you like these Raising Irish Twins thoughts? Find more on my Parenting board on Pinterest!
If you liked Raising Irish Twins you might also like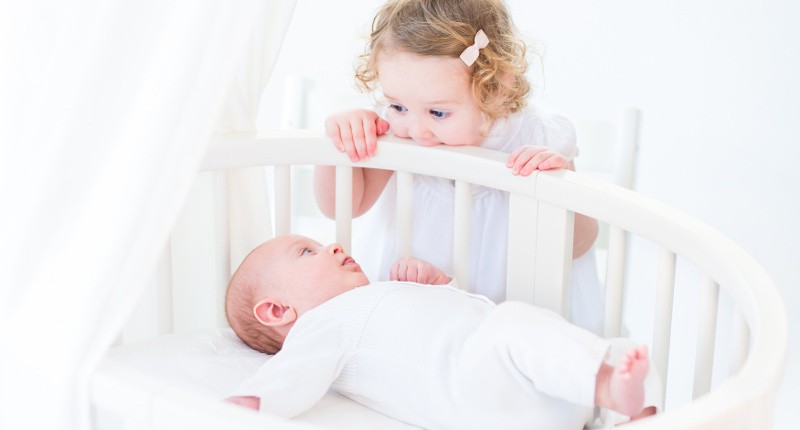 11 Things You Need with Irish Twins
See More Parenting Tips and Articles
Never Miss a Thing!
Join our newsletter to get new recipes, tips, tricks, and tutorials every week!