The BEST Chicken Pot Pie you will ever taste with a flaky, buttery crust and chicken and vegetables in a creamy herbed gravy. It is the most well-loved meal in our own house AND on the blog.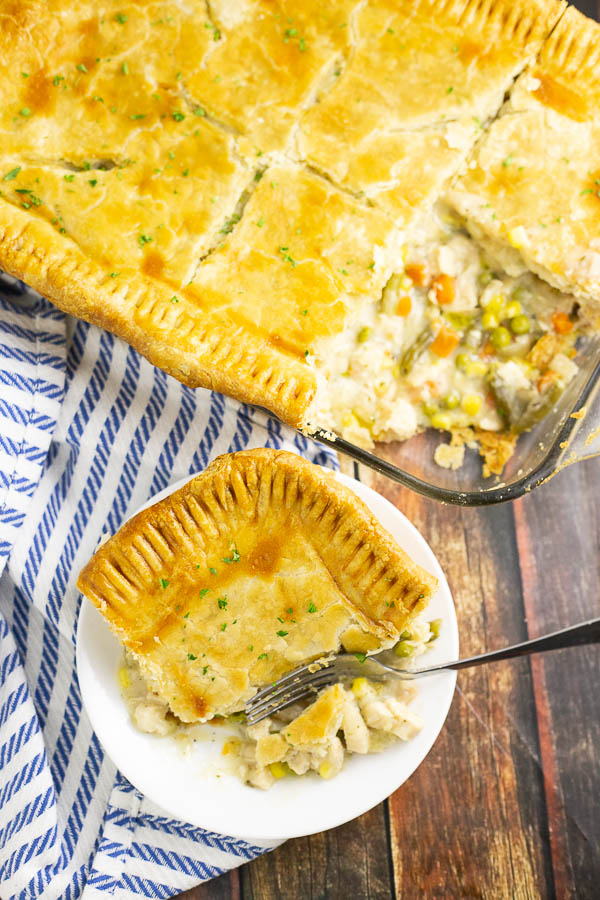 The Best Chicken Pot Pie
I am not exaggerating when I say this is the BEST chicken pot pie recipe EVER. It's amazing. Flaky pie crust, a buttery, creamy filling with classic chicken and vegetables, and my secret ingredient weapon.
This recipe is not only the most popular on the blog. It's also the most popular in our own family, with my kids requesting it for their birthday dinner, and our extended family begging me to make it for get-togethers. It's seriously that good.
What makes this chicken pot pie amazing is three things.
The crust. I use my homemade flaky pie crust recipe that never lets me down (and I can thank my grandma for!).
The gravy ratio. You can thank my hubby for this one. He had me tweak it a few times when I first was trying out this recipe, and it's now pretty much perfection.
Basil. Basil is the secret ingredient. It takes it from an average pot pie to the most amazing delicious pot pie you ever tasted. Seriously delicious. I recommend dried basil for this recipe, as fresh basil has a totally different flavor that can be overpowering in such a mild dish.
What is Chicken Pot Pie?
Chicken pot pie is traditionally made in a pie dish or a round dish with chicken, vegetables, gravy, and herbs in a pie crust.
While this pot pie is made in a 9"x13" , they're more often made in a 9-inch pie dish or sometimes individual ramekins.
Can you make chicken pot pie ahead of time?
Absolutely! You can make the filling up to a day in advance and store in covered in the refrigerator, and you can freeze a whole unbaked chicken pot pie for up to three months.
Can I Use Rotisserie Chicken?
You sure can! Using rotisserie chicken is a great easy shortcut to make this awesome recipe faster! Use about 3-4 cups chopped rotisserie chicken in place of the chicken breast called for in the recipe.
Can I Freeze Chicken Pot Pie?
Yes! Chicken pot pie is one of our favorite freezer meals.
To freeze, simply follow the recipe instructions, except for egg-washing and baking. Cover and freeze for up to about 3 months (or 6 months in a deep freezer).
To use, thaw overnight in the refrigerator. Then follow the remaining instructions for the recipe. It will likely need an additional 5-10 minute bake time due to it being cold in the refrigerator.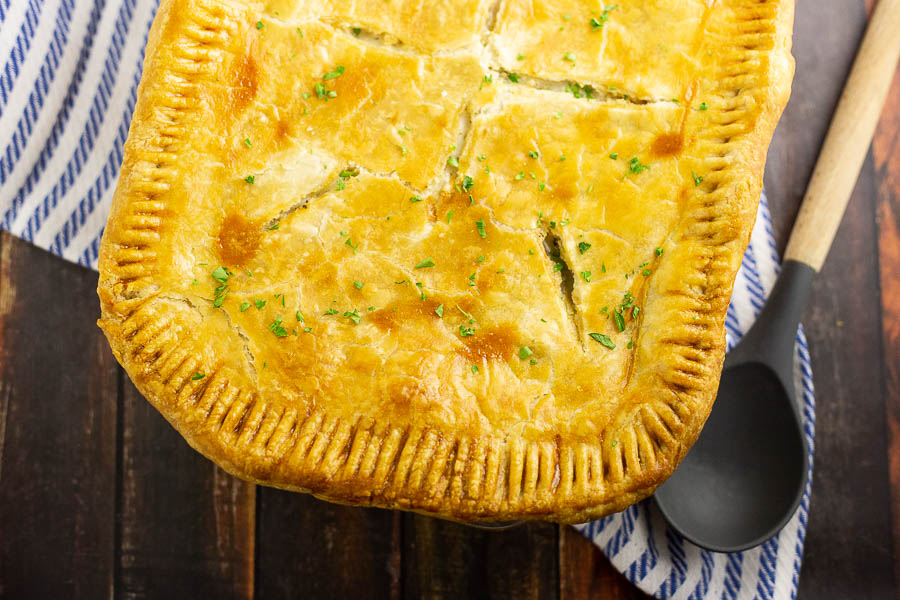 The Pie Crust
You can buy store-made pie crust. Just make sure it's raw. But...
I really, really, REALLY recommend making homemade pie crust. A great pie crust truly makes a great pot pie.
My absolute favorite pie crust recipe can be found here. It is ridiculously simple. There's even a video if you're worried about any of the steps.
Double the recipe, cover it in plastic wrap, and put it in the refrigerator while you prepare the filling. (If you're using store bought crust, you will need 4 crusts to fit a double-crust 9x13 baking dish. Make sure it's thawed.)
More Comfort Food Recipes You'll Love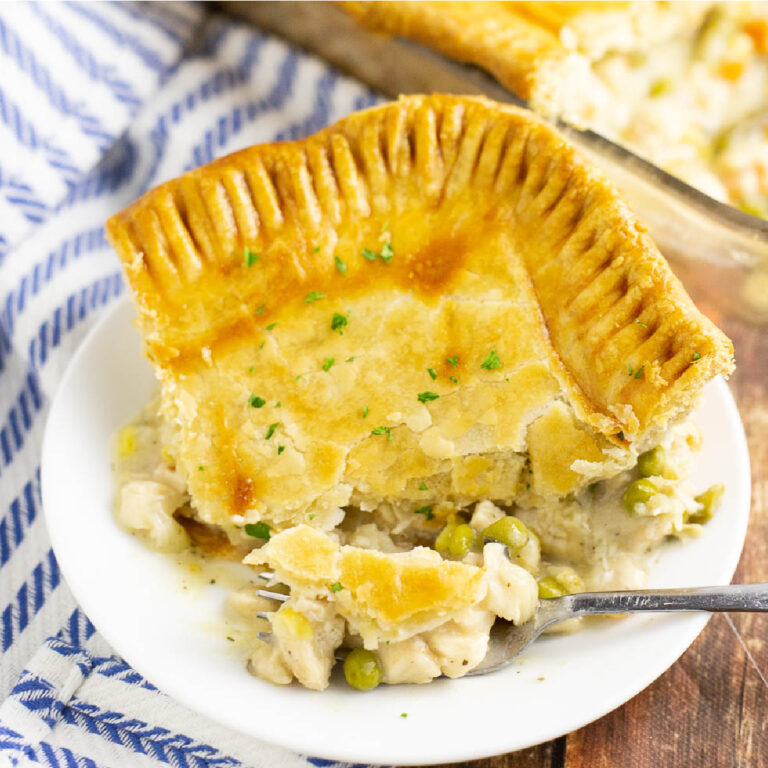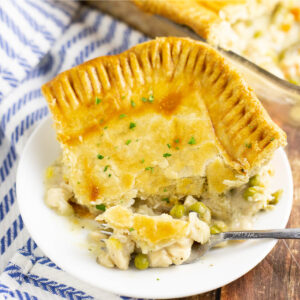 Best Chicken Pot Pie
The BEST Chicken Pot Pie you will ever taste with a flaky, buttery crust and chicken and vegetables in a creamy herbed gravy. It is the most well-loved meal in our own house AND on the blog.
Print
Pin
Rate
Ingredients
Chicken Breast
3

pounds

chicken breast

1

teaspoon

dried basil

½

teaspoon

salt

½

teaspoon

ground black pepper

1

tablespoon

olive oil
Pot Pie
pie crust

Either 4 store bought- 2 tops and 2 bottoms, or double the linked recipe.

⅔

cup

butter

½

an onion

chopped

⅔

cup

flour

3 ½

cups

chicken broth

1

cup

milk

3

cups

frozen mixed vegetables

thawed and patted dry

½

teaspoon

dried basil

pinch

of garlic powder

Salt and pepper to taste

1

egg

beaten
Instructions
To prepare chicken breast: Season chicken breasts with basil, salt, and black pepper. Place in a baking dish with a drizzle of olive oil and bake at 350°F for about 25-30 minutes, or until the internal temperature reaches 165°F. Allow to cool. Chop when cool enough to handle. Set aside.

Prepare pie crust using THIS RECIPE. Double the recipe. Then cover and refrigerate while preparing the filling.

Preheat oven to 375°F. Butter a 9"x13" baking dish and set aside.

Melt butter in a stock pot over medium heat. Add onions and saute until they are translucent, about 3 minutes.

Add flour and stir to combine. Continue cooking about 2 more minutes to reheat the mixture.

Slowly add in chicken broth, about ¼ cup at a time, constantly stirring. Slowly adding it will ensure there are no lumps.

Add milk and stir. Continue cooking on medium heat, uncovered until sauce thickens. You should be stirring frequently to make sure it doesn't burn at the bottom.

When sauce is thickened to the consistency of a medium-thick gravy, add chicken, mixed vegetables, basil, garlic powder, and salt and pepper. Stir. Then remove from heat and set aside.

Roll out half the pie crust on a lightly floured surface, and lay it in a greased 9"x13" baking dish. Pour in sauce mixture. Roll out the other half of the pie crust and lay it on top.

Trim off the excess pie dough. Press the top and bottom pie crust together (I use a fork for this part). Cut slits in the top to let heat and steam escape.

With a pastry brush, brush beaten egg over top of pot pie.

Bake in a 375°F oven for 30 minutes. Then cover and return to oven to cook for an additional 30-35 minutes, or until both crusts are golden and cooked through.

Remove from oven and allow to sit to firm for about 15-30 minutes before serving.
Notes
Nutrition facts are for filling only. Use the nutrition facts from the pie crust recipe or from the store-bought box for crust.
This is the pie crust I always use. Double this recipe.
Rolling Out Pie Crust Tutorial – If rolling out your own homemade pie crust makes you nervous, stop right now! This easy step-by-step tutorial will tell you exactly what to do for a perfect pie crust!
Must Have Pie Making Supplies – If you love pies, you need these tools so you can make them all the time at home!
Do you have to make your own pie crust? No, but I do recommend it. It really makes the dish. If you choose to use store-bought, make sure it's thawed if frozen.
To make sure your gravy isn't lumpy, add chicken broth to the mixture very slowly, only ¼ cup at a time. The mixture will get thicker at first, like dough. Keep adding and stirring and it will thin back out.
How do you make sure your bottom crust doesn't get soggy? Make sure gravy thickens, and that the pot pie is cooked long enough for both crusts to be cooked through.
If you prefer, you can use this recipe to make two pot pies in 9-inch pie pans, instead of one large pot pie. Make both for now, or freeze one for later!
To make ahead, prepare the filling and pie crust separately. Cover each and place in the refrigerator. Then when ready to use, simply follow the directions for assembly and baking.
To freeze: Follow recipe instructions, except for egg-washing and baking. Cover and place in the freezer for up to 3 months (or 6 months in a deep freezer). When ready to use, allow to thaw in the refrigerator overnight. Then follow the recipe instructions for the egg and baking. It will likely need a little extra bake time since you'll be starting with a cold dish.
Storage: Freshly baked, chicken pot pie will last up to 5 days in the refrigerator. Cover with aluminum foil or store in a resealable container.
Reheating instructions: To reheat individual slices, simply place on a microwave-safe place and pop in the microwave for about 1 minute (Could be longer depending on your wattage. We love pot pie even more the second night!). To reheat an entire pie, reheat in 375° oven, covered with foil. Uncover for the last few minutes to crisp crust.
Nutrition
Serving:
1
serving
|
Calories:
455
kcal
|
Carbohydrates:
19
g
|
Protein:
42
g
|
Fat:
23
g
|
Saturated Fat:
12
g
|
Cholesterol:
172
mg
|
Sodium:
908
mg
|
Potassium:
921
mg
|
Fiber:
3
g
|
Sugar:
2
g
|
Vitamin A:
4049
IU
|
Vitamin C:
16
mg
|
Calcium:
81
mg
|
Iron:
2
mg
Did you make this recipe?
I love seeing your creations. Snap a quick photo and mention @TheGraciousWife or tag #thegraciouswife on Instagram! Leave a STAR rating below!
Never Miss a Thing!
Join our newsletter to get new recipes, tips, tricks, and tutorials every week!