You need the right tools to make amazing, scrumptious pies! Make perfect, delicious, and beautiful pies with these 12 Must Have Pie Making Supplies.
Must Have Pie Making Supplies
I love baking pies.  I bake pies all year long because Mr. Gracious loves them, and well, I do too.  But to make an amazing pie, you need to have the right tools, which is why I wanted to share my top 12 Must Have Pie Making Supplies.  So if you don't have these, get them now! Your pies will thank you!
12 Must Have Pie Making Supplies
1. The first thing you need to make amazing pies is an amazing pie crust recipe.  After all, a pie is only as good as its crust!  For all of my pies, I use my grandma's easy No Fail Pie Crust recipe, with just 3 ingredients.  It turns out flaky and delicious. Every. Time. And I get tons of compliments on it, so definitely try it out and let me know what you think.
2.  Pie Dishes - There are basically 3 kinds of pie dishes that are great to use.  My biggest tip for pie dishes is to avoid the dark non-stick ones like the plague.  They're a sure fire way to have a burnt, dry crust because the dark color makes the crust brown too quickly, leaving you to choose between a burnt crust or a runny, not-quite-done filling.
3.  Rolling Pin - A rolling pin
is definitely a pie must have.  There are two types of rolling pins.  Your traditional rolling pin with handles
or a French rolling pin without handles
.  I really love the traditional rolling pin with handles
, as that's the type I'm used to, but either one will do the trick.  If you want to choose a rolling pin without handles
be sure to choose a rolling pin with a long flat edge with just the ends tapered, like the one pictured in the middle.  If you choose a rolling pin that's tapered throughout (as pictured on the right), your pie crust will end up wavy, leaving you with strange spots that are too thin or too thick.  Or you can also choose a French rolling pin with no taper at all, sometimes called a rolling dowel
.

4.  Pastry Blender - A pastry blender
 (also known as a pastry cutter) is essentially a large rounded fork with a handle.  It's used to cut together butter or shortening and flour to make a super flaky and scrumptious pie crust.  A fork can be used in a pinch, but with how easy pastry blenders are to use and how cheap they are, there's really no reason not to have one.

5.  Scraper - If you've ever rolled out a pie crust, you know that even with the most diligent surface flouring you'll still be left with a few spots of pie crust stuck tight to your surface.  A scraper
can help you remove those pieces for fast and easy clean up.  Scrapers
are also great for scraping the pie crust off the counter while keeping it intact if you weren't so diligent with the flouring.  They can also be used to cut or divide dough, or to score even lines before cutting strips, like you would for a lattice crust. They generally come in metal or plastic, and be sure to choose one with a nice straight edge.

6.  Pastry Brush - Pastry Brushes
are another cheap but necessary tool for pie making.  There are 2 main types of pastry brushes. A traditional pastry brush
has bristles made from hair, fiber, or nylon, and look almost exactly like your typical average paint brush. They also now make silicone pastry brushes
that are easier to clean and dishwasher safe. When choosing a silicone make sure they have a "stopper" somewhere on them or they won't hold much sauce, butter, or water. The stops can usually be found at the end of the bristles (as the one pictured below) or the inside layer of bristles.
Pastry Brushes
can be used to lightly wet the pie crust to make it more tacky (which is great for adding cut-outs or a braided finish) or for adding a nice layer of butter.  I use a pastry brush most often when I'm making chicken pot pie to lightly brush the top crust with a beaten egg.  That's what gives the crust a beautiful, rich golden color.  You can use the egg and pastry brush for any pie to make it look even more lovely.
7.  Scissors or Kitchen Shears - The easiest and fastest way to trim up your pie crust after rolling it out and laying it in the dish is with scissors or kitchen shears
.  Any scissors will do for pie crust since it's such a soft dough, but it's nice to have a nice sharp pair of shears
around the kitchen for many uses such as snipping herbs or breaking down chicken. Be sure to choose a pair of shears that can be easily taken apart for thorough cleaning (as the ones pictured below)

8.  Pie Server - If you want to be able to serve the perfect, whole, not crumbled piece of pie, you really need a pie server
.  I tried putting this one off for a long while (I mean, C'mon! A pancake flipper does the same job!) But, no. I was wrong.  Time after time I served pie that tasted fabulous, but looked more like a pile of cobbler.  You really do need a pie server
. Trust me.

9.  Pie Cutter - A pie cutter
falls more into the convenience category than necessity, in my opinion.  But they're relatively cheap and do in fact make pie-cutting more convenient. Some products labeled as pie cutter are actually used to just score the pie into even slices for you to then cut with a sharp knife.  Others are designed to actually cut all the way through.  You can also choose the number of slices, standard being 6, 8, or 12.  But they'll all make your life easier and your pie slices prettier. Plus, the pie slices will all be equal, which is particularly important when you have three kids who all feel they need the biggest slice.

10.  Pie Crust Shield - Most pie recipes will tell you to cover just the edge of the pie crust if it's browning too quickly.  Which is nice in theory, and way more difficult in reality.  I can never get the foil to stay on, which usually leads to me getting burned when trying to maneuver the foil or throw it back on  when the foil fell off when it was already in the oven.  No good.  A pie crust shield
will save you all that hassle because all you have to do is drop it over the pie.  Seriously. And it doesn't fall off.  But do make sure you buy a pie crust shield that properly fits your pie dish.  And even better, buy an adjustable one so that it will fill ALL your pie dishes, no matter the size.  If you go for the adjustable pie crust shield, be sure to fit it to the pie dish before you put the pie in the oven the first time, so that you have less risk of burning yourself if you need halfway through!

11.  Pie Weights - When you need to bake a pie crust without filling in it, even when you prick the inside of the crust with a fork, it still has a tendency to bubble.  Using pie weights
will alleviate this issue and give you a nice smooth and even pie crust.  Pie weights generally come in either stainless steel
(and usually look like strung beads) or ceramic
(which are usually just individual ceramic balls).  Either work great. This one comes down to preference.

12.  Pie Saver or Carrier - This is probably my favorite pie convenience because I bake lots of pies to bring to family gatherings during the holidays, but I'm also kind of clumsy so the pies don't always make it there intact.  A pie saver or carrier
will make transporting pies super easy and clean, with no whipped cream or pie filling getting accidentally wiped all over your car.

Did you like these Must Have Pie Making Supplies? Find more on my In the Kitchen and Desserts boards on Pinterest!
If you like these Must Have Pie Making Supplies ideas, you might also like
15 Pretty Ways to Finish Pie Crust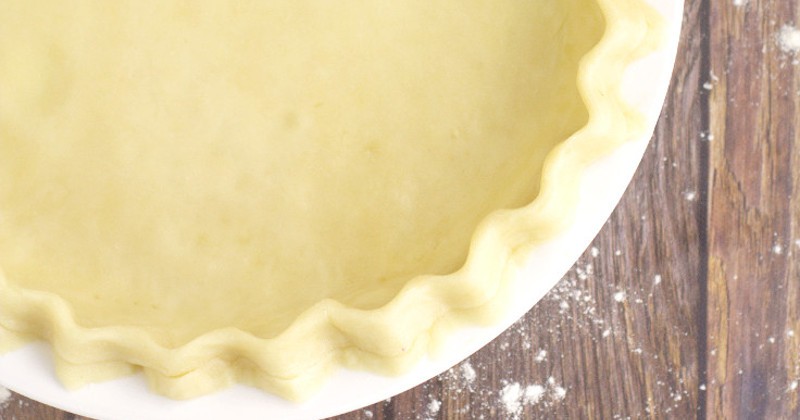 Browse All Pie Recipes
Never Miss a Thing!
Join our newsletter to get new recipes, tips, tricks, and tutorials every week!