A classic Southern Potato Salad that will be the best you ever had. Creamy and tangy and made with simple ingredients.
Southern Potato Salad
Can I tell you guys a secret?
I've never really liked potato salad.
I know! A comfort food, soul food, southern food lover. NOT even liking potato salad. But it's true.
That is, until I found this Best Southern Potato Salad recipe that turns every potato salad naysayer into a believer, guaranteed.
This potato salad is creamy, tangy, and flavorful with just a little kick of spicy. Plus it has a little crunch from the celery and onions. The potatoes are not too hard, or too soft. It's just about as perfect as it can get!
It gets requested All. The. Time. for barbecues, cookouts, and even holiday potlucks.
The ingredients are classic and simple, which make it easy to make. This is the perfect go-to potato salad recipe that you'll want to make again and again.
Best Potatoes for Southern Potato Salad
The potatoes you use can make or break your potato salad.
The reason is that different potatoes have different textures. Some potatoes are more starchy, while others are more waxy. The texture makes a big difference in a potato salad!
Starchy potatoes include russet or Idaho. These potatoes cook soft and sometimes even have a gritty texture due to the starches. These potatoes often disintegrate into a potato salad, making it more of a chunky mashed potato casserole than a true potato salad.
The best potatoes for potato salad are generally the waxy types of potatoes, which are Yukon Gold or red potatoes. Both of these potatoes remain firmer and hold shape when cooked, which is ideal for potato salad when you want your potatoes to stay cubed and intact.
How to Prepare Potatoes for Potato Salad
Because of the texture of the skins on both Yukon gold or red potatoes, you don't even need to peel before boiling. (I sometimes don't peel the red potatoes at all, and just dice them up with the skins on!)
Just cut your potatoes in half, and place them in a large pot with enough water to cover the potatoes plus an extra inch or two.
Bring the water to a boil, then add a teaspoon of salt. Boil the potatoes for about 15 minutes, until fork tender. (Fork tender means that they're soft enough to pierce easily with a fork.)
Remember that the residual heat in the potatoes will continue cooking them, even after they've been drained, so be sure not to over cook.
As soon as they're tender enough, drain and let them sit in the colander to fully remove moisture. Leave your potatoes sit (or pop them in the fridge for a little bit!) just until they're cool enough to handle, but still warm.
Peel potatoes with a paring knife, and dice into bite sized pieces. I like my pieces smaller, around a half-inch cube, but you can make your pieces however big or small you'd like.
More Cookout Recipes You'll Love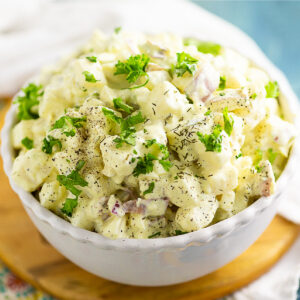 Best Southern Potato Salad
This Best Potato Salad Recipe is creamy and flavorful with just the right amount of spicy. I never even liked potato salad until I tried this recipe!
Print
Pin
Rate
Ingredients
3

pounds

red potatoes

cut in half

1 ¼

cup

mayonnaise

¼

cup

sour cream

¼

cup

mustard

¼

cup

dill pickle relish

1

tablespoon

white vinegar

½

teaspoon

salt

½

teaspoon

sugar

½

teaspoon

black pepper

½

teaspoon

dill

5

hard boiled eggs

finely chopped

½

cup

celery

chopped

½

cup

red onion

chopped

1

tablespoon

finely minced jalapeno pepper

about 1 pepper, seeds removed
Instructions
In a large pot, boil potatoes with enough water to cover and boil potatoes just until tender, about 8-15 minutes. Drain when done, and place in a bowl to chill in the refrigerator. When potatoes are cool enough to handle, but still warm, peel with a paring knife and dice into half-inch cubes.

In a large mixing bowl, mix together mayonnaise, sour cream, relish, mustard, vinegar, sugar, dill, salt and pepper. Stir mixture until everything is combined.

Add remaining ingredients, and stir to incorporate, fully coating potatoes with mixture.

Cover and chill at least 2 hours, or until ready to serve. Potato salad is best if chilled overnight before serving.
Notes
Everybody makes potato salad a little different, so feel free to make it your own. I love adding green bell pepper and pimentos. You can also add bacon, hot sauce, extra jalapenos, or a pinch of cayenne pepper, if you like it spicy!
I use mild jarred jalapenos because my kids don't like the kick from fresh jalapenos. If you love spicy, then feel free to add fresh jalapenos. I recommend seeding them and tasting just a tiny bit to gauge their level of hotness (it varies so much depending on when and where they were grown!).
This potato salad is best made ahead. It needs to be chilled for at least one hour before serving, but overnight is best because it gives the flavors a chance to meld together, making it extra tasty.
For directions on cooking and preparing potatoes for potato salad, check the post above. For directions on cooking perfect eggs for potato salad,

check out this post

.
Storage: Store covered in the refrigerator for up to 5 days.
Nutrition
Serving:
1
serving
|
Calories:
292
kcal
|
Carbohydrates:
21
g
|
Protein:
6
g
|
Fat:
21
g
|
Saturated Fat:
4
g
|
Cholesterol:
90
mg
|
Sodium:
413
mg
|
Potassium:
585
mg
|
Fiber:
2
g
|
Sugar:
3
g
|
Vitamin A:
190
IU
|
Vitamin C:
10.5
mg
|
Calcium:
35
mg
|
Iron:
1.3
mg
Did you make this recipe?
I love seeing your creations. Snap a quick photo and mention @TheGraciousWife or tag #thegraciouswife on Instagram! Leave a STAR rating below!
Never Miss a Thing!
Join our newsletter to get new recipes, tips, tricks, and tutorials every week!