Get ready to cheer on Team USA in the Summer sports this year with these fabulous and fun Team USA Summer Sports Party Ideas to host an amazing celebration!
Although I have been compensated for this post, all opinions are my own.
Team USA Summer Sports Party Ideas
Who's ready to watch the US in Rio this week? I know I'm super excited.  I remember being just a little bit older than my own kiddos in 1996 when the US took the gold in gymnastics.  And I saw it because my mom sat me down and told me how important it was to support our country and how rare the opportunity was since it only came around every 4 years.
Of course, it didn't take much convincing for me to watch gymnastics because it's always been my favorite.  I'm sure my daughter will love the gymnastics event as she's constantly somersaulting around our house.  My boys might have other ideas relating to soccer or field hockey... we'll see.
In any case, we're excited to watch the US compete for the gold this week! To get ready and to show our support, we're having a little kick-off party, featuring some "GO USA" patriotic goodies and decor.
We picked up all of our supplies at our local Jewel-Osco store.  Not going to lie, it was pretty convenient that the leftover 4th of July stuff is still on sale.  But we really shopped at Jewel-Osco because right now they're having a Get Ready for Gold Sweepstakes where you can get a chance to win a U.S. Olympic Training Camp Experience!
Now. As much fun as it's going to be to watch the whole competition, how much fun would it be to get in on the action in real life at the U.S. Olympic Training Camp Experience?! So. Amazing.  If I won, I'd have to bring the whole family, decked out in their red, white, and blue.
Team USA Party Ideas
So I decided to cover all my bases, and get lots of snacks for our Team USA party.
We grabbed all of our party supplies from Jewel-Osco because their list of participating products is huge and – bonus! – we wanted to qualify for a chance to enter the sweepstakes. The Sprite is not pictured here because I got a little over-excited before I snapped the pic.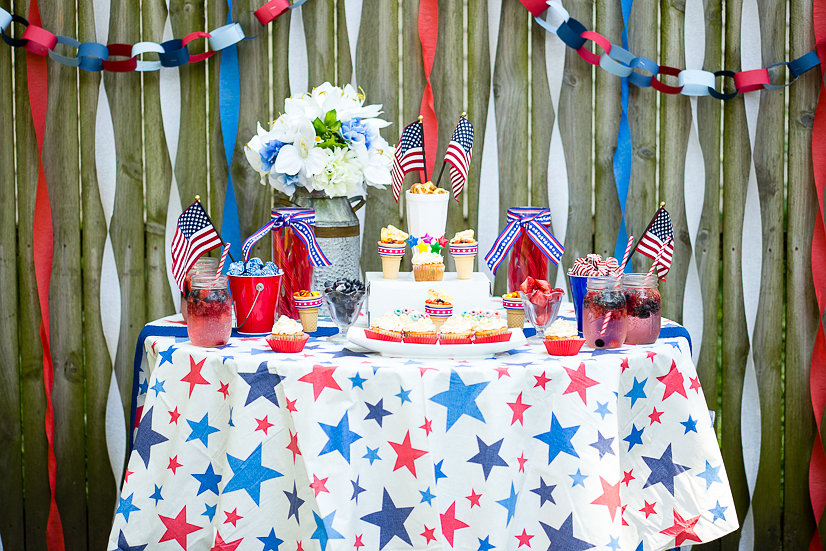 We went crazy with the red, white and blue for Team USA, and went with simple decorations, like the streamers and paper chain.  Super cute but easy enough that the kids could help out, too.
We filled jars and vases with candies, like Twizzlers and decorated them with red, white and blue ribbon.
And now for the fun part! The food! Here's some of the festive treats we whipped up:
Batons made from Twizzlers and ribbon.
Torches made from ice cream cones filled with Reese's Pieces and Special K Popcorn Chips to look like flames in the back.
Simple cupcakes with gold glitter sprinkles and Fruit Loops.
And some patriotic spritzers with frozen blueberries, strawberries, and raspberries and a splash of Sprite.
We had tons of fun shopping, making the treats, and enjoying our Team USA Kick-Off party.  How are you cheering on Team USA this year? Tell me in the comments!
Comments submitted may be displayed on other websites owned by the sponsoring brand.