Buying thrift when you have a baby on the way is one of the smartest decisions you can make for your wallet. You shouldn't buy everything used, but here are 6 things that are smarter and cheaper to buy second hand!
6 Baby Essentials to Buy Second Hand
Having a baby can be quite expensive, especially if you don't know what you really need. There are so many supplies and gear marketed toward new parents and babies, and the cost of all of these items can add up quickly.
Thrift stores can be a great economical solution! They're full of gently used (sometimes even never used!) baby clothing and supplies. While there are certain baby essentials you should always buy new, many are just as good second hand. With places like Facebook marketplace, buying second hand couldn't be easier!
Take a look at these 6 baby essentials you can buy at thrift stores to stock up your nursery for less!
6 Baby Essentials to Buy at Thrift Stores
1. Crib sheets, bedding, and baby linens
Look for crib sheets, nursery bedding sets (which you can't really use anyway since babies can't have anything in their crib!), blankets, and burp cloths. Many of these items cost $25 or more new, but buy them used and you pay pennies on the dollar. Just give them a good wash in hot water and run through the dryer to clean and disinfect and they will get the job done for a fraction of the cost.
2. Clothing, shoes, and jackets
Baby clothing can be so expensive, and then before you know it, they outgrow it! Head to your local thrift store for baby clothing, sleepers, shoes, snowsuits, winter coats, rain coats, and so much more. There is no need to pay big bucks for new clothing when you can find gently used clothing for as little as .50 cents per piece. I've even found clothes with the original tags still on, never worn, still at a deep discount!
3. Quality toys
Look for quality toys such as sturdy (and beautiful) wooden toys and quality board books. These items are wonderful for baby and can keep them stimulated and active. Sold new these items can be quite expensive, but buy them second hand and you will likely find them half price!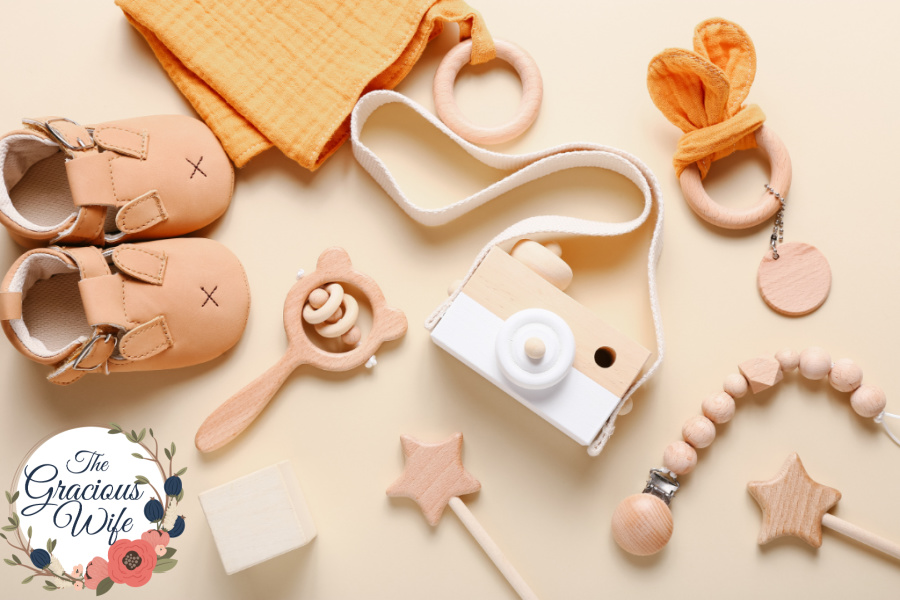 4. Big baby toys
If you didn't get all of your big ticket items from your shower, consider buying them second hand. Bouncers, swings, dock-a-tots, bassinets, nursing pillows, jumpers, exersaucers, and even high chairs! They're all usually gently used because baby really only uses them a very short amount of time before growing out of it. It's so much smarter and cheaper to buy these items gently used rather than paying full price for them.
5. Baby strollers
Strollers are one of the most expensive baby products on the market, with many pricing in the $200-$300 range. Instead of forking out all of that money for a brand new one, look for one from an online marketplace or a local thrift store. You will likely find one for a fraction of the cost. And if you're stuck on one brand or style, you'll still be able to search for it to get a gently used one for 50% off the cost of new.
6. Electronics
Bottle warmers, sound machines, and monitors can all be pretty pricey. Buying second hand can save a lot of money here. But be sure to test them out before buying to make sure they are in good working condition.
The next time you head out to the thrift store, keep your eyes peeled for these 6 baby essentials. These baby essentials are often found on thrift store shelves and for a fraction of the price of new. You can typically clean them up quite nicely, and a quick inspection can ensure they are in good working condition. Give these 6 baby essentials to find at thrift stores your consideration and see how much money you can save on the baby items you need.
Never Miss a Thing!
Join our newsletter to get new recipes, tips, tricks, and tutorials every week!