A simple no fluff list of what you need to bring to the hospital for mom, baby, and even dad from an experienced mom of 4. PLUS, a printable hospital bag checklist to keep track of what's in your bag!
Hospital Bag Checklist
If you didn't already know, we just had another baby. Well, actually we had a baby about 3 months ago but life and mom exhaustion got the best of us, so we just shared the news on the blog this week!
This baby was our 4th baby, putting us officially in the big family club.
As a veteran mom to 4, a question that I hear a lot from new moms is what to pack in the hospital bag for the big day!
So I'll run through some of the important stuff and why it's absolutely necessary.
And then at the bottom of this post there's a printable checklist that you can print out for yourself so that you'll know you didn't forget anything!
When to Pack Your Hospital Bag
Because babies are just one of those things that you can't plan or predict, it's best to err on the side of caution and get it done early. My suggestion is to pack your bags when you enter the third trimester. So about 28 weeks is probably safe for most people.
Once your bag (or bags!) are packed, stash them in the back of your car, or somewhere easy to access quickly. You won't want to worry about it when it's baby time!
What Makes a Good Hospital Bag
A good hospital bag has all the essentials but doesn't overdo it. You're not moving in. Hopefully, you'll only be there a night or 2 (because trying to sleep with a newborn AND the nurses checking in on you every hour is pretty much impossible!)
Pack your essentials in sturdy, portable bags. We used our smallest suitcase from our luggage set (it passes for carry-on size), plus a diaper bag for baby.
A duffel bag is another great option. The diaper bag makes the perfect bag for baby.
I would recommend one bag for mom and dad and a bag for baby.
Hospital Bag for Mom
YOU will probably need the most stuff. Having a baby is rough. Plus, women just have more stuff. You'll need clothes, as well as some other essentials. Here's what I brought for my last 3 babies (I had no idea what I was doing with my first), and what I recommend.
Clothes for Mom
You may notice underwear is not on this list. That is because the hospital will provide you with several pairs of lovely high-waist mesh underpants that you will not care if they get a little bloody from the birth aftermath. You can of course, bring your own, but if you do, I still recommend going the granny panty route.
Robe - hospitals are kept cold. A robe will keep you warm, but opens in front for easy access.
Pajamas - I highly recommend nursing pajamas if you plan on breastfeeding. They make it so much easier. Or Walmart often has nightgowns with snaps in the front that are cheaper but work really well for nursing.
Nursing bras or tanks - Kindred Bravely has absolutely the MOST comfortable nursing bras out there. I wish I had known about them for my older kids because they are fantastic. If you are large chested like me, they come in regular and "busty" sizes.
Socks - preferably ones that you don't mind if they get blood on them for delivery. Bring some comfy, soft socks for after delivery.
Comfy "Going Home" Clothes - Remember that after delivery, you will be wearing giant mesh underwear with a huge pad, and you will probably be pretty sore. Plus, your tummy will not have had enough time to shrink back to its original shape for a few more weeks, at least. So save those skinny jeans for a few months down the road. Pack a loose, comfortable outfit for heading home, such as comfy joggers and a T-shirt.
Mom's Essentials
The hospital provides most postpartum essentials. So those mom-postpartum packages that are like $40+, are really not necessary. Here's what I usually get from the hospital: underwear, pads, ice packs, witch hazel pads, numbing spray, and a squeezy water bottle. They'll even give you non-slip socks if yours get really messed up during birth. I also got soap from them with my first, as I had to stay there for almost 5 full days.
So no need to over-pack or over-spend. Here's what you actually will need:
Phone charger
Brush
Hair ties - I find it easiest to put my hair back with a new baby to keep it out of the way for nursing.
Deodorant
Toothbrush & toothpaste
Chapstick
Books or magazines *Optional* - Of my 4 deliveries, the only time I wished I had a book was during my inductions (2 of the 4 births). It takes a few hours for things to get going, and with anxieties being high, I wished I had a book instead of watching hospital television. After birth, you'll be dealing with visitors, learning to care for a new baby (even if you're a veteran mom because every baby is so different), and hopefully sleeping. So entertainment won't be as necessary. Also consider buying or renting these items on your phone so that there's less to pack.
Nursing pillow - I highly highly recommend bringing yours if you are planning on breastfeeding. I brought it for all my births except my first, where I really wished I had. It just makes positioning and getting baby to latch so much easier. I've used

the same Boppy

for all 4 kids and still love it.
Snacks - If you thought you were hungry while pregnant, you are in for a surprise. I have never been hungrier than while breastfeeding. The hospital will provide you with three meals per day, but if your milk is starting to come in, you may need more. Bring a few simple snacks, like trail mix or protein bars in case you need something between meals. Even if you're not planning on nursing, your milk will still come in, leaving you ravenous until it dries up.
Glasses & contact solution, if necessary - I have the 30-day wear contacts, so I never bring them.
Q Tips - This might just be a "me" thing, but my ears get super itchy when I'm pregnant, so I always bring cotton swabs. Just enough for if I can't stand the itching.
Lanolin nipple cream - Those first few days of nursing can be really rough on already sore nipples!
Shampoo, conditioner, & soap *Optional* - I honestly never pack these because my mission is to get OUT of the hospital ASAP. Like 48 hours or less. And I typically only wash my hair every 2-3 days anyway, so I really don't need to bring the extra "stuff." (Or have to put it away when I get home!)
Hospital Bag for Baby
Again, the hospital provides a lot of freebies for baby, so you won't need to pack as much as you think. The hospital will provide diapers, wipes, a gender neutral sleeping shirt, a gender neutral sock hat, receiving blankets, and formula and bottles if you are not nursing. In the past, I have also received small samples of baby bath, lotion, combs, and even a thermometer.
Sleepers - Easy one-piece sleepers are ideal. Pants outfits at this time can rub on their umbilical stump. I will usually bring sleeping gowns, even for my boys. They are sooo sweet, and so perfect for quick, painless diaper changes and checks when they're so tiny and need to be checked often. I posted a couple pictures of my littles wearing their gowns below if you want to see how they look.
Onesies - Short or long sleeve, depending on the season. I like to have these because a couple of my babies had a difficult time regulating their body temperature, so I liked to layer them up to keep them warm.
Bows and hats - Any bows or hats or hat bows you will have to bring yourself. For our youngest, I found the prettiest little hat bows from Amazon. I included a picture of her wearing it above, and you can grab them here.
Pacifier - For some reason, hospitals have never given me a pacifier, even when I've asked. So after a terrible experience with my first, I brought my own for the next 3.
Warm blanket - Especially for the cold month babies. A warm blanket to tuck in in the car seat is the best way to keep baby warm when you're leaving the hospital
Socks or booties
Burp cloths - I had reflux babies, so we needed lots of burp cloths, even in the hospital. They're just more convenient than using receiving blankets or Kleenex.
Newborn "Coming Home" outfit - Make sure to get a weather appropriate outfit, as puffy coats and buntings shouldn't be used in car seats. Also, if you're having girl, particularly in the winter or cold, those beautiful gowns you can get from Etsy are absolutely terrible for travel. You have to bunch them up to buckle the car seat between her legs, and then she has bare, cold little legs. So grab an outfit with pants, especially if it's going to be cold.
Car seat - The hospital won't let you leave without one, but I thought it was important to add to the list anyway.
Car seat cover - We had all 4 babies during flu season, so a cover to keep strangers out of baby's face was important.
You can read more on my favorite baby gear, products, and must-haves here.
If you want to know more about the baby gear that's not really necessary, you can read about that here.
What to Pack in the Hospital Bag for Dad
I worry about dad a little less when packing because he'll have the freedom to leave the hospital at will to run home or to the store to grab something. The hospital won't usually provide dad with anything, including meals, so what he brings is what he has. The hospital WILL give him a pillow and blanket.
Comfy Clothes
Change of clothes
Underwear
Pillow and blanket *Optional* - The hospital will provide one, but they may or may not be very comfortable.
Toiletries - These include deodorant, soap, toothbrush, and whatever other hygienic supplies he may need for approximately 48 hours.
Camera - to take soooo many adorable momentous pictures.
Sweatshirt - My husband forgot his sweatshirt with our youngest and boy, did he regret it. He ended up cold in his T-shirt or wearing his winter coat! Hospitals are generally kept cool, so make sure to bring a warm sweatshirt.
Phone Charger
Book or other entertainment *Optional* - The hospital will have television, and he can read books or play games on his phone so there's less to pack.
Remember you'll only be there for about 48 hours, so no need to pack everything you own! I hope this list helps you get through your big day!
Click below to Print Your Free Hospital Bag Checklist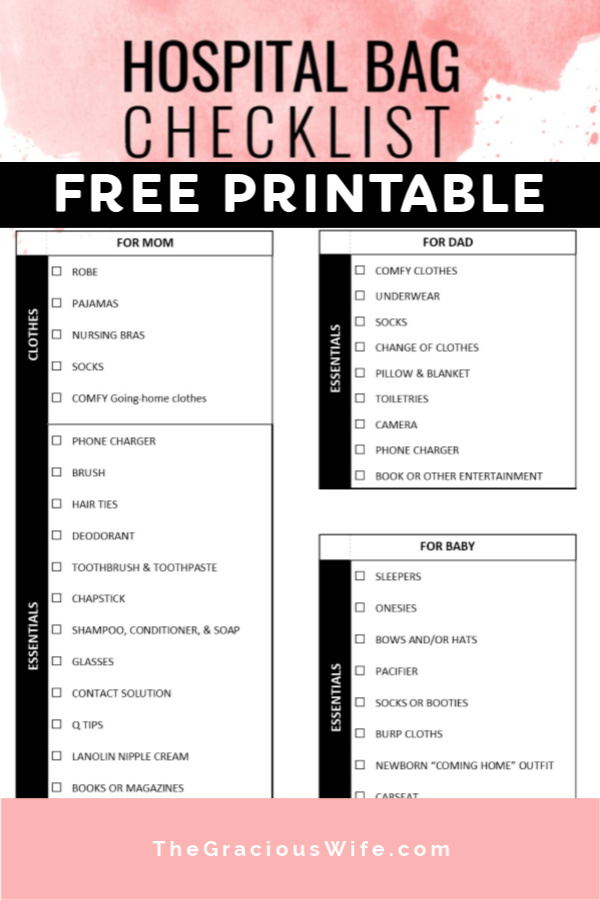 Never Miss a Thing!
Join our newsletter to get new recipes, tips, tricks, and tutorials every week!