This is a sponsored post written by me on behalf of BUBBA burger. All opinions are 100% mine.
Gooey white queso, fresh homemade pico de gallo, and crispy tortilla chips piled high on top of a juicy BUBBA burger that these Nacho burgers make a fun and zesty fusion combination.
Nacho Burgers
Believe me when I say, I have spent every single day of the last 2 months at a baseball field. These months have been crazy busy between practices, hitting lessons, batting cages, and of course all of the games.
I LOVE watching my kids, and I LOVE that they found a passion that they enjoy and work hard at. But honestly, I've always been a girly girl, and a foodie and my favorite part of all ball games is the concession stand. 😆🤦‍♀️ Nachos, specifically.
As I was sitting at one of the many many MANY games recently, a brilliant idea occurred to me. What if we took the all-American favorite burgers, and combined them with my concession stand passion nachos?
Epic. That's what would happen! An epic cheesy, gooey nacho burger!
I've partnered with BUBBA burgers to bring you another fun original burger recipe this month. This one reminds me of summer sports and concerts and all of the things that are coming back this summer, piled high on top of a juicy BUBBA burger.
Gooey white queso drizzled on top of a 100% beef chuck BUBBA burger, topped with tangy, spicy homemade pico de gallo and crispy tortilla strips to really give that nacho feeling.
But don't worry! I've been so busy, there's no way this burger can take more than 30 minutes to make, start to finish, or we wouldn't have time to eat it!
Team Nacho Burger Players
The Burger - I used Original BUBBA burgers when photographing this recipe, which are made with 100% beef chuck. Angus BUBBA burgers would also work perfectly! Cook your burgers from frozen in just 10 minutes!
The Cheese - A gooey white queso made with American cheese and green chiles that's creamy and a little spicy. You can find white American cheese in the deli section of the grocery store, and then order by weight (Recipe calls for a half pound)
The Pico de Gallo - fresh and homemade! A great way to use up those garden tomatoes! Fresh tomatoes, jalapenos, cilantro, onion, and lime juice quickly tossed together. If you want to skip the vegetable chopping, you can throw all of the ingredients into a food processor and make more of a salsa. Quicker, but the same amount of delicious!
The Crunch - For the nacho crunch, I used tortilla strips. You can substitute these for a handful of regular tortilla chips, crushed up a bit.
The Bun - I just used big country buns to hold everything on. You can use whatever buns your heart desires as long as they'll contain all the above goodness.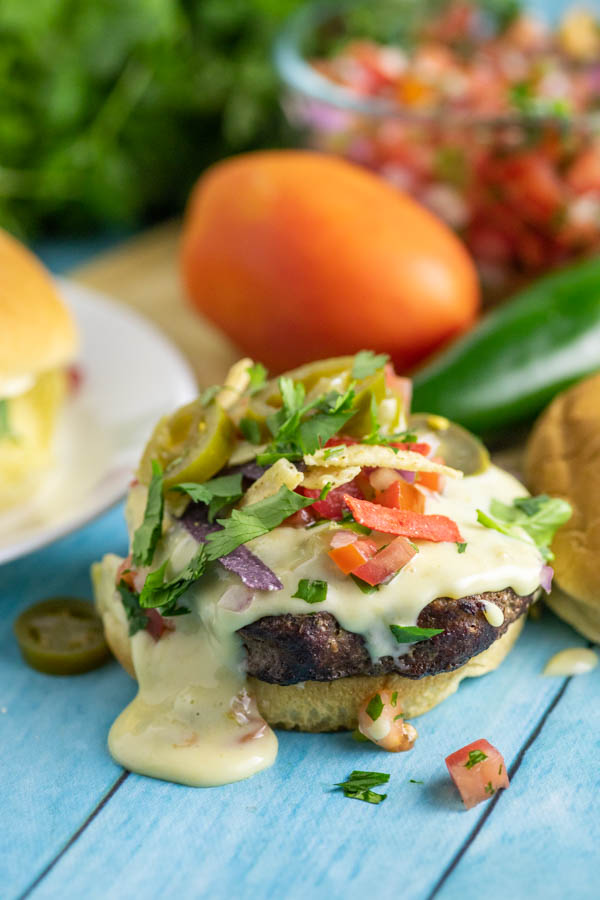 More Burger Recipes You'll Love
Bourbon Teriyaki Hawaiian Burgers - topped with savory bourbon teriyaki and a sweet and spicy pineapple salsa
Easy Banh Mi Burgers - all your favorite Vietnamese sandwich toppings, including pickled carrots and daikon, cilantro, jalapenos, and a spicy mayo, all on a juicy burger!
Nacho Burgers
Gooey white queso, fresh homemade pico de gallo, and crispy tortilla chips piled high on top of a juicy BUBBA burger that make a fun and zesty fusion combination.
Print
Pin
Rate
Ingredients
6

Original BUBBA burgers

6

hamburger buns

½

cup

sliced pickled jalapenos

½

cup

tortilla strips

Fresh chopped cilantro
For the Cheese Sauce
½

pound

white American cheese

¼

cup

milk

1

(4 ounce) can diced green chiles

¼

teaspoon

cumin
For the Pico de Gallo
2

Roma tomatoes

chopped (about ¾ cup)

2

tablespoons

finely chopped red onion

2

tablespoons

fresh chopped cilantro

½

tablespoon

finely chopped jalapeno

½

tablespoon

lime juice
Instructions
In a medium mixing bowl, combine all pico de gallo ingredients. Toss gently to combine. Cover and refrigerate until ready to serve.

Heat a medium saucepan over medium heat. Add cheese and milk and stir until cheese is melted and mixture is creamy.

Add green chiles and cumin to cheese sauce. Stir to combine. Remove from heat and cover to keep warm.

Preheat grill to medium-high heat.

Place burgers on the grill. Cook for about 5 minutes, until juices rise to the top of the burger.

Flip burgers, and finish cooking, until internal temperature reaches 160°F. Remove from heat and set aside to assemble burger.

To Assemble: Place burger on the bottom half of a bun. Top with white cheese sauce, fresh pico de gallo, jalapenos, cilantro, tortilla strips, and top buns. Serve immediately.
Notes
Skillet Instructions: Heat a large skillet over medium-high heat. Cook your Angus Beef BUBBA Burgers in the skillet, straight from the freezer (no need to thaw). Cook for 5-6 minutes. When the juices begin to rise to the top of the burger, flip them. Burgers are done when they reach an internal temperature of 160

°F

Tortilla strips: You can substitute the strips for a handful of crushed tortilla chips.
Queso: You can use extra queso as side dish for dipping chips or your burger. We purposely make extra for this reason!
Did you make this recipe?
I love seeing your creations. Snap a quick photo and mention @TheGraciousWife or tag #thegraciouswife on Instagram! Leave a STAR rating below!
Never Miss a Thing!
Join our newsletter to get new recipes, tips, tricks, and tutorials every week!