An easy but adorable and festive breakfast, these Bunny Cinnamon Rolls are perfect for a simple Easter morning breakfast. And the kids will love them!
Bunny Cinnamon Rolls
I really don't like to get super elaborate for holiday breakfasts because I have so much else going on with the gifting, and dinner cooking, and child wrangling. Elaborate breakfast is just too much for me. But I do still like to do something cute, like these Bunny Cinnamon Rolls that take about 15 minutes to make and are made from refrigerated cinnamon rolls.
Of course, these can also be made with homemade cinnamon rolls, and that might up the delicious factor just a bit. But the kids were pretty excited to eat Bunny Cinnamon Rolls with jelly bean eyes, and I heard no complaints about my not making it from scratch!

What You'll Need to Make Your Own Bunny Cinnamon Rolls
Directions for Bunny Cinnamon Rolls
1. Unwrap cinnamon rolls and separate on a baking sheet.
2. You will need 1 ½ cinnamon rolls to make each big Bunny Cinnamon Roll or just 1 to make the smaller bunny cinnamon rolls. To make the big Bunny Cinnamon Rolls, unwrap one cinnamon roll so that it's a long strip and tear it in half.
3. Now fold the half cinnamon roll in half again, and pinch the edges closed.
4. Form your folded cinnamon roll into a V-shape and place at the top of a full round cinnamon roll for the ears.
5. To make the mini bunny cinnamon rolls, gently unroll about half the cinnamon roll, and form loops on the top for ears. You may have to play with it a little to get it to look right.
6. Bake Bunny Cinnamon Rolls (no matter the size) on a cookie sheet, according to package instructions.
7. Frost the Bunny Cinnamon Rolls, and use candy and sprinkles to give them eyes and noses.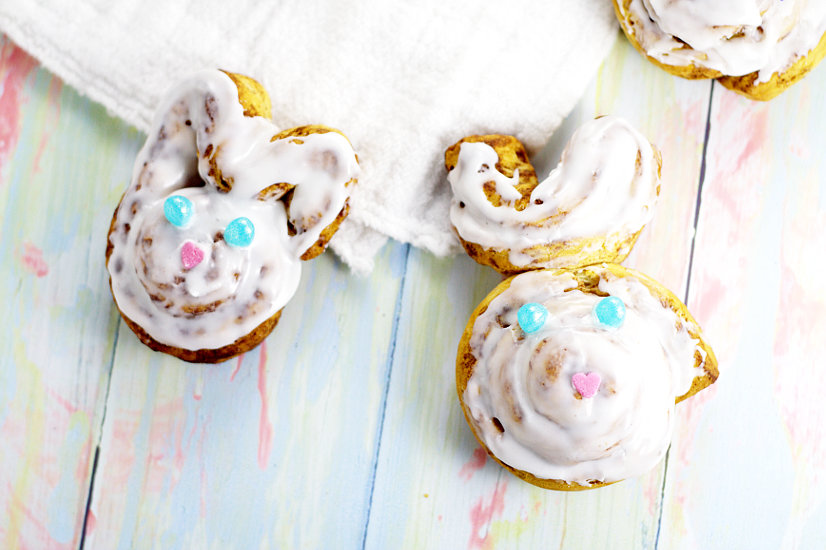 Did you like this Bunny Cinnamon Rolls idea? Find more on my Easter and Breakfast boards on Pinterest!
If you liked this Bunny Cinnamon Rolls idea, you might also like
Surprise Inside Waffle Cone Carrots
Carrot Cake Pops with Cream Cheese Icing
See More Easter Ideas and Recipes
See More Breakfast Recipes
Never Miss a Thing!
Join our newsletter to get new recipes, tips, tricks, and tutorials every week!