Don't let Spring Cleaning overwhelm you! Get it done quickly and easily with these 15 Easy Spring Cleaning Tips.
Easy Spring Cleaning Tips
Spring Cleaning can be fun after a long winter, but it can also be overwhelming with so much to do! Get it all done easily and effectively with these 15 Easy Spring Cleaning tips.
15 Easy Spring Cleaning Tips
1.  Clean the Rooms from Top to Bottom - Save time on your Spring Cleaning by starting each room at the very top cleaning light fixtures, dusting for cob webs, etc. and working your way down to the floors.  This way any dirt that happens to fall to the floor will get cleaned up at the end and won't fall on your freshly cleaned floor.
2.  Open Window to Air Out the House - After being cooped up inside all Winter, be sure to open the windows when weather permits to let in fresh air, and get rid of the stale indoor Winter air.
3.  Consider Using Homemade Cleaners - You can save a little money by making your own homemade cleaners.  You can check out my tutorials for Homemade Window Cleaner and Homemade Dishwasher Detergent.  Or you can make a simple but effective all-purpose cleaner by mixing one part vinegar and one part water.
4.  Clear Out Your Closets First - Out with the old!  It's the first step in cleaning the whole home, getting rid of things you no longer need so that there's more storage space for things you actually use.
5.  Easily Reset the Mood - No need to do a full renovation to get the new bright Spring look you're wanting.  Just switch out the fabrics and linens by getting new curtains, pillow covers, furniture covers, bedding, or sheets.
6.  Clean By Object Instead of By Room - You can save time by cleaning in groups.  For example, clean all the light fixtures at once or wash all the windows.  This saves time because you only need one set of supplies, so there's no need to put things away after each task until every room is done.  Then once you put it away, you're done with it for good!
7.  Clean the Insides of Appliances - Spring cleaning is the perfect time to make sure the insides of your appliances are clean and in working order, too! Be sure to scrub down the insides of all your appliances including the dishwasher, oven, refrigerator, microwave, toaster, coffee maker, washer, and dryer.
8.  Use Cleaning Boosters - Use easy, frugal cleaning boosters to get the job done quicker and more effectively! Consider using vinegar, baking soda, Borax, lemons, or cornstarch to get a better clean!

9.  Use Microfiber Cloths - Just get rid of your paper towels.  Once you try cleaning with microfiber cloths, you'll want to anyway. They're seriously my favorite.  Gentle enough for any surface, but get things squeaky clean!
10.  Time It - If Spring Cleaning sounds too daunting, try timing your tasks.  You'll be surprised to find most chores take no more than 10 minutes.  In fact, you can clean your entire fridge in just 20 minutes and your entire pantry in just 20 minutes!
11.  Find Your Clutter Hot Spots - Every house has at least one spot where clutter has a tendency to accumulate.  Ours is our dining room table.  Be sure to identify the hot spots in your home so that you can knock the clutter out before it turns into a big mess!
12.  Protect Floors and Surfaces - Spring cleaning is also a great time to maintain and protect flooring and surfaces, like re-sealing grout, re-caulking, and sealing stone counter tops.
13.  Make Simple Replacements When Necessary - Determine when it's best to clean it and when it's best to toss it.  Obviously, you would never throw away a dirty window.  But since a shower curtain will probably take at least 30 minutes to get truly clean, it might be a good idea to just hop to the dollar store and grab a new $2 curtain instead.
14.  Maintain Large Appliances - I mentioned that you would want to clean the insides of your appliances, but you'll also want to make sure you maintain them.  For example, check and clean the refrigerator coils, clean the filter on your range hood, clear out any lint stuck in the washer drain, and clean out the tubing for your dryer.
15.  Make a List - The best way to make sure it all gets done is to make a list.  If you'd rather someone do it for you or have no idea where to start, you're in luck because I've pulled together this COMPLETE Spring Cleaning Checklist for you for FREE.  This epic list covers everything, in every room from top to bottom!
Did you like these 15 Easy Spring Cleaning Tips? Find more on my Cleaning, In the Kitchen, and Organization boards on Pinterest!
If you liked these 15 Easy Spring Cleaning Tips, you might also like
The COMPLETE Spring Cleaning Checklist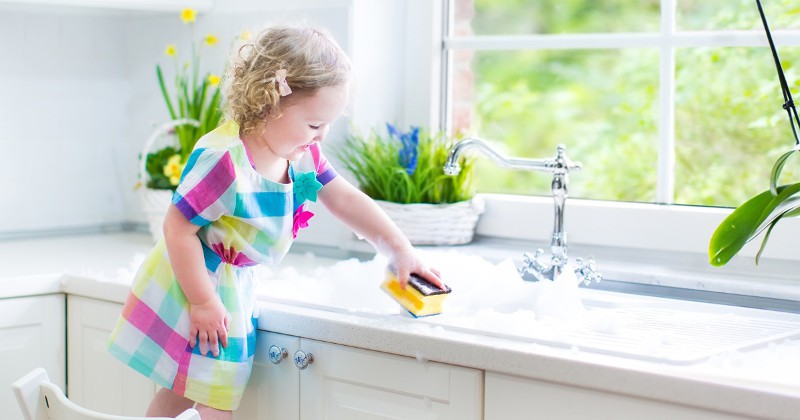 House Cleaning Tips for Busy Moms
11 Commonly Missed Cleaning Spots
Never Miss a Thing!
Join our newsletter to get new recipes, tips, tricks, and tutorials every week!
All Photos attributed to DollarPhotoClub.com