The Complete Spring Cleaning Checklist- Spring clean every room of your house with this complete cleaning checklist.
The Complete Spring Cleaning Checklist
Spring! The weather warms, you get to venture outside without your nose and fingertips turning to icicles. I just love it!
And also with Spring comes Spring Cleaning.  I must admit I have a love-hate relationship with Spring Cleaning.  I mean, I love the idea- a sparkling, clean house from top to bottom... It makes me relaxed and happy just thinking about it.  But what usually ends up happening is that I'll start, then lose focus and find myself weeding the garden or playing catch with the kids.
But this year... This year I want that sparkling clean house, and I needed something to help me keep that focus.  So I've created The Complete Spring Cleaning Checklist.  And I do mean complete. Every room, even the garage and the basement, top to bottom clean. I'm determined! And I want you to do it too, so we can both have a calm, relaxed summer with the kids knowing our houses are CLEAN!
A Few Notes about The Complete Spring Cleaning Checklist
Every room has a separate list.  So you can print this bad boy out and work one room at a time.  If you have multiple bedrooms, you can print out just that page for however many bedrooms you have.  At least, that's what I intend to do.
You might notice that many of the rooms have some of the same items on the checklist.  That's because most rooms have windows, doors, walls, floors, etc, so the tasks are the same.  But don't fret because each room also has a portion of the checklist unique to that particular room.
Every room's checklist has a "top to bottom" mentality.  It literally starts with tasks at the top of the room and moves progressively down to the floor.  My thought process is that I really don't want any gunk or dust from the ceiling or surfaces on my newly cleaned floor.  But you can tackle the checklist in whatever order you choose.
Let me just promote vinegar as a cleaning agent for a minute.  Yes, your average white vinegar.  I love it for cleaning.  It de-smells and de-gunks.  It's acidic so it gets the job done without being too harsh for pets or kids.  If you'd like to use a vinegar solution for cleaning just mix 1 part water and 1 part vinegar in a spray bottle and get to cleaning.
I also make my own window cleaner and dishwasher detergent that you can check out too.  They're pretty simple concoctions, but they work great.
If you're having trouble de-gunking stainless steel or other metals, try using lemon.  Just cut a lemon in half, rub the inside, juicy part on whatever you're working with and let it sit for a couple of minutes.  Then you should be able to wipe everything off and it will be clean! This stuff is no joke.  Our old, icky stainless steel sink that we thought we just needed to replace is totally revived because of lemon!
I've left some space at the end of each room in case you have more specific tasks you intend to tackle.
Other supplies you may need
The Complete Spring Cleaning Checklist
To get your own copy, just enter your email address below, and a PDF will be sent that you can download and print off and start cleaning, or save for later.
Please note: If you are a mobile user, the PDF might not come up on your phone. It really depends on whether your device has PDF reading capabilities.  If it's not opening for you, please try opening it on your laptop or desktop.
So without further ado....
Enter your email below to get your Spring Cleaning Checklist sent straight to your email!
Did you like this COMPLETE Spring Cleaning Checklist? Find more on my Cleaning and In the Kitchen boards on Pinterest!
If you liked this COMPLETE Spring Cleaning Checklist, you might also like
11 Commonly Missed Cleaning Spots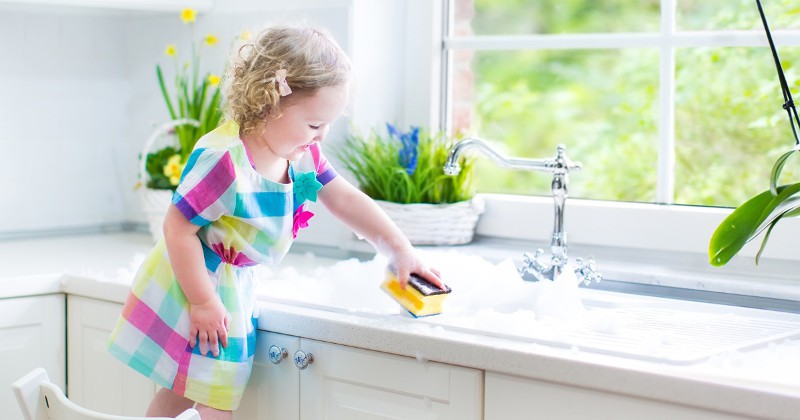 House Cleaning Tips for Busy Moms
All Photos: DollarPhotoClub.com