Easy Homemade Dishwasher Detergent using just 4 ingredients. More frugal than store bought detergent but will make your dishes squeaky clean.
Homemade Dishwasher Detergent
I'm back again today with a new household tip to help you save money! I've been making my own homemade dishwasher detergent for a few years now, and I love it! It's easy to make, it's less expensive than buying pre-made, and one batch lasts quite a long time (and we have a LOT of dishes!)
This Homemade Dishwasher Detergent has just 4 ingredients, and they're all easily available. It's just Borax
, Washing Soda
, Lemi Shine
, and salt
. It's a dry, granular dishwasher detergent, but it really works great.  So let's get down to business.
Here's what you'll need to make Homemade Dishwasher Detergent
Directions for Homemade Dishwasher Detergent
All you have to do is combine all the ingredients in a large bucket and stir to combine.
At this point, you can transfer to a storage container (I just use an old coffee can).  Be aware that there's some sort of chemical reaction that takes place, that results in the mixture hardening a bit.  In order to combat this, I leave my bucket on my counter for 24 hours and stir every couple of hours before transferring to the storage container.  It's a lot easier than trying to break it up with a knife or spoon.
To use in your dishwasher, just scoop out 1-2 tablespoons of the solution (I use an old baby formula scooper, but a tablepoon would work great too), and wash as normal.
That's it! It's that easy!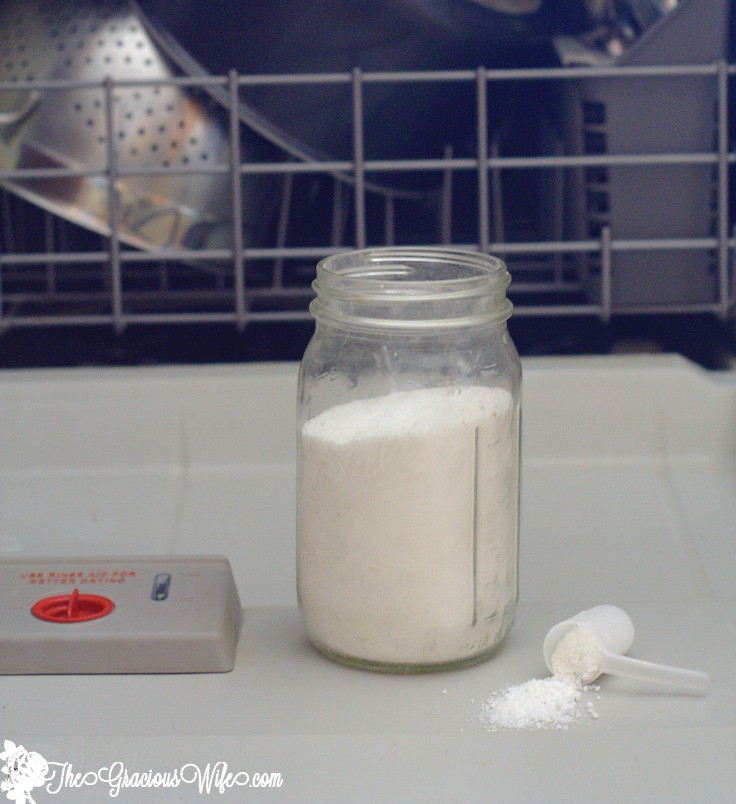 Bonus Money-Saving Tip- Instead of using a store-bought rinse agent, fill your rinse agent compartment with plain white vinegar.  It does the same job at a fraction of the cost!
Did you like this Homemade Dishwasher Detergent Tutorial?  Find more on my Cleaning and In the Kitchen boards on Pinterest!
If you liked this Homemade Dishwasher Detergent tutorial, you might also like: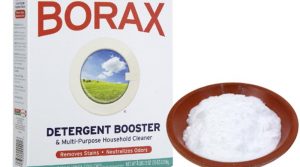 33 Surprising and Fun Uses for Borax
64 Unexpected Uses for Baking Soda
Easy Freezer Cooking for Beginners
Never Miss a Thing!
Join our newsletter to get new recipes, tips, tricks, and tutorials every week!