Surprising household uses for Borax around the house and even more Borax uses just for fun!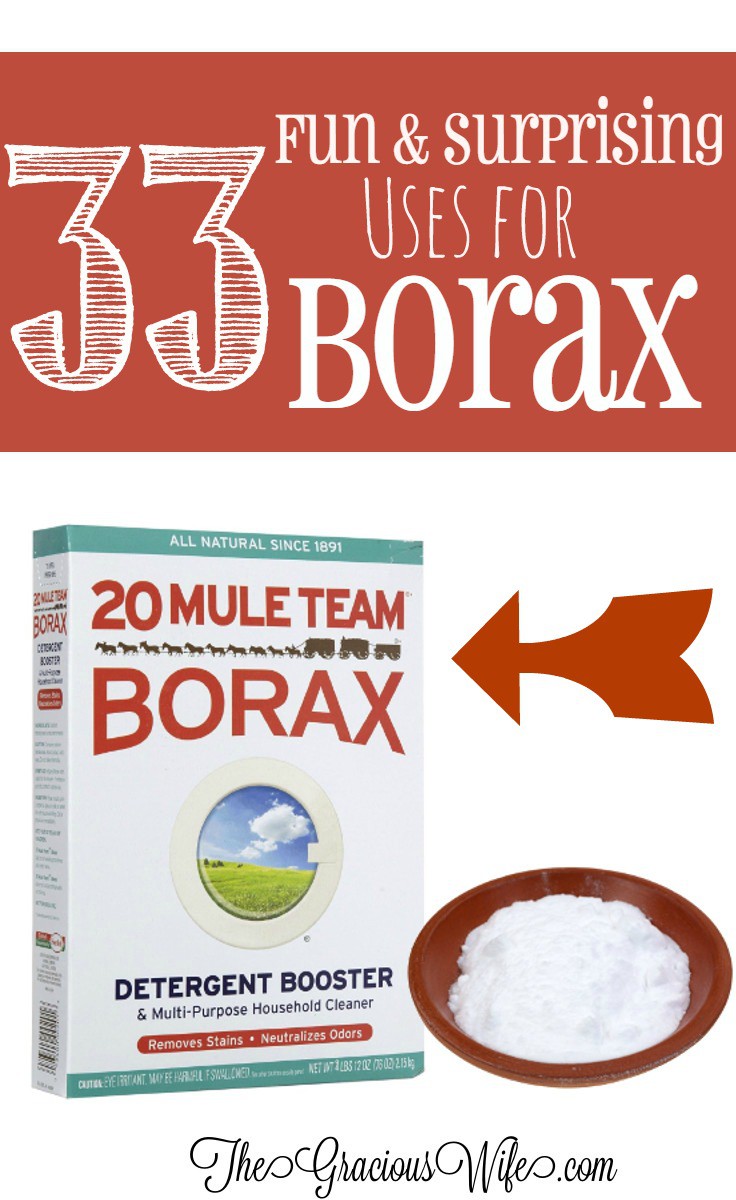 33 Surprising and Fun Uses for Borax
Just like baking soda, Borax has tons of unexpected and even fun uses for around your home!  Today I have 33 different uses for Borax
for your household to share with you!
I realize that there has been some controversy surrounding the safety of borax.  Borax
is a boron mineral, not to be confused with boric acid, a by-product of certain mixtures of borax and certain acids, which actually is dangerous.  After research and consideration, we've decided borax use is safe for most uses in our home.  Is borax right for your family? For more information about Borax safety, visit Crunchy Betty's well-written and thoroughly researched article, Getting to the Bottom of Borax.
Surprising Household Uses for Borax
1.  Homemade Dishwasher Detergent - With Borax and a few additional ingredients, such as Washing Soda and Lemi-Shine, you can make your own homemade dishwasher detergent.  Find the full tutorial at TheGraciousWife.com.
2.  Laundry Booster - Add half of a cup of Borax to each load of laundry with your normal laundry detergent for an extra fresh and clean boost.  For more information, visit frugalliving.about.com.
3.  Homemade Laundry Detergent - With just three ingredients, including Borax, you can create your own frugal, natural, homemade laundry detergent. For the full recipe and tutorial, head to DIYNatural.com.
4.  Bug Killer and Repellent - Lightly sprinkle borax around affected areas to repel and kill pests such as ants, roaches, and fleas.
5. Rust Remover - Remove rust and rust stains using a simple mixture of Borax and lemon juice. Find the full recipe as well as other rust removal recipes at hearts.com.
6.  Homemade All-Purpose Cleaner - Using common household ingredients, including Borax, hydrogen peroxide, and vinegar, you can make a powerful and effective homemade all-purpose cleaner.  Find the full recipe at TheThriftCouple.com.
7.  Toilet Bowl Cleaner - To clean your toilet bowl, use Borax just like you would use a soft scrub.  Sprinkle the Borax in the toilet bowl. Let it sit for a minute.  Then scrub and wipe clean.
8.  Pet Odor Control - Lightly sprinkle areas that are heavily used by pets (such as dog or cat pets) to freshen and reduce odors.
9.  Preserve Fresh Cut Flowers -  You can preserve fresh cut flowers from your garden, by drying them out with Borax, while still allowing your beautiful flowers to maintain their original color and shape.  Find the full tutorial at PolishTheStars.com.
10.  Carpet Cleaner - Clean stains from your carpet, including hard to get out stains like chocolate or pet urine using Borax.  Find out how at TheCentsableShoppin.com.
11.  Mattress Cleaner - If you have small children, this tip will be especially useful.  You can get stains, including urine, out of mattresses using Borax and water.  For full instructions, visit HowToCleanThings.com.
12.  Liquid Plumber - You can unclog your drains using just Borax and boiling water!  No need to buy any more expensive drain decongestants! Visit DIYnCrafts.com for directions.
13.  Old China Revival - You can renew old, dingy china by soaking in Borax! Just fill your sink with warm water, and stir in about ½ cup of Borax.  Place china in the sink and allow to soak for 30 minutes to an hour.  Then just rinse, and wash the dishes as usual for beautiful, shiny dishes!
14.  Makes Homemade Candles Burn Better - Make homemade candles burn taller and brighter by treating the wicks with Borax.  Check out a fun burning experiment at RedTedArt.com for more information and a great tutorial.
15.  Nourish Fruit Trees - Boron is an essential nutrient for most plant growth.  It's particularly needed for flowering and fruit production.  To keep your fruit trees healthy and to help them increase fruit production, sprinkle a small amount of Borax around your fruit every three to four years.
16.  Mouse Deterrent - Sprinkling Borax along walls can help deter mice from your home.  Mice like to run along walls, but dislike the powder sticking to their feet so they're less likely to return to that area.  Do be careful with this if you have pets or children.  Borax is generally considered safe, but is harmful if ingested in large doses.
17.  Homemade Goo-Gone -  You can make your own natural and effective "goo-gone" using just Borax and oil! Find out how at ParsimoniousPash.com.
18.  Humidifier Deodorizer - You can keep your humidifier must and odor free by adding about a tablespoon of Borax per gallon of water and letting it sit.  Be sure to rinse out your humidifier and refill with plain water prior to actual use.
19.  Sink and Tub Cleaner - Get stains and stuck-on grime off of your sink and tub by making your own homemade natural scouring powder with Borax, baking soda, and salt.  For the full recipe, visit WellnessMama.com.
20.  Outdoor Furniture Cleaner - Make your outdoor patio furniture look like new with a handy cleaning solution, including Borax.  Find the full ingredient list and instructions at DIYNetwork.com.
21.  Cat Litter Deodorizer - Try mixing a little Borax in with your cat litter to reduce smell and keep the litter smelling fresh longer.  The higher pH of Borax works with the lower pH of urine to help neutralize odors, the ammonia smell in particular.
22.  Garbage Disposal Cleaner - Garbage disposals are prone to mold and bacteria due to leftover food particles.  Keep your garbage disposal clean and odor free using Borax and this simple video tutorial.
23.  Linen Freshener - Allow your sheets, towels, and other linens to soak in your washer with hot water and about a cup of Borax to remove that funky, musty odor!
24.  Garbage Can Deodorizer - Sprinkle a little Borax into the bottom of your garbage can to keep it smelling fresher for longer.
25.  Weed Killer -  Kill weeds in your lawn, sidewalk, and driveway using Borax! Find out how here!
26.  Mold Inhibitor - Borax can also kill, remove, and inhibit mold growth. Borax essentially dries up the damp environment that mold loves oh-so-much and kills the mold in the process.  For more information on the mold-killing powers of Borax, visit MoldBlogger.com.
 More Fun Uses for Borax
If you thought those incredibly awesome and effective ways to use Borax were great, you'll be even more thrilled with these fun ideas!  Make these fun Borax projects with your kids for loads of sensory play and fun!
27.  Snowflakes - Make these pretty snowflakes using Borax! You can also make sparkly crystals in other creative shapes.  For the full tutorial, head to madmim.com.
28.  Bouncy Balls - Forget those dollar store bouncy balls! You can make your own at home, and have fun doing it with simple ingredients, including Borax.  Visit The36thAvenue.com for full instructions.
29.  Slime - Give your children a great sensory play experience by making homemade slime with Borax! You and your kids will have an awesome time both making and playing with your homemade slime! Check out the full recipe at CoffeeCupsAndCrayons.com.
30.  Floam - Making your own homemade Floam is super easy and fun! Just use simple ingredients such as glue, Borax, and bean bag filler beads.  Find the full tutorial at GrowingAJeweledRose.com.
31.  Homemade Silly Putty - Remember Silly Putty?! I haven't seen any in quite some time, but now you can make your own at home using Borax! Visit ScatteredThoughtsOfACraftyMom.com for the full how-to.
32.  Homemade Flubber - Experience more sensory play with your kids by making this homemade flubber craft project! Katie at LiveCraftEat.com says it reminds her of B.O.B. from the Monsters vs. Aliens movie, and I agree!
33.  Glow-in-the-Dark Slime - Make a fun variation of the popular sensory play slime with this incredible Glow-in-the-Dark Slime version at APumpkinAndAPrincess.com.

If you liked these Fun and Surprising Uses for Borax you might also like:
64 Unexpected Uses for Baking Soda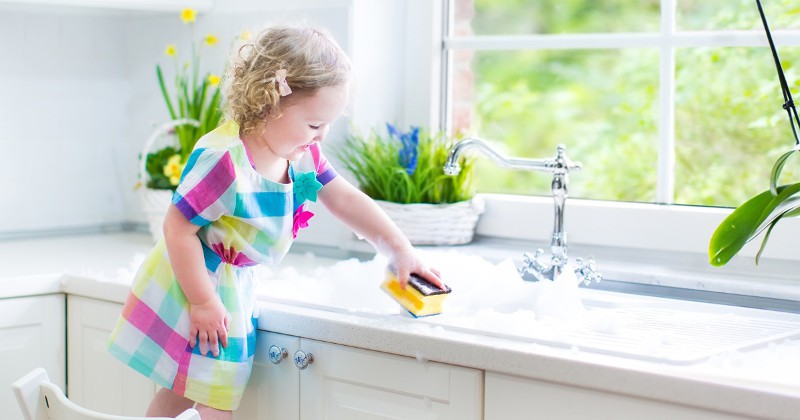 House Cleaning Tips for Busy Moms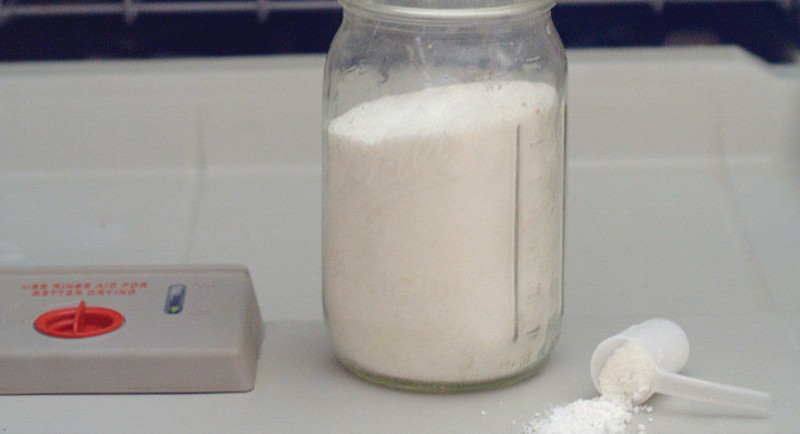 The Complete Spring Cleaning Checklist
Get More Ideas For the Home
Did you like these 33 Surprising and Fun Uses for Borax? Find more on my In the Kitchen and Cleaning boards on Pinterest!

Never Miss a Thing!
Join our newsletter to get new recipes, tips, tricks, and tutorials every week!
Photo credit: dollarphotoclub.com and amazon.com