Homemade Fajita Seasoning is quick and easy to make and tastes so much better than store-bought! It's cheap, healthy, and easy to change to your personal tastes!
Homemade Fajita Seasoning
I've been making my own taco seasoning for a long time. Like since high school long. I liked it so much better than store bought seasoning packets that it inspired me to make this Homemade Fajita Seasoning.
It's awesome and you'll love it. For the same four reasons that I love both seasonings.
It's cheap. Even cheaper than the stuff you buy from the store.
It's easy. Just whip it all up in a bowl with ingredients that are probably already in your pantry!
It's healthy. It's naturally gluten and dairy free, and you get to control exactly what's in it. No weird additives or preservatives.
It tastes amazing. Better than store bought. 100%.
I was trying to figure out the difference between taco and fajita seasoning because they taste kind of the same but also a little different, you know? It turns out that the one main difference between taco and fajita seasoning is a citrus element, usually lime when making it fresh.
What's the Difference Between Taco Seasoning and Fajita Seasoning?
When I decided I wanted to make my own fajita seasoning, this was my first question. It turns out they're extremely similar, with just a few subtle differences.
Store bought fajita seasonings contain citric acid, where taco seasoning does not. The citric acid is meant to mimic the citrus flavors and fresh lime typically used in the marinade for the meat.
In our version today, the lemon pepper seasoning will fulfill the citrus requirement and give this fajita seasoning a classic tang. Or you can some tajin or chile lime seasoning for the same effect.
Taco seasonings also often contain Mexican oregano, while fajita seasonings do not.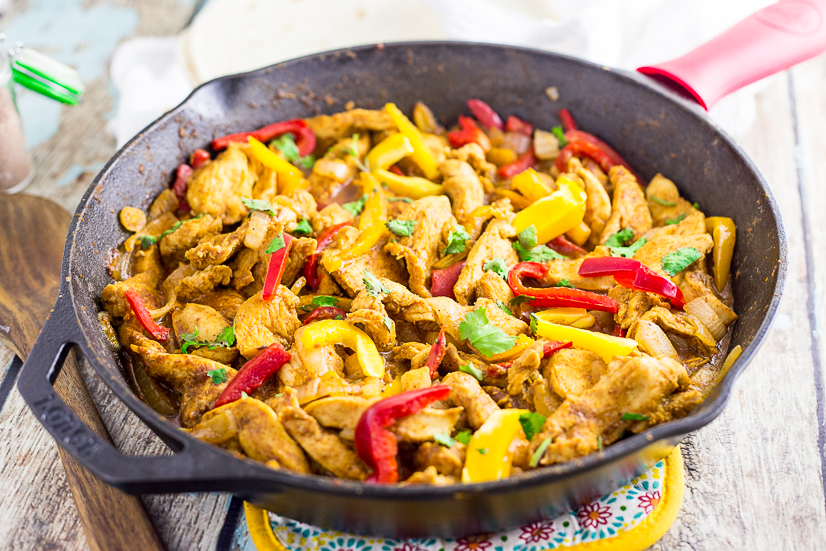 What's in Fajita Seasoning?
The ingredients in homemade fajita seasoning are pretty much the usual suspects in classic Tex-Mex food.
The majority of the mixture is chili powder and cumin. Chili powder is a classic southwestern flavor and is used in my common dishes, such as chili!
Cumin has a nutty, earthy flavor, and a strong smell. It's also used in tacos.
The rest is made up of salt, paprika, lemon pepper seasoning, garlic powder, onion powder, and a little cayenne pepper for spice.
Why is There Cornstarch in Fajita Seasoning?
The cornstarch is there to simply act as a thickener, which helps the meat juices stay more with the meat instead of run off.
A better question in my opinion is, "Is the cornstarch necessary?"
And to that I say, NO. This recipe totally works without it. So if you're doing keto or low carb, just skip it and don't even worry about it.
What Can You Make with Homemade Fajita Seasoning?
Oh, so many things! You can use it with any meat to make fajitas.
Chicken, steak, shrimp, fish. You can even make vegetarian fajitas with black beans, sweet potatoes, bell peppers, and onions tossed in fajita seasoning. Check out my favorite easy chicken fajitas and easy steak fajitas recipes to get the how-to.
You can also season quesadillas and casseroles. Mix it into sour cream for fajita dip. Or into salsa or sauces for a tangy kick.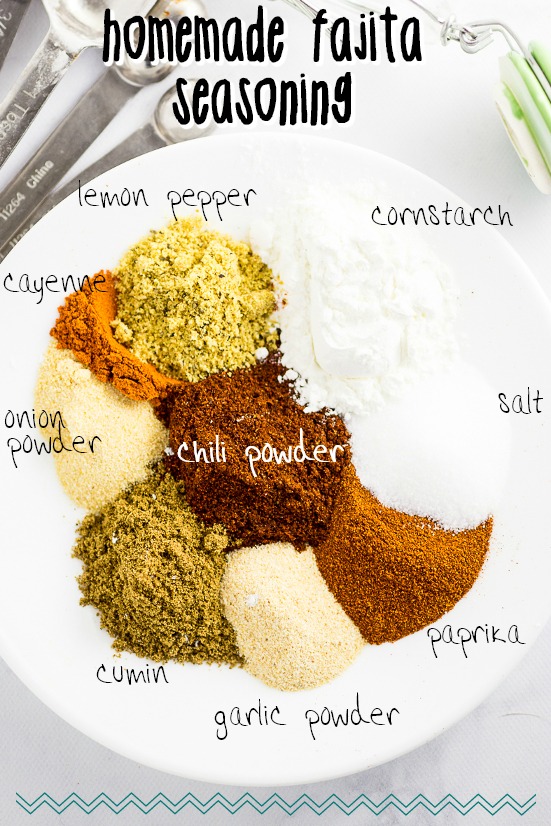 More Mexican-Inspired Recipes You'll Love
Fajita Seasoning
Homemade Fajita Seasoning Mix is quick to make and so much better and flavorful than store-bought! This homemade chicken fajita seasoning is our go-to seasoning for perfect authentic fajitas every time!
Print
Pin
Rate
Ingredients
1

tablespoon

chili powder

1

tablespoon

cornstarch

2

teaspoons

cumin

1

teaspoon

salt

1

teaspoon

paprika

1

teaspoon

lemon pepper seasoning

¾

teaspoon

garlic powder

½

teaspoon

onion powder

¼

teaspoon

cayenne pepper
Instructions
Combine all ingredients in a small bowl.

Use immediately or store in a small container.
Notes
Lemon pepper seasoning: You can also use chile lime seasoning, also called tajin.
This recipe is gluten free and dairy free! (Just check the labels of your spices to make sure there are no weird additives)
I store my fajita seasoning in cute little spice jars like these. You can also store it in zip baggies or any container with a lid (like an empty jelly jar!)
Please note that the cornstarch is optional. I rarely use it. But they do usually have some type of thickener in a store bought packet.
Homemade fajita seasoning fits keto and low carb lifestyles if you omit the cornstarch.
Don't forget to give your fajitas a fresh squeeze of lime juice when they're finished cooking. It will take them from "good" to "blow-your-mind amazing!"
To use this Homemade Fajita Seasoning with the protein (or veggies) of your choice: Use about 1 tablespoon of seasoning per pound of meat. If you did not use cornstarch, use 2 teaspoons of seasoning per pound of meat.
Check out my favorite Easy Chicken Fajitas and Easy Steak Fajitas recipes to get cooking!
This recipe makes about FOUR 1-tablespoon servings. 
Nutrition
Serving:
1
tablespoon
|
Calories:
22
kcal
|
Carbohydrates:
4
g
|
Protein:
0
g
|
Fat:
0
g
|
Saturated Fat:
0
g
|
Cholesterol:
0
mg
|
Sodium:
617
mg
|
Potassium:
68
mg
|
Fiber:
1
g
|
Sugar:
0
g
|
Vitamin A:
905
IU
|
Calcium:
16
mg
|
Iron:
1.2
mg
Did you make this recipe?
I love seeing your creations. Snap a quick photo and mention @TheGraciousWife or tag #thegraciouswife on Instagram! Leave a STAR rating below!
UPDATE INFO: Originally published in May 2019. Updated and republished in May 2020.
Never Miss a Thing!
Join our newsletter to get new recipes, tips, tricks, and tutorials every week!