Part 5 in a 5-part Quilting for Beginners series.  This Binding Your Quilt section will walk you through binding your quilt and adding finishing touches to your quilt.  Make your own DIY sewing quilt with this step-by-step tutorial!
Binding Your Quilt - Quilting for Beginners Part 5
We're FINALLY back in business with the last part in our 5-Part quilting series, How to Make A Quilt for Beginners, and we're going to finish off the series and your quilt with binding.
With all the work you've done so far, I can pretty much guarantee that this will be cake.
See all FIVE PARTS of the How to Make a Quilt Series on the Main Page.
Binding Fabric
Binding is basically the strips of fabric that are going to connect the top of your quilt to the backing.  Let's talk about fabric first.  You will want a sturdy fabric for your binding.  The cotton like you used for your quilt top will work just fine, just stay away from those paper thin fabrics used for linings and such.
I haven't mentioned this yet, so before we begin, you're going to need to cut a square out of each of the corners of your backing and batting (like the picture above), so that you can have clean, mitered corners.
Binding Your Quilt:
Ok.  So you've basted and quilted your quilt and you know what kind of fabric you need, so let's get started.
1.  Start off by cutting your binding fabric into strips.  In this tutorial, I made a twin-sized quilt, so I cut my fabric into 4-½ inch wide strips.  I recommend using this width for twin-sized or larger quilts.  If you're making a baby or crib quilt, you can probably use 2-½ to 3 inch wide strips, but you'll also have to trim down your backing and batting a bit.
So, using your rotary cutter, ruler, and cutting mat
, cut your binding into strips.  To find out how many strips you need, find the perimeter of your quilt top (add the length of all 4 sides together), then add 20, then divide by the length of your strips and round up.
My quilt perimeter was 231 inches.
231 + 20 = 251 inches
My strips were 74 inches long, so 251 divided by 74 is 3.4.  So I needed 4 strips
2.  Next we're going to sew together our strips to make one long, continuous binding strip.  Lay one strip flat horizontally.  Lay another strip vertically on top of the first strip on the end.  Pin to hold it in place.  I like to pin in an "L" shape so that I don't have to sew over the pins.
Mark a line at 45°, then using your sewing machine, sew right on that line.  Trim off the excess a quarter inch away from the seam.  Then split the seam and iron the edges down, one on each side.
Continue this process until all of your binding strips are connects.
BE CAREFUL! Always make sure your original strip (the longest one that you keep adding onto) is the horizontal strip on bottom.  If you switch the placement, your seams will be on opposite sides and will be exposed later on this process.
3.  Fold your binding strip in half length-wise. Now iron the strip that way so it stays.
4.  Next is a placement rough draft.  No pinning needed for this part.  Place your binding strip on your quilt top so that the open edges are in line with the outer edge of the quilt top.  Don't start at a corner! Start about half-way on one of the sides.
Line your binding strip up around the edges of your quilt.  When you get to a corner, fold the strip up, away from the quilt top so that it's creased at a 45° angle.  Then fold it back down against the next edge of your quilt top.  These will be your mitered corners.
Continue all the way around your quilt top.  Check to make sure that none of the seams on the binding strips are in the corners.  If they are just adjust a couple of inches here and there until it's right.
When you've got it laid out right, pin just the starting edge so you know where to start.
5.  Now we're going to sew the binding strip to the quilt top.  Don't start right at the beginning of the strip where you have it pinned.  Start about 3-4 inches in from there.  Be sure to back stitch and use the quarter inch seam.
Stop stitching a quarter inch before you reach the corner of your quilt top, back stitch, release the foot, and remove your quilt.  We're going to use the same technique as in step 4, only we'll be pinning for accuracy this time.
So fold your binding strip up, away from the quilt top to create a 45° crease, then back down so that it's in line with the side of the quilt top again.  Pin your crease.  Then continue stitching until you're about 4 inches away from where the start of your binding strip is pinned. (You should have an eight-ish inch gap there now)
6.  Connecting the start and the end pieces.  Unpin your starting point, and unfold it so that it's full width.  Fold the outside edges inward so that we won't see the ugly edges of the fabric.  Iron the strip so the fold stays.
Trim your ending point so that it's only about 2 inches past where it will meet the starting strip.  Place this strip inside of the starting strip (Think double deck-er taco here. Nothing complicated).  Then pin the 2 strips together.
Finish attaching the binding by starting to stitch at least an inch before you ended sewing. Be sure to back stitch, and continue stitching until you reach about an inch past the starting point.
7.  Fold your binding strip up so you can wrap it around to the backing of the quilt.  You're going to need lots of pins for this part.  Line the edge up with the seam that you stitched on the other side.  Then move the strip up an eighth of an inch and pin. Continue this process all the way around the quilt.  Because of the folding you did on the other side for the corners, the corners will pretty much fold themselves on this side.  Just tuck them under and pin on the diagonal.
8.  The final stitching.  You're actually going to be sewing with the quilt top facing up.  Starting at a corner, start stitching in the ditch of the seam of where you just stitched the binding strip to the quilt top.  When you get to a corner, release the foot, and just turn your quilt and start sewing again.
Be sure to back stitch when you start and finish.
9.  Final touches.  Take the pins out of the quilt.  Trim up any loose strands hanging from your quilt. And that's it!
You're done! Do a happy dance!
I would love to see a picture of your finished quilt over on my Facebook page! Stop on by and share your accomplishment!
Did you like this Piecing and Finishing Your Quilt Top section? Find more like it on my Sewing and DIY & Crafts boards on Pinterest!
If you liked this Piecing and Finishing Your Quilt Top section, you might also like these fun sewing projects!
Quilting for Beginners - 5 Part Series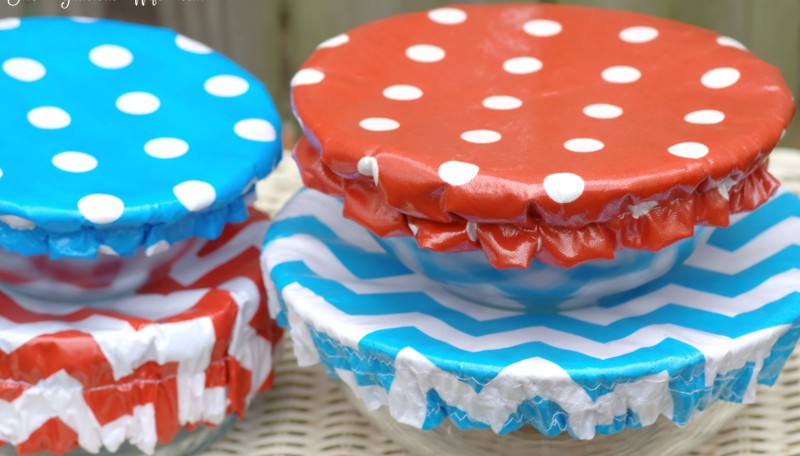 DIY Washable Reusable Bowl Covers
See More DIY & Crafts Projects
Never Miss a Thing!
Join our newsletter to get new recipes, tips, tricks, and tutorials every week!
Photo Credit: DollarPhotoClub.com