This cute and festive DIY Paper Plate Candy Corn Banner makes an adorable and cheap DIY Halloween decoration that's perfect for your home or even a Halloween party decoration.  So easy to make that even the kids could help!
Paper Plate Candy Corn Banner
Decorating for Fall is my FAVORITE.  I  think I like it even more than decorating for Christmas! But with all three of my kids' birthdays in the Fall, we usually find ourselves a little more broke than usual. So I don't get to buy as many Fall decorations as I like (unless I can find some in, like, July, and I'm not above Fall shopping during the summer...).
Even though I can't buy all the pretty, fun Fall decorations, I still want my house to be comfy and festive.  To do this, I'll sometimes hit up the dollar store, but usually I'll just DIY myself some new decorations, like this super simple and adorable Paper Plate Candy Corn Banner.
This candy corn banner is perfect for Halloween, but it's also great for all through the Fall season.
To make my Paper Plate Candy Corn Banner I used 2 different sizes of paper plates. You can use whatever size you want, just make sure you get the kind that's not coated in wax as it will repel the paint.  I used some sparkly white paint for the tips of the candy corn because I love sparkles but you can skip it and just leave it plain, if you'd like.
To make your own Paper Plate Candy Corn Banner, you'll need:
Paper plates (NOT wax coated ones!)
Orange Paint
Yellow Paint
White Paint (optional)
Paint brush
Hole Punch or tape
Twine, string, or ribbon
Directions for Paper Plate Candy Corn Banner
1.  Lay out the paper plates you'll be using.  Each plate will make about 8 candy corns. You can use all the same size plate or mix it up with some bigger plates and smaller ones, like the one I made.
2. If you're using white paint, start by painting a white circle on the back side in the center of each plate.  Allow the plates to dry a bit and clean brush.
3.  Using the orange paint, paint a ring around the white circle and fill it in on each plate.  Allow the plates to dry and clean brush again.
4.  Finish painting the outside of the plate with the yellow paint, and allow to dry.
5.  Once plates are dry, cut into quarters.  Then cut each quarter in half. Your plate should look like a pie cut into 8 slices.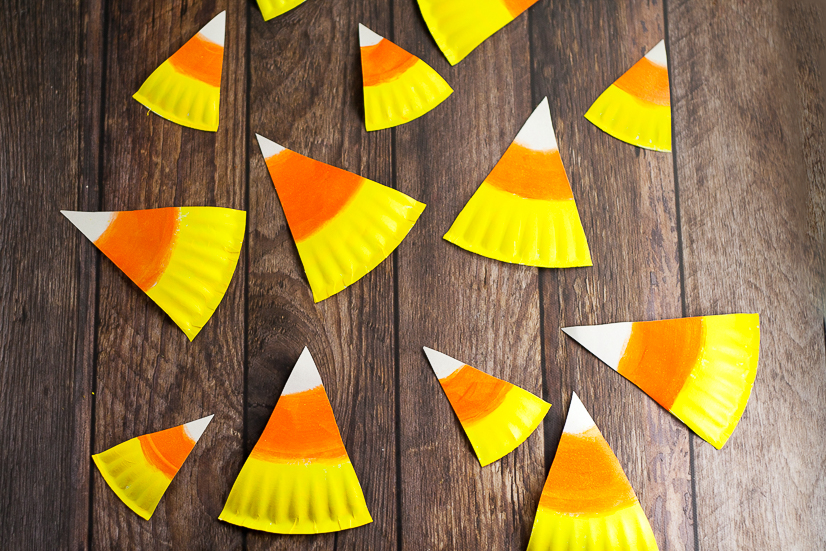 6.  Attach candy corns to twine or string with tape or by stringing them through hole punches.
Did you like this Paper Plate Candy Corn Banner tutorial? Find more on my Halloween, Falling for Fall, and DIY & Crafts boards on Pinterest!
If you liked this Paper Plate Candy Corn Banner tutorial, you might also like
Cheap DIY Halloween Decorations
Peanut Butter Candy Corn Cookies
See More Halloween Ideas

Never Miss a Thing!
Join our newsletter to get new recipes, tips, tricks, and tutorials every week!