Rainbow Mason Jar Treats -a fun St Patrick's Day treat in a mason jar, perfect for kids or a DIY gift idea for teachers or friends.  Super cute rainbow party favor too! 
Rainbow Mason Jar Treats
I think, in the eyes of kids, St. Patrick's Day may be one of the least fun holidays.  I mean, I remember thinking as a child, We wear green? That's it? And someone might pinch me?!  Baby Boy loves green, so this may actually be a fantastic holiday for him but the other two kids... not so much.
I wanted to do something a little bit fun this year, but not too over-the-top.  We're a busy family, after all, and I like to reserve the really special stuff for Christmas, Easter, and birthdays. So, I decided to make Rainbow Mason Jar treats for the kiddos.  It's super simple, cheap, and any holiday with candy is kid-approved!
Here's what you'll need:
This will make about 2 Rainbow Jars
Note: 1 large bag of Skittles filled about two 12-ounce mason jars for me.  I made three here, one for each of my kids.  I used two large bags of skittles with just a few left over.
Directions for Rainbow Mason Jar Treats
1.  Place some Rolos
in the Mason Jars
, just enough so that the bottom is covered.
2.  Next place a layer of mini marshmallows
. Again, just enough to cover the Rolo layer.
3.  Sort the Skittles
into colors.  I had my kids do this part, and they had a blast, though they really wanted to do some taste-testing.
4. Layer the Skittles by color in the Mason Jar (purple, green, yellow, orange, and red.  Or the reverse order works too.)
5.  Fill the jar the rest of the way with mini marshmallows.  This will help keep all the layers in place if the jar gets moved around.
6.  Place the lid on the jar, and tie a pretty ribbon on, if you'd like. Now you have a fun St Patrick's Day treat for the kids!
Did you like these Rainbow Mason Jar Treats? Find more on my St Patrick's Day, Kid-Friendly Food, and DIY boards on Pinterest!
If you liked these Rainbow Mason Jar Treats, you might also like
Slow Cooker Corned Beef and Cabbage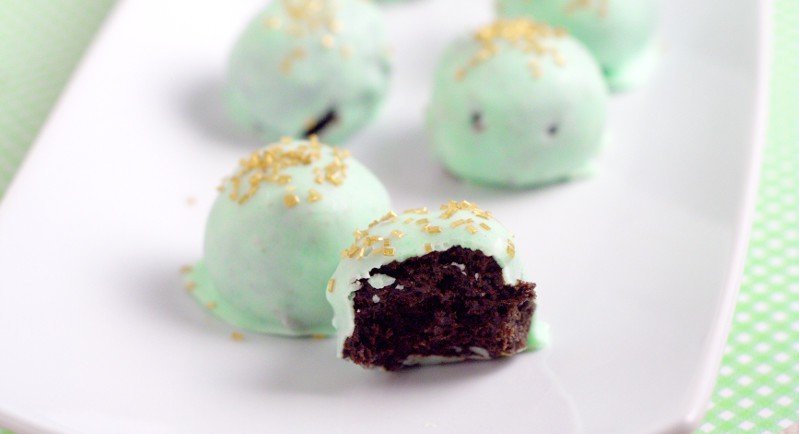 Homemade Mint White Hot Chocolate
See More St. Patrick's Day Recipes and Ideas
Never Miss a Thing!
Join our newsletter to get new recipes, tips, tricks, and tutorials every week!