Home Management Binder - FREE Printables, plus how to set up your very own Home Management Binder. Just print and put it together!
Home Management Binder - FREE Printables
I'm not the most organized person in the world (Seriously, decluttering is my Kryptonite), but it really helps me to be able to see things right in front of me.  A visual plan, if you will.  I make worksheets and lists for all the big events in our life, and I've shared some of them here (like my Christmas Gift Planner, Grocery List Organizer, and Monthly Meal Plans).
Probably the biggest job I have, though, is managing our home.  There are so many little things that can slip through the cracks! Which is why I wanted to share with you my little trick for keeping it all together, my Home Management Binder.
My Home Management Binder consists of 5 sections:
Calendar
To-Do
Meal Planning
Budget
Important Information
Each section has several forms in it that I fill in weekly or monthly.  You can get the ALL of the worksheets for FREE by signing up at the bottom of the page.  But first, let's go through, and I'll show you what each section contains.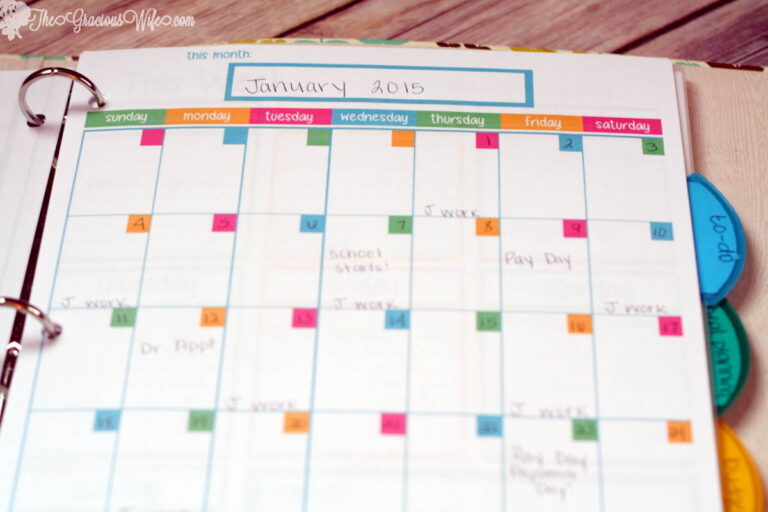 1. Calendar
The calendar section is pretty easy and straight-forward.  Included is a monthly calendar, followed by a weekly calendar.  I use the monthly calendar to fill out important out-of-the-ordinary dates, and I use the weekly calendar to fill in more of our daily schedule with specific times.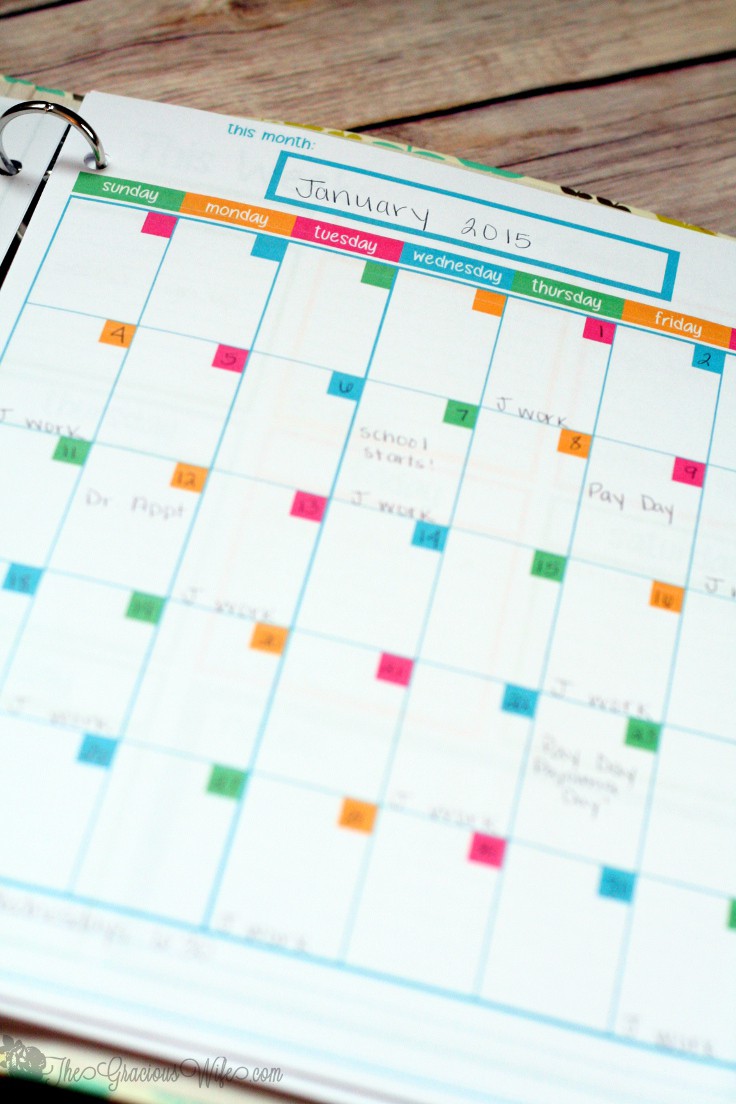 2. To-Do
In the To-Do section, you'll find:
a long to-do list that I use for on-going projects throughout the month.  Basically anything that's out of the norm, such as things I have to make for the kids' birthday parties or organizing projects I'm working on.
a weekly calendar to plan out my daily to-do lists, like my cleaning schedule or deadlines for work.
a blank list in case some projects on my to-do list require some more extensive planning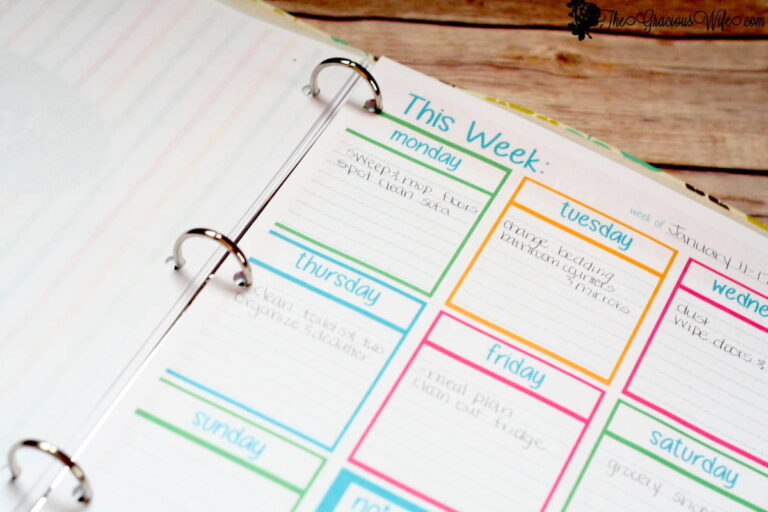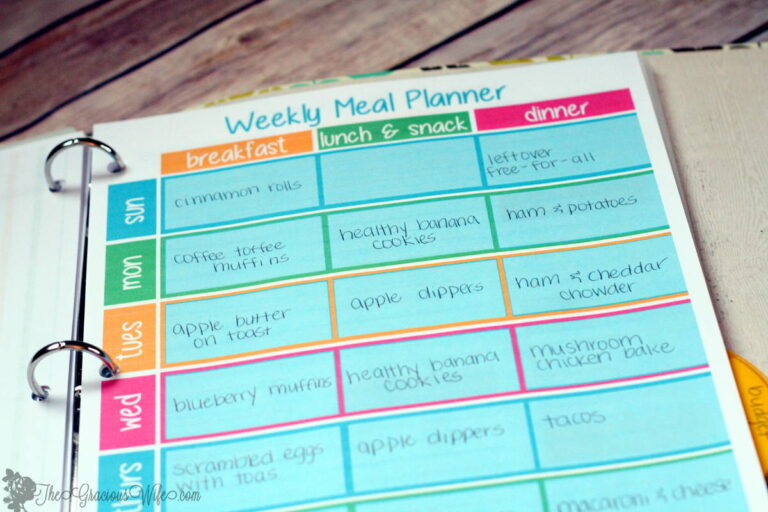 3. Meal Planning
As you might know by now, I use Monthly Meal Plans to plan out our food for the month.  It really helps us save money, waste less food, and stay more organized.  Check out my Monthly Meal Plan page for more meal planning inspiration.  My meal planning section in my binder includes:
a weekly menu with spots for breakfast, lunch, dinner, and snack
a grocery list planner to organize your shopping list after you've figured out your plan
a freezer inventory checklist that you can use to keep track of everything in your freezer.  I was amazed at the stuff that got lost in there before I started using this!
a blank list that I like to use to make my "rough draft" grocery list before putting in the organizer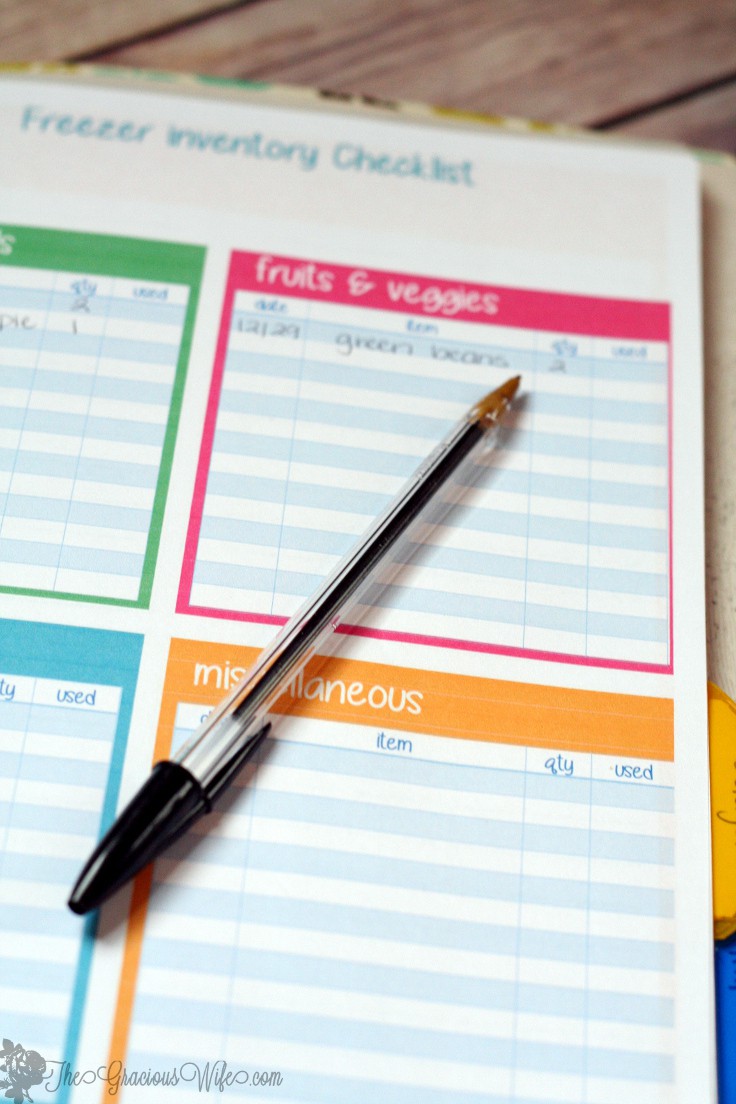 4.  Budget
The budget section is the newest section in my binder.  Last summer, Mr. Gracious had to take a couple months off from work due to an injury, and it really made me realize that we needed to buckle down and track our expenses and saving more responsibly. So in my Budget section, you will find:
a bills checklist. Simply write in all the bills you pay every month and their due dates, and  you can just check them off after you pay each month.
a monthly budget to track the income that's coming in, your spending needs and plan for the month, and what you actually ended up spending or saving for the month
5.  Important Information
The Important Information section is basically your miscellaneous section which includes:
an emergency information sheet that includes the sections for phone numbers you might need in an emergency, like the police station, poison control, and insurance information.
a contacts sheet for you to keep track of all the important people in your life
a password log because with all the other things going on in my life, I have no brain space left to keep track of my passwords anymore.
a blank list and a notes section to jot down your important notes as you think of it.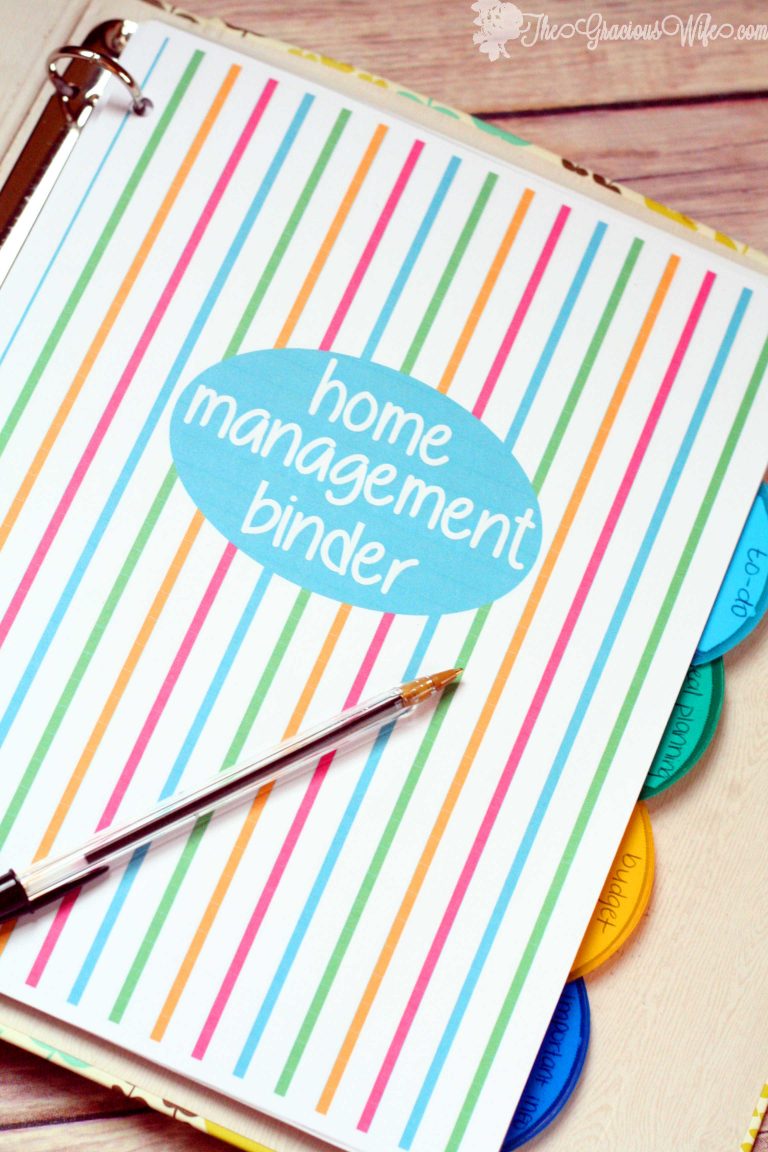 Some additional things you might need for you Home Management Binder
Did you like this? Find more on my Organization and Meal Planning & Budget boards on Pinterest!
Now for the fun part!
You can get ALL of the sheets listed above FOR FREE by filling out the form below!  Your Home Management Binder Printables will be mailed to the email you provide. They will be in PDF format, so make sure you have a PDF reader on your device to view.
Please make sure you check your spam folder if you don't see it!  The email should be immediate, but sometimes we run into glitches.  If you haven't received your printable pack after an hour or 2, feel free to email me, and I will send it over to you.
The Home Management Binder printables are copyrighted and for PERSONAL USE ONLY, not to be redistributed.  Feel free to send your friends over to get their own copies, though!
Sign up here to get your Free Home Management Binder Printables!