Celebrate Thanksgiving with your kids with these amazing Thanksgiving Books for Toddlers, that talk about community, gratefulness, and the true meaning of Thanksgiving.
Best Thanksgiving Books for Toddlers
We love holidays at our house.  For the food, traditions, and fun, but also for the reading opportunities the holidays inspire.  We have a box of holiday books in our basement that I change out for each season.  The kids love seeing the new books each season, and it's nice to have some new books in our rotation.  I also like finding new books for our holiday box. So here's a lost of some great Thanksgiving books for toddlers.  Some of them are even free on Kindle with Amazon's kindleunlimited
.
Check out all of the featured Thanksgiving books at Amazon.com
!
Thanksgiving Books for Toddlers

Biscuit Is Thankful
 by Alyssa Satin Capucilli is a cute book about the things a puppy might be most thankful for on Thanksgiving.
In Clifford's Thanksgiving Visit
 by Norman Bridwell, Clifford and Emily visit their families, and realize how thankful they are for each other.
Corduroy hosts a Thanksgiving feast with his friends in Corduroy's Thanksgiving
 by Lisa McCue, where they discuss what they are most thankful for.

Count Your Blessings!
 by Patricia Reeder Eubank is a lift-the-flap book that features counting and the true meaning of Thanksgiving.

Five Silly Turkeys
 by Salina Yoon is a shape-book filled with silly Thanksgiving turkeys doing silly things.

In Gobble, Gobble, Tucker!
 by Leslie McGuirk , Tucker the puppy tries to wait patiently for his Thanksgiving dinner and yummy treats.
Happy Thanksgiving Day!
 is a bright touch-and-feel book showing and describing things to be thankful for.
Join Emily and her family in Happy Thanksgiving, Emily!
, as they celebrate Thanksgiving with traditions, like watching the Macy's parade, baking, and Thanksgiving dinner.

Jane and her friends sing you through how to make a pumpkin pie in the fun rhyming ebook Jane Bakes a Pumpkin Pie
 by Becky Palatin.
In Maisy's Thanksgiving
, Maisy and her friends prepare together for a big Thanksgiving dinner.
Introduce your children to the Thanksgiving holiday and what makes it so special with My First Thanksgiving
.

Over the River
 is a book from a turkey family's point of view.  Join them as they try to outsmart a boy and his dog on Thanksgiving.
Ryan and his stuffed monkey Rufus go on a treasure hunt and find the real treasures that they're thankful for in Rufus and Ryan Give Thanks
In Spookley the Square Pumpkin: A Family to Be Thankful For
, Spookley feels alone, as he's the only square pumpkin, until he realizes that family comes in all shapes and sizes.
Spot makes a pumpkin pie for Thanksgiving from a pumpkin in his garden in Spot's Thanksgiving
.
In Thank You, Thanksgiving
 a little girl thanks all of the everyday things she's thankful for.
What's so special about Thanksgiving? Read Thanksgiving, What Makes It Special?
 to find out all of the special Thanksgiving traditions and history.

The First Thanksgiving
 is a lift-the-flap book describing the very first Thanksgiving.
In The Ugly Pumpkin
, a funny-looking pumpkin is sad that he didn't get picked to come home in October, but when Thanksgiving rolls around, he discovers his true identity.
When it's time for Thanksgiving dinner, Little Hoo gathers with his friends and family in Who's Coming for Dinner, Little Hoo?
Check out all of the featured Thanksgiving books at Amazon.com
!
Did you like these Thanksgiving Books for Toddlers ideas? Find more on my Parenting and Thanksgiving boards on Pinterest!
If you liked these Thanksgiving Books for Toddlers ideas, you might also like
Thanksgiving Books for Preschoolers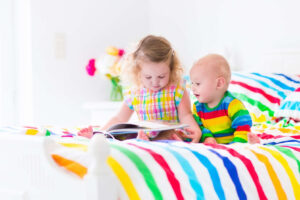 See More Parenting Tips and Ideas
See More Thanksgiving Recipes and Ideas
Never Miss a Thing!
Join our newsletter to get new recipes, tips, tricks, and tutorials every week!