30 of the Best Christmas Books for Kids, from the classics to the new and everything in between. Books the whole family will enjoy reading.
Best Christmas Books for Kids
A few years ago, we saw this cute idea on Pinterest (you probably saw it too!) to wrap a book for each day of December until Christmas.  The kids pick a book and unwrap it each day, as a sort of advent calendar.  So for the past few years, we've been doing it, and the kids absolutely LOVE it.
As I mentioned in Top Thanksgiving Books for Toddlers and Preschoolers, we have a stash of books for each season and holiday that we switch out.  These are some of our absolute favorites, from the new to the classics, and I'm sure you (and your kids!) will love them too.
To view the books (available on Amazon.com
), you can either click on the book picture or on the title description beneath it.
30 Best Christmas Books for Kids
1. A Wish to Be A Christmas Tree
 by Colleen Monroe
2. Bear Stays Up for Christmas
 by Karma Wilson
3. Richard Scarry's Christmas Mice
4. Disney Christmas Storybook Collection
5. Dream Snow
 by Eric Carle
6.  Frosty the Snowman
7. The Christmas Party (Disney Frozen)
8.  God Gave Us Christmas
 by Lisa Bergen and David Holm
9. How Do Dinosaurs Say Merry Christmas?
 by Jane Yolen
10.  How the Grinch Stole Christmas
 by Dr. Seuss
11.  Little Blue Truck's Christmas
 by Alice Schertle
12.  Llama Llama Jingle Bells
 by Anna Dewdney
13.  Mr. Willowby's Christmas Tree
 by Robert Barry
14.  Room for a Little One
 by Martin Waddell
15.  Rudolph the Red-Nosed Reindeer
 by Robert L. May
16.  Santa's Favorite Story
 by Hisako Aoki
17.  Snowmen at Night
 by Caralyn Buehner
18.  Song of the Stars
 by Sally Lloyd-Jones
19.  The Animals' Christmas Eve
 by Gale Wiersum
20.  The Christmas Miracle of Jonathan Toomey
 by Susan Wojciechowski
21.  The Christmas Story
 by Jane Werner
22.  The Christmas Wish
 by Lori Evert
23.  The Crippled Lamb
 by Max Lucado
24.  The Last Christmas Tree
 by Stephen Krensky
25.  The Little Christmas Elf
 by Nikki Shannon Smith
26.  The Littlest Christmas Tree
 by R. A. Herman
27.  The Littlest Elf
 by Brandi Dougherty
28. The Night Before Christmas
 by Charles Santore
29.  The Nutcracker
 by Susan Jeffers
30.  The Polar Express
 by Chris Van Allsburg
Did you like this Best Christmas Books for Kids list? Find more on my Christmas, Parenting, and Kids Crafts & Activities boards on Pinterest!
If you liked this Best Christmas Books for Kids list, you might also like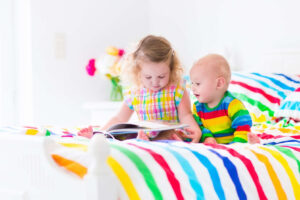 Gift Ideas for Kids that They'll Actually Use
More Christmas Ideas and Recipe
Never Miss a Thing!
Join our newsletter to get new recipes, tips, tricks, and tutorials every week!