Best Books for Preschoolers- A list of the very best books for preschoolers, and our kids' absolute favorite books.
Best Books for Preschoolers
A while back, I wrote about the Best Books for Toddlers.  While I still have one toddler left, my other two have graduated to "preschooler."  It's so bittersweet.  They're growing up so fast! And of course, I'm dealing with the infamous "three-nager" for the second year in a row (My boys are almost Irish Twins, you can read more about how that works for us, if you're interested).  But I'm also really enjoying some parts of preschooler-dom.  They can hold better conversations and ask relevant thought-provoking questions.  I also really enjoy that they have slightly longer attention spans and are way more interested and engaged in reading than they were as toddlers.
List of the Best Books for Preschoolers
Here is my list of the Best Books for Preschoolers.  These books have high ratings from other parents, but they've also been tested and approved in our own house.  I hope your kids have as much fun with them as mine do.
1.  Caps for Sale: A Tale of a Peddler
by Esphyr Slobodkina
2.  Alexander and the Terrible, Horrible, No Good, Very Bad Day
by Judith Viorst
3.  Angelina Ballerina
by Katharine Holabird
4.  But No Elephants
by Jerry Smath
5.  Cloudy With a Chance of Meatballs
by Judi Barrett
6.  Go, Train, Go!
by Rev. W Awdry
7.  The Giving Tree
by Shel Silverstein
8. Corduroy
by Don Freeman

9.  Harold and the Purple Crayon
by Crockett Johnson
10. If You Give a Mouse a Cookie
by Laura Joffe Numeroff- This is actually a whole series
, and all of them are fun!
11. The Gruffalo
by Julia Donaldson
12. The Kissing Hand
by Audrey Penn
13. Madeline
by Ludwig Bemelmans
14. Love You Forever
by Robert Munsch
15. The Little Red Hen
by Diane Muldrow
16. Oh, The Places You'll Go!
by Dr. Seuss
17. Put Me in the Zoo
by Robert Lopshire
18. On the Night You Were Born
by Nancy Tillman
19. The Poky Little Puppy
by Janette Sebring Lowrey
20. The Rainbow Fish
by Marcus Pfister
21. The Tiny Seed
by Eric Carle
22. The Velveteen Rabbit
by Margery Williams
23. The Runaway Bunny
by Margaret Wise Brown
24. Waking Dragons
by Jane Yolen
25. Where the Wild Things Are
by Maurice Sendak
Did you like these Best Books for Preschoolers? Find more on my Parenting and Kids Crafts & Activities boards on Pinterest!
If you liked these Best Books for Preschoolers you might also like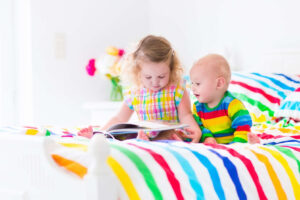 Best Thanksgiving Books for Preschoolers
Best Christmas Books for Children
More Parenting Ideas
Never Miss a Thing!
Join our newsletter to get new recipes, tips, tricks, and tutorials every week!
Photo Credits: DollarPhotoClub.com and Canva.com