A collection of the BEST school lunch ideas for every family. Easy, healthy, allergy-conscious and gluten free, and more!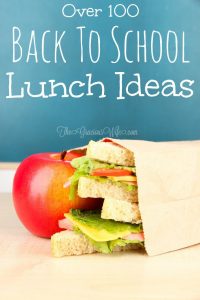 Back to School Lunch Ideas
I hereby declare that today is "Back-to-School Organization Day." My kids start preschool next week, and I can't believe summer went by so fast!  Let's start the day off with some back to school lunch ideas.  I've collected the BEST school lunch ideas to provide you with some inspiration (and hopefully motivation).
School Lunch Ideas for Kids
1.  Start with gathering your supplies! Head over to Family Fresh Meals to get some ideas on cute school lunch supplies and how to organize them.
2.  We all aim to provide our children with excellent nutrition.  For some super healthy options check these out:
School Lunch Ideas: Healthy Recipes and Money-Saving Tips at Faithful Provisions
Simple and Healthy School Lunch Ideas at Simple as That
3.  If you need ideas for your child with allergies or gluten intolerance, look no further.  These site provide tons of great options.
25 Gluten Free and Allergy Free School Lunch Ideas at Keeley McGuire
40 Weeks of Nut-Free School Lunches at Stuffed Suitcase- 40 weeks!  That's the whole school year! Be sure to check out the whole series.
4.  If ease is your main concern, here's what you're looking for:
50 Healthy Easy School Lunch Ideas from Lauren's Latest
Easy Lunch Ideas at The Taylor House
5.  For even more lunch inspiration, check out these sites:
From Keeley McGuire
Peanut butter and banana quesadillas
From Lil' Luna
From Eat Craft Parent
From Mom Endeavors
Hope you found some great ideas that will work for your family and schedule! Come back again for more back-to-school help!
Did you like these School Lunch ideas for Kids? Find more on my Kid Friendly Food board on Pinterest!
If you liked these School Lunch Ideas for Kids, you might also like
See More Kid Friendly Food Ideas
Want more Kid Friendly Food Ideas? Join our newsletter for new family recipes every week!
Never Miss a Thing!
Join our newsletter to get new recipes, tips, tricks, and tutorials every week!
Photo Credits: Dollar Photo Club