In these quick and easy Bourbon Glazed Carrots, slices of carrots are simmered in a buttery bourbon sauce with brown sugar and garlic. The carrots cook right in the sauce and absorb all of the bourbon sauce flavor, making every bite a savory-sweet delight.
Bourbon Glazed Carrots
Bourbon Glazed Carrots feature tender fresh carrots in a buttery, sweet brown sugar, bourbon, and garlic sauce. The carrots cook right in the sauce and absorb it so every bite is decadent and packed with flavor.
Plus, you make them all in one skillet in less than 30 minutes. The hardest part is waiting for them to be done!
I am extremely excited to share this recipe today because after cooking and recipe-testing for many years, my husband is hard to impress. It's not that he's picky or that he doesn't like what I cook (although, that does come with the territory! Some recipes are tested many times before they get the stamp of approval for the blog!) He's just kind of jaded from all that testing. But these bourbon glazed carrots got his stamp of approval from the very first bite. He LOVES them. And now whenever he sees carrots in the fridge, he asks if I'm making "those carrots" again.
And yes, these bourbon glazed carrots are THAT good! So good that you too will want to make them again and again!
What Kind of Carrots Should I Use?
You can use any kind of carrot here. Your typical long orange carrots, baby carrots, or rainbow carrots (of the long or baby variety!).
Cook time may vary slightly based on how you slice them. For long carrots, slice them into circles or diagonally as ovals. For baby carrots, I slice them diagonally length-wise into 2 pieces.
Do I Have to Peel the Carrots?
That's up to you! I usually don't for this recipe, but you definitely can if you prefer.
DO always wash your carrots though!
Bourbon Glazed Carrots Variations
These bourbon glazed carrots are the perfect balance of sweet and savory, so it's hard for me to recommend changing them at all. But variety is the spice of life, so if you must, try these ideas to personalize the carrots to your own tastes.
Make them more savory. Chili has a way of complimenting sweet flavors and turning them slightly savory without completely losing the sweetness. Add a little bit of chili powder to taste or some chili sauce like sriracha or sambal oelek.
Make them more sweet. I wouldn't add any more sugar, as they are already pretty sweet. However, to cut out the savory aspect, you can eliminate the minced garlic. Be sure to season with salt to taste.
Make them spicy. The sriracha or sambal oelek mentioned above will also add a little bit of spice to the dish. To incorporate some spice without adding much chili flavor, you can also add red pepper flakes or a pinch of cayenne.
Make them unique. To put a completely different spin on the dish, try adding some curry (I like red curry paste for this) and a little turmeric.
Make them fresh. Add a little freshness by incorporating some fresh herbs. My favorites here are parsley or thyme, but you can also experiment with chives, rosemary, basil, or oregano.
IMPORTANT NOTE ABOUT COOKING WITH BOURBON!
If you've ever watched any cooking shows, you know that adding alcohol to a hot pan will light that alcohol on fire.
Since home kitchens are not usually equipped for that kind of grand fire show, turn down your heat (or remove the skillet from the heat), and allow it to cool slightly before adding the alcohol.
Since there is butter (grease) in this dish, you cannot put out this fire using water, should you not heed this warning (or if, like me, you threw it in the skillet distractedly). It will go out when the alcohol burns out. But if you need it out immediately, smother it in baking soda (which is how to put out a kitchen grease fire! Never water!)
How to Make Ahead and Reheat Bourbon Glazed Carrots
This is an easy side to make in general, and it's also great because it can be made up to 2 days ahead of time and reheated quickly before serving without losing any quality or texture from the dish.
Make Ahead Instructions
To make these carrots ahead, simply follow the recipe to the end. Allow them to cool and transfer to a container with a lid. Store covered in the refrigerator for up to 2 days.
Reheating Instructions
To reheat, transfer carrots to a large skillet and place over medium heat, stirring often, until heated through.
More Side Dish Recipes You'll Love
Bourbon Glazed Carrots Video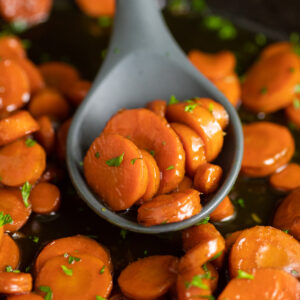 Bourbon Glazed Carrots
In these quick and easy Bourbon Glazed Carrots, slices of carrots are simmered in a buttery bourbon sauce with brown sugar and garlic. The carrots cook right in the sauce and absorb all of the bourbon sauce flavor, making every bite a savory-sweet delight.
Print
Pin
Rate
Ingredients
½

cup

butter

2

garlic cloves

minced

2

pounds

carrots

washed, cut into equal slices, about ½-inch thick

½

teaspoon

salt

or to taste

½

cup

bourbon whiskey

⅓

cup

brown sugar

Black pepper

to taste

Freshly chopped herbs such as thyme or parsley

for garnish
Instructions
In a large skillet over medium-high heat, melt butter.

Add garlic and carrots to melted butter. Season with salt. Cook until carrots begin to brown around the edges, about 8-10 minutes.

Reduce heat to low, and allow pan to cool slightly. (This is important unless you want BIG flames on your stove like on Chopped from the alcohol catching fire!)

Add bourbon to carrots. Raise heat back up to medium. Cook and stir until bourbon is almost evaporated.

Add brown sugar, and stir to combine. Continue cooking while stirring, until carrots are cooked through, about 5-7 more minutes.

When carrots are close to desired doneness, raise heat to medium-high. Stir constantly until glaze is thickened.

Season with black pepper and sprinkle with fresh herbs before serving.
Notes
Let skillet cool on low for at least 3 minutes before adding the bourbon. Adding the bourbon while the skillet is very hot will allow the bourbon to catch fire, which is obviously not ideal in a home kitchen!
To make dairy free, use coconut oil or ghee.
Storage: Leftovers can be stored in an airtight container in the refrigerator for up to 3 days.
Freezer Directions: These carrots are best right after they're cooked. However, they can freeze fairly well. After cooking, allow to cool completely. Transfer to a freezer bag or container. Freeze for up to 3 months. The texture may be softer upon thawing. Reheat in a skillet on the stove.
Did you make this recipe?
I love seeing your creations. Snap a quick photo and mention @TheGraciousWife or tag #thegraciouswife on Instagram! Leave a STAR rating below!
Never Miss a Thing!
Join our newsletter to get new recipes, tips, tricks, and tutorials every week!