Creamed Chipped Beef is an easy, frugal comfort food dinner recipe, with a creamy bechamel sauce and chipped beef, served over golden crunchy toast.
Creamed Chipped Beef
Creamed Chipped Beef. Not the most attractive meal, but what it lacks in looks, it makes up for with its warm, creamy comfort food taste.
Creamed chipped beef features chipped beef in a creamy roux sauce, usually served over toast.
It's actually food the very first food I learned to cook (or maybe it was boxed macaroni...) at probably around 8 years old. In any case, I loved Creamed Chipped Beef night because it meant I got to make it! I would always ask my mom if we could make the "applesauce" recipe, and she would look at me like I was off my rocker (and now you are too, aren't you?). When we added the flour to the butter, I always thought it looked like applesauce, and being 8 and all, I didn't realize it wasn't actually applesauce. I assure you, I know better now. Although, apples in a cheese sauce could be quite delicious...
I digress.
So what's so great about Creamed Chipped Beef? Well, other than the fact that it's so easy an 8-year-old could make it, literally, it's also a super fast, warm, and cheesy comfort food. AND it's super cheap. Toast, flour, butter, milk, and lunch meat. Stuff you probably already have sitting in your kitchen right now. So let's make it!
Why is Creamed Chipped Beef Called SOS?
My grandpa(s) were in the military, and my family has always called it SOS. Which I was told stood for S#!t on a Shingle. I was told that it was gross and served way too often when they were in the military, which is how it gained this pleasant name. It's kind of sad because, made right, it can definitely be delicious and comforting.
SOS also stood for "save our stomachs" or "same ole stuff," probably depending on who you asked, or who was asking. 😆
What Kind of Beef is Used for Chipped Beef
Creamed chipped beef is made with chipped beef, which is very thin slices of salted, smoked beef. It is not as dry as beef jerky and doesn't have as much fat.
Where Can I Buy the Right Kind of Beef?
Chipped Beef is sold in the refrigerated deli section with sliced meats and cheeses. The most common brands are Buddig (what I usually use), Hormel, Esskay, Armour, etc., and it's sold in little plastic packages.
It can also be found labeled as "dried beef" and sold in small glass jars next to other canned meats.
Can I Add Cheese?
Yes, please! Add any kind of cheese your heart desires that will melt! Some of our favorites are cheddar and smoked gouda.
How to Serve Creamed Chipped Beef
Creamed chipped beef is usually served over toast. I usually use plain sandwich bread, but you can also use sourdough, Texas toast, or even garlic bread.
You can top it with fresh herbs, such as parsley or thyme, and a sprinkle of black pepper. It's also delicious with an egg on top for an extra boost of protein.
Serve with a vegetable on the side such as steamed broccoli or a fresh green salad to round out the meal.
More Cheap and Easy Recipes You'll Love
Creamed Chipped Beef Video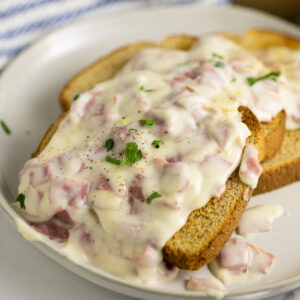 Creamed Chipped Beef
Creamed Chipped Beef is an easy, frugal comfort food dinner recipe, with a creamy bechamel sauce and chipped beef, served over golden crunchy toast.
Print
Pin
Rate
Ingredients
¼

cup

butter

¼

cup

flour

3½

cups

milk

6

ounces

sliced chipped beef

chopped

Salt & pepper to taste

6

bread slices

toasted
Instructions
In a large sauce pan over medium heat, melt the butter.

Add the flour to the melted butter. Stir to combine. Allow the mixture to warm over the heat for 1-2 minutes.

Start pouring in the milk, a little at a time, stirring after each addition to prevent lumps.

When all of the milk is added, continue stirring until the sauce thickens. You're looking for a thick gravy texture.

Stir in beef and salt and pepper to taste. Continue cooking for 1-2 minutes, until roast beef is heated through.
Notes
Nutrition facts do not include bread/toast and will depend on the type used.
Cheese - If you're using cheese, add slowly after sauce has thickened, stirring until it's completely melted and incorporated.
Meat - chipped beef is traditionally used, but deli meat such as ham or roast beef can also be used.
Storage - Store covered in the refrigerator for up to 5 days. Reheat sauce on the stovetop to prevent separation (You can reheat on the microwave but the sauce may separate and have a different consistency).
Nutrition
Serving:
1
serving
|
Calories:
190
kcal
|
Carbohydrates:
11
g
|
Protein:
11
g
|
Fat:
11
g
|
Saturated Fat:
7
g
|
Polyunsaturated Fat:
0.5
g
|
Monounsaturated Fat:
3
g
|
Trans Fat:
0.4
g
|
Cholesterol:
48
mg
|
Sodium:
552
mg
|
Potassium:
280
mg
|
Fiber:
0.1
g
|
Sugar:
7
g
|
Vitamin A:
377
IU
|
Vitamin C:
13
mg
|
Calcium:
248
mg
|
Iron:
1
mg
Did you make this recipe?
I love seeing your creations. Snap a quick photo and mention @TheGraciousWife or tag #thegraciouswife on Instagram! Leave a STAR rating below!
UPDATE INFO: This recipe was originally published in September 2015. It has been updated with new pictures, tips, and video and republished in August 2022.
Never Miss a Thing!
Join our newsletter to get new recipes, tips, tricks, and tutorials every week!