Does the thought of Cleaning your entire Pantry sound exhausting? Learn how to do it ALL in just 15 minutes!
How to Deep Clean Your Pantry in 15 Minutes
If you're anything like me, the thought of adding deep cleaning your pantry to your already packed to-do list sounds daunting and exhausting. But I bet you would never guess that you can actually deep clean the whole thing in just 15 minutes!  That's less time than I spend wiping the counters every day!  The times listed are generous, like if you haven't cleaned out your pantry in a loooong time, so it may actually take you less time!
How to Deep Clean Your Entire Pantry in 15 Minutes
1.  Bring your garbage can over to your pantry.  Remove every item from the pantry, discarding stale and expired items, and items you know you will never use (Or you can grab a box and donate these to a food pantry!) Time: 3 minutes 
2.  With a hand vacuum or the hose extension on your normal vacuum, vacuum up the crumbs on the shelves and floor, paying careful attention to corners.   Time: 1 minute
3.  Find the super sticky spots from spilled jelly, honey, etc.  Sprinkle baking soda or Borax on each spot, then cover with a paper towel wet with hot water.  Time: 1 minute
4.  With a damp sponge, wipe down all shelves, walls, and floors.  For tough spots, use a Magic Eraser or the back of the sponge.   Time: 3 minutes
5.  Remove paper towels from sticky spots and wipe down with your damp sponge.  It should come off easily now.  Dry the entire pantry with a towel.  Apply shelf liners if desired.  Time: 3 minutes
6.  Place loose items that tend to get lost, like packets without a box, seasoning mixes, fruit snacks, etc. in a bin and return to pantry.  Time: 1 minute
7.  Return items to the pantry, taking care to put them in a place you can find them.  I have all my canned goods in one spot, all my pasta supplies in another spot, all my baking supplies on a shelf, etc.  Keep items that you use regularly, like cereal, snacks, and lunch ingredients closer to the front.  You can find stuff much easier this way!  Time: 3 minutes
That's it! Nine minutes to a spotless pantry, and don't you feel so much better without that mess looming in the back of your mind? I know I do!
Did you like these Pantry Cleaning Ideas?  Find more on my Cleaning, Organization, and Kitchen Organization & Decor boards on Pinterest!
If you liked How to Deep Clean Your Pantry in Less than 10 Minutes you might also like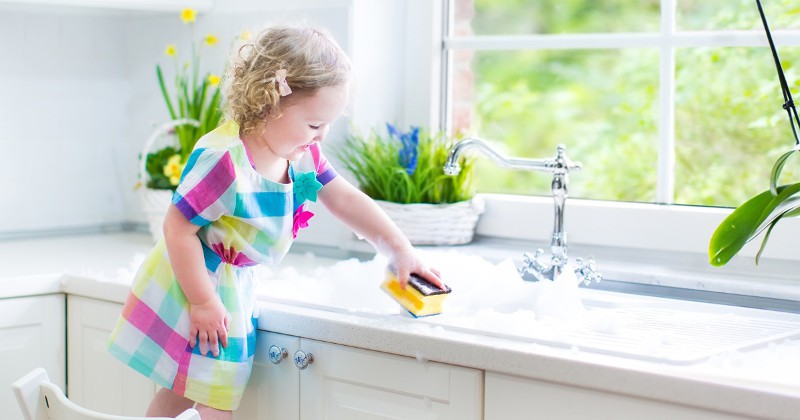 House Cleaning Tips for Busy Moms
The Complete Spring Cleaning Checklist
64 Unexpected Uses for Baking Soda
See All Cleaning and Organization Ideas
Never Miss a Thing!
Join our newsletter to get new recipes, tips, tricks, and tutorials every week!