Make this fun and cute Duck Tape Lunch Box for an easy and useful back to school DIY project that the kids will love making and using! Simple to make and an easy to follow tutorial!
Duck Tape Lunch Box
A couple of years ago, the kids and I made these super fun storage containers to put in a lunch box for school snacks, sandwiches, and more.  They were a lot of fun to make, and the kids loved everything about it, including helping to make them as well as use them. They also loved that they could each pick out a fun pattern of Duck Tape, and even mix and match. So this year, I thought it would be fun to get crafty again and make some Duck Tape Lunch Boxes to go with their other lunch set.
Making your own Duck Tape Lunch Box is pretty easy. First, you'll need to gather your supplies:
Supplies to Make Your Own Duck Tape Lunch Box
Duck Tape Lunch Box Directions
1. Grab the brown paper bag first.  Starting at the top of the bag, cut down one seam and around the edges of the bags bottom but leave one side of the bottom attached.
2. Lay your cut bag flat on the table.  You'll be using the bag as your pattern to make the lunch box.
3. Place a layer of Duck tape across the top of the bag. Fold the beginning of the tape over to the back to tuck in the edge.
4. Now turn your bag over and continue to tape the Duck tape across the top of the bag, folding any extra tape to the inside of the bag
5. Now fold your bag back to the way it was before your cut the seams.
6. Use your standard size Duck tape to tape all the seams together (bottom seams and side of the bag)
7. Cut off any excess tape and make sure all the seams of tape are pressed together
10. Roll down the top of your bag and use a smaller piece of Duck tape to seal each day.  Or you can consider using buttons or string to create a closure.
There you have it! A super fun and frugal Back to School DIY project that's actually useful and the kids will love!
Did you like this Duck Tape Lunch Box Tutorial? Find more on my DIY & Crafts and Back to School boards on Pinterest!
If you liked this Duck Tape Lunch Box Tutorial, you might also like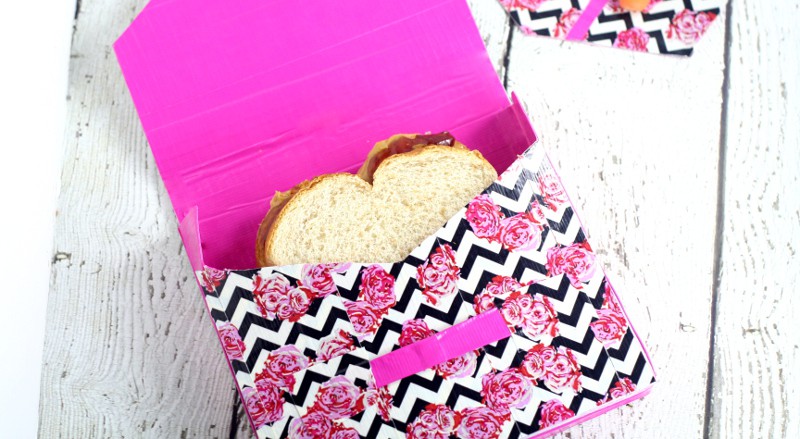 How to Save Money on School Supplies
Never Miss a Thing!
Join our newsletter to get new recipes, tips, tricks, and tutorials every week!