Keep all of your favorite recipes safe and organized with these Free Printable Recipe Cards, in 5 different colors and designs.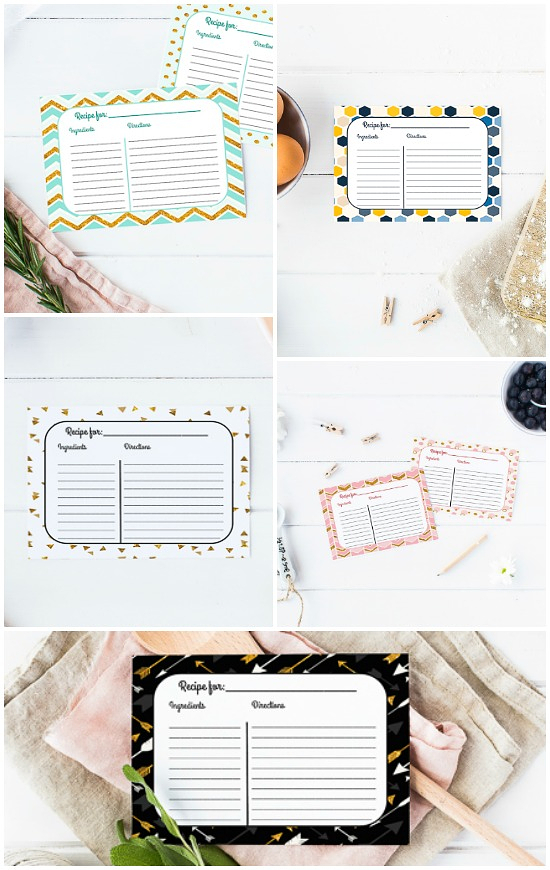 Free Printable Recipe Cards
This last week, I spent literally the whole week designing some free recipe binder printables (I'll leave a link for them at the bottom, so you can grab those too if you want.) Anyway, I had recipe organization on my brain and decided to whip up some Free Printable Recipe Cards while I was at it.
I have a personalized recipe box on my counter that has all the first recipes I learned how to cook and even the first ones that I developed on my own, and I thought it would be a good time for an update. Not on the actual recipes.  Those are perfect, if I do say so myself. But on the recipe cards, for sure.
So for the bonus freebie this week, I'm sharing Free Printable Recipe Cards in 5 different colors and designs.  They're about 4x6 index card size.
Here's a little preview of the recipe cards for you in all 5 Color schemes:
Suggestions for Making Your Printable Recipe Cards
I suggest printing them on Card Stock to make your recipe card printable more sturdy.
You can also laminate your recipe cards to make them even more sturdy against spillage and kitchen accidents.
You can store your Free Printable Recipe Cards easily and frugally using a binder ring, or more elegantly with your own personalized recipe box.
Get Your FREE Printable Recipe Cards NOW!
Now for the good part! You can get your own Printable Recipe Cards for FREE by just entering your email address below.
After you enter your email address, a confirmation email will be sent to you. This is just to keep spammers from adding email addresses of people who don't want the emails.  Click on the confirmation link, and the printables will automatically download.
The Printable Recipe Cards are in PDF format, so make sure you have proper PDF reading software. And the files are LARGE, so they may take a moment to download.

Get Your Free Printable Recipe Cards now!
Enter your email below to get your free printables.

If you liked these Free Printable Recipe Cards, be sure to check out all of my printable freebies:
Home Management Binder - FREE Printables