Organize all of your favorite recipes and recipes you want to try in one cute place with these cute, pretty, and practical DIY Recipe Binder Printables.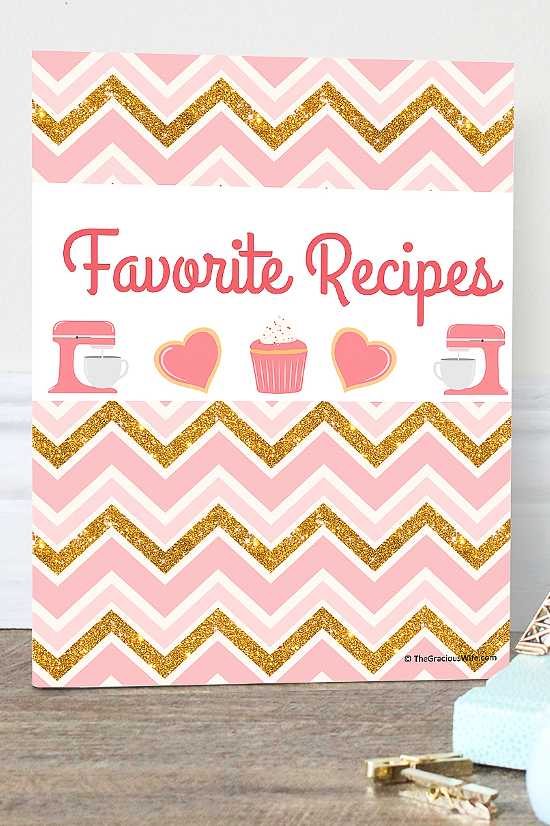 DIY Recipe Binder Printables
Well it's about that time of year! Things are getting super busy, we're on full-on planning mode with school and birthdays and holidays, and it's time to share a free printable to help out with all of that craziness.
The past 2 years I've shared printable planners that were super practical to make your home and holidays an efficient machine (and, let's be honest, they're totally for me too. You can check these out at the very bottom of the post where I've included links to more printable freebies). This year I'm sharing one that's both practical and for pleasure.  Ready? Recipe Binder Printables!
I'm so excited to share these, and also just have them because I'm a total foodie.  I LOVE trying new recipes and creating my own, and since I'm being honest today, I have recipes EVERYWHERE.  I know it drives Mr. Gracious nuts. But I have some in file folders, some in regular folders, some in piles, some in drawers, some in cabinets, some scribbled in notebooks, and some in my recipe box.  And... Maybe some where I can't think of right now or even some that I've forgotten about.  In any case, I'm making it my mission to get them all in ONE place, and I've made these free printable recipe pages to help me get the job done.
So enough of my rambling.  Let's talk about what's in this DIY Recipe Binder Printables pack.
Inside the Free DIY Recipe Binder Printables
Think of these as a printable cookbook of the best kind, a personalized cookbook binder, where you get to keep all of your favorite recipes and all of the recipes that you want to try, all in one cute place.  I was having a really hard time deciding which colors to make it so I ended up making 4, yes FOUR, different ones: Aqua and Gold, Pink and Gold, Navy and Gold, and Black and Gold.  You can use just one color scheme or mix and match, totally up to you, but each one is 43 pretty pages long.
To save on computer ink, you could also choose to print any of these in gray scale. And while we're on that subject, I ran out of printer ink and didn't get to print off my own recipe binder to use and take pictures of for you, so I have to wait until this weekend when I can grab some (Wahhh!!). But I didn't want you to have to wait for yours, too, so I'm just going to share it with you today anyway.
Here's what you get:
Binder Printable Covers - You get a front binder cover page, back cover, and even 2 spine cover options, in all 4 color schemes.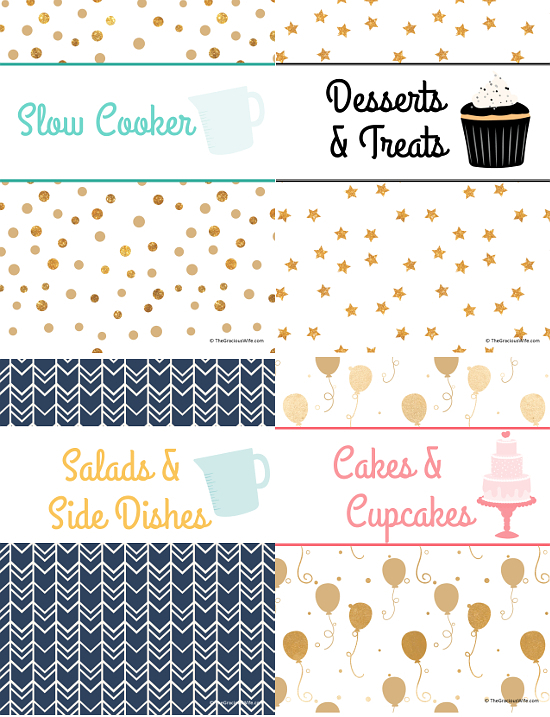 Divider Covers - I figured everyone would want to organize their categories for the recipe book a little differently, so I made the covers for every category that I could think of in each color scheme and also left a set blank in case you want a category that I didn't think of.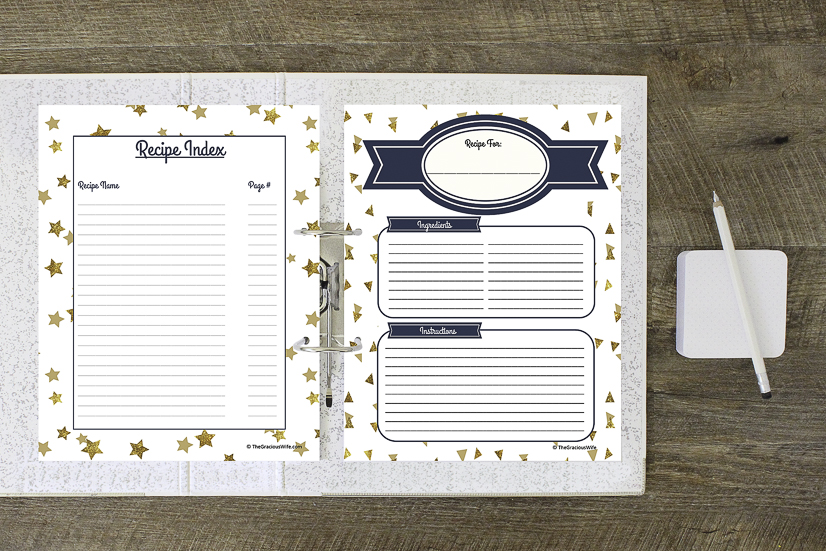 Printable Recipe Pages for Binder - The recipe section includes a recipe index that you can use either at the beginning of your recipe binder or at the beginning of each section of your recipe binder so you can always find the recipe you need, quickly and easily. Plus, it has printable recipe pages in 5 different designs in each of the color schemes.
Setting Up Your Free DIY Recipe Binder Printables
Once you've downloaded your recipe binder, you'll need a few things to set it up.  Of course you can go the frugal route and keep all your recipes together with binder clips or binder rings, but I recommend using the supplies below to make sure all of your favorite recipes are well-kept and safe from spills and kitchen accidents.
Okay. I think we've covered everything.  It's time to actually get your own recipe binder printables and get started!
Get Your FREE Printable Christmas Planner NOW!
Now for the good part! You can get your own Recipe Binder Printables for FREE by just entering your email address below.
After you enter your email address, a confirmation email will be sent to you. This is just to keep spammers from adding email addresses of people who don't want the emails.  Click on the confirmation link, and the printables will automatically download.
The Recipe Binder Printables are in a zipped file in PDF format.  I would recommend only trying to download on a device where you can unzip the file. To unzip, view the zipped file in your downloads folder, right click on the file, and click extract all.  This will make all of the PDF files accessible to you.  Also, make sure you have proper PDF reading software on the device you're using to access the printables.  The files are LARGE, so they may take a moment to download.
Without further ado....

Get Your Free Recipe Binder Printables
Enter your email address below to get your printables.
If you like these Free Recipe Binder Printables, be sure to check out my other printable freebies and planners:
Home Management Binder - FREE Printables