This beautiful rustic Thanksgiving Tablescape features a DIY log centerpiece with candles and Fall leaves and wood slice place cards with rosemary sprigs.

Rustic Thanksgiving Tablescape
Earlier this summer, a tree fell on our house during a severe storm.  Thankfully no one was hurt, and we were left with a new replacement roof and a LOT of leftover lumber and branches.  We cut a lot up for fire wood, and burnt some, but we still have A. LOT. Leftover.  So, I decided to try to make some pretty things out of this leftover wood.
This gorgeous Thanksgiving tablescape literally cost me nothing. $0.  But even if you didn't have the same supplies that I do laying around, I can't imagine it would cost you $20.  Rustic elegance on a budget.  This Thanksgiving tablescape features a DIY centerpiece and DIY wood slice place cards.
Rustic Thanksgiving Tablescape
For the centerpiece, I enlisted Mr. Gracious' help (I'm awful with power tools).  He trimmed down a large branch to about 2 ½ feet. He also drilled three holes in the log, big enough for three candles.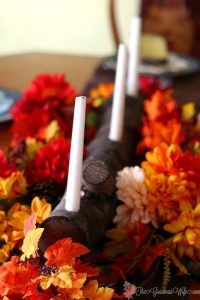 I had a burlap and lace table runner I had made from a summer tablescape.  I put that down, then a bed of fall silk flowers, and then my centerpiece on top.
For the place cards, Mr. Gracious cut one inch slices of a large log, then cut a slit down the middle for the card to sit.
The place cards are printed on yellow cardstock.  I hole-punched the top and stuck a sprig of fresh rosemary from our garden through the holes.
Did you like this Rustic Thanksgiving Tablescape idea? Find more on my Thanksgiving and Falling for Fall boards on Pinterest!
If you liked this Rustic Thanksgiving Tablescape idea, you might also like
Thanksgiving Table Decorations
See More Fall Recipes and Ideas
See More Thanksgiving Recipes and Ideas
Never Miss a Thing!
Join our newsletter to get new recipes, tips, tricks, and tutorials every week!