Creamy, smooth, and rich Pumpkin Pudding recipe is easy to make in just 15 minutes and highly addictive. Top with granola, whipped cream, pecans, or caramel. Or all of the above!
Pumpkin Pudding
I can pretty much guarantee that this is the best Pumpkin Pudding recipe out there. And I know that because I've adapted it from the all-time best original pudding recipe out there. It. Is. Fantastic.  And before you get nervous, it's actually just an adapted box pudding recipe.
That's right. This pumpkin pudding is made with a box pudding base and some extras that take it from average to gotta-have-more! It's nice and thick with a swirl of cream cheese that goes perfectly with the pumpkin.  Top your Pumpkin Pudding with some cinnamon granola or some chopped pecans and caramel. Oh. My. Yum.
To make your own Pumpkin Pudding, simply combine your 2 packages instant pudding with the milk in a small mixing bowl, and set aside.  Then in a separate large mixing bowl, cream together cream cheese, butter, pumpkin, powdered sugar, pumpkin spice, and cinnamon until smooth.  Add pudding mixture to the large bowl and beat again until smooth.  Fold in the whipped topping. And you're done! Store covered in the refrigerator until you're ready to eat. Enjoy!
Pumpkin Pudding Recipe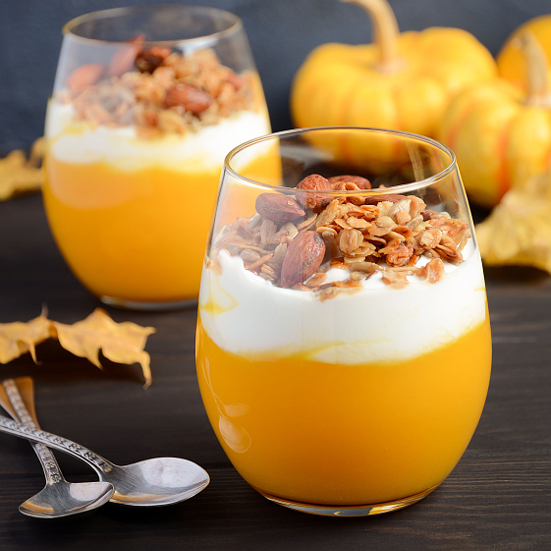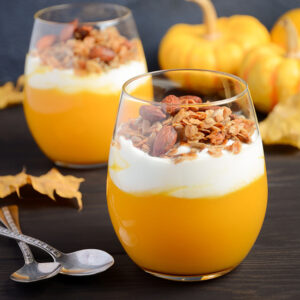 Ingredients
2

small packages Instant Vanilla Pudding

2 ¾

cups

milk

1

8 ounce package cream cheese, softened

¼

cup

butter

room temperature

1

15 ounce can pumpkin puree

⅔

cup

powdered sugar

1

tablespoon

pumpkin pie spice

1

teaspoon

cinnamon

1

12 ounce container whipped topping

Extra whipped cream for serving
Instructions
In a small bowl, combine pudding and milk. Stir and set aside.

In a separate bowl, cream together, cream cheese, butter, pumpkin, powdered sugar, pumpkin spice, and cinnamon.

Add the pudding mixture to the cream cheese mixture and beat to combine.

Fold in whipped topping.

Store covered in refrigerator until ready to serve.

Serve cool topped with whipped cream
Did you make this recipe?
I love seeing your creations. Snap a quick photo and mention @TheGraciousWife or tag #thegraciouswife on Instagram! Leave a STAR rating below!
Did you like this Pumpkin Pudding recipe? Find more on my Pumpkin and Falling for Fall boards on Pinterest!
If you liked this Pumpkin Pudding Recipe, you might also like
No Bake Pumpkin Chocolate Cheesecake
Crockpot Pumpkin White Chocolate Lava Cake
Never Miss a Thing!
Join our newsletter to get new recipes, tips, tricks, and tutorials every week!