Spiderweb Cupcakes are a cute and fun but totally easy treat, perfect for Halloween or an adorable Spiderman birthday party.  They'll be a hit at your next party!
Spiderweb Cupcakes
Every year for our kids' school Halloween party, we're required to bring a treat to share, and every year I find myself a little stumped.  I mean I want to bring in something super cute and Pinterest-y, but I'm just not that creative. Plus with three small kids and work... I don't even have a lot of time to try to be creative!  Last year I brought these super easy spiderweb cupcakes, and they were a huge hit!  The kids loved them. And I loved that the spiderweb cupcakes looked impressive, but were a breeze to make!
I made these Spiderweb Cupcakes white and black, but you can also go with orange and black or even red and blue for an adorable Spiderman birthday party!
If you do decide to make black frosting for your Spiderweb Cupcakes, here's a coloring tip.  You might notice when you color frosting black that it actually looks a little purple.  To get a true black, add your black food coloring
and a tablespoon of cocoa powder.
What you'll need to make Spiderweb Cupcakes
A batch of your favorite cupcakes (boxed works great, or you can check out these delicious cupcake recipes if you like from scratch better)
A large batch of frosting, dyed 2 different colors (again, store bought will do! I love using Wilton gel food coloring because it gives you really vibrant colors from using just a small amount)
Butter knife for spreading frosting
Pastry bag and a small decorating tip.  These are my favorite pastry bags, and this is the tip I used.
Toothpicks
Spiderweb Cupcakes Tutorial
1.  First frost your cupcakes with the base (background) color.  You can just smooth it over with a butter knife, no need to pipe or do anything fancy.
2.  Place your spiderweb colored frosting in the pastry bag with the small tip attached.  Draw a target shape on the top of the cupcake.  Start with a small dot in the center, then just draw circles around the dots, increasing in size, like in the picture below.
3.  Take your toothpick and place it on the center dot of the target shape.  Drag it through the frosting to an outer edge of the cupcake.  Repeat until you have accomplished the desired look. Use a clean toothpick for each cupcake.
Pretty simple right? What will you use these Spiderweb Cupcakes for?

Did you like this Spiderweb Cupcakes tutorial? Find more on my Halloween, Cakes & Cupcakes, and Party Cakes boards on Pinterest!
If you liked this Spiderweb Cupcakes tutorial, you might also like
Cheap DIY Halloween Decorations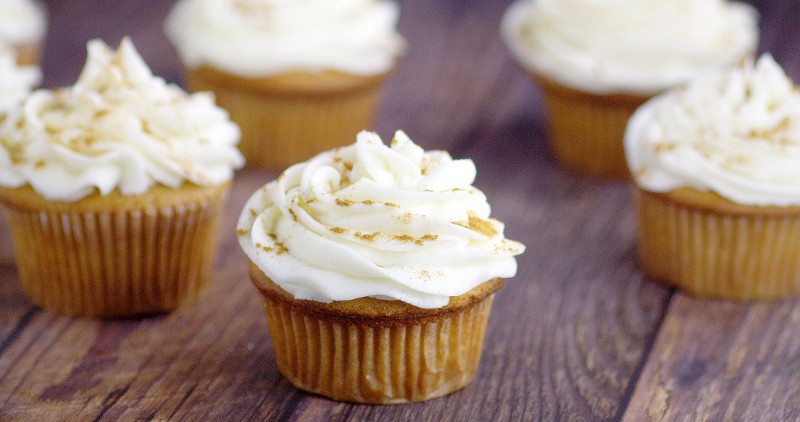 See More Halloween Recipes and Ideas
See More Cake and Cupcakes Recipe
Never Miss a Thing!
Join our newsletter to get new recipes, tips, tricks, and tutorials every week!