The most amazing traditional German Chocolate Cake that's moist, rich, and layered with gooey, sweet coconut pecan frosting. This homemade classic version is the best you'll ever have!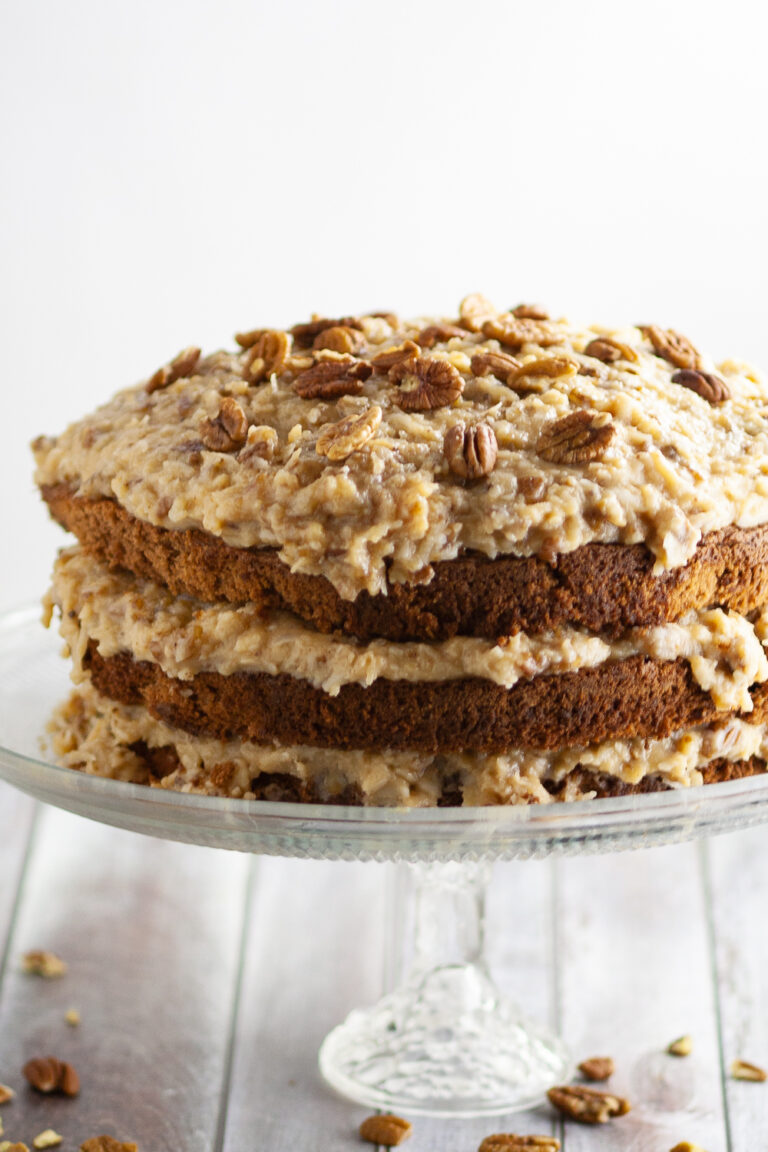 German Chocolate Cake
This German Chocolate Cake recipe is a southern classic, handed down in my husband's family. Following tradition, it is made with sweet baking chocolate instead of cocoa powder is filled and topped with gooey-sweet coconut pecan frosting, which, in my opinion, is the best part.
We love this cake so much that we make it for my husband's birthday every year, and I know your family will love it as much as mine!
Why is it Called a German Chocolate Cake?
Believe it or not, this cake is actually not German! It was originally called German's Chocolate Cake after Sam German.
Sam German was an English-American baker who worked for Baker's chocolate and invented a new kind of sweet baking chocolate in 1852.
About 100 years later, a recipe was published in a Dallas newspaper from a homemaker sharing her chocolate cake recipe using this particular variety of sweet chocolate. Baker's chocolate began distributing the recipe throughout the country, during which time many publishers dropped the "'s" to call it what it's known as now "German Chocolate Cake."
So it's actually American, not German!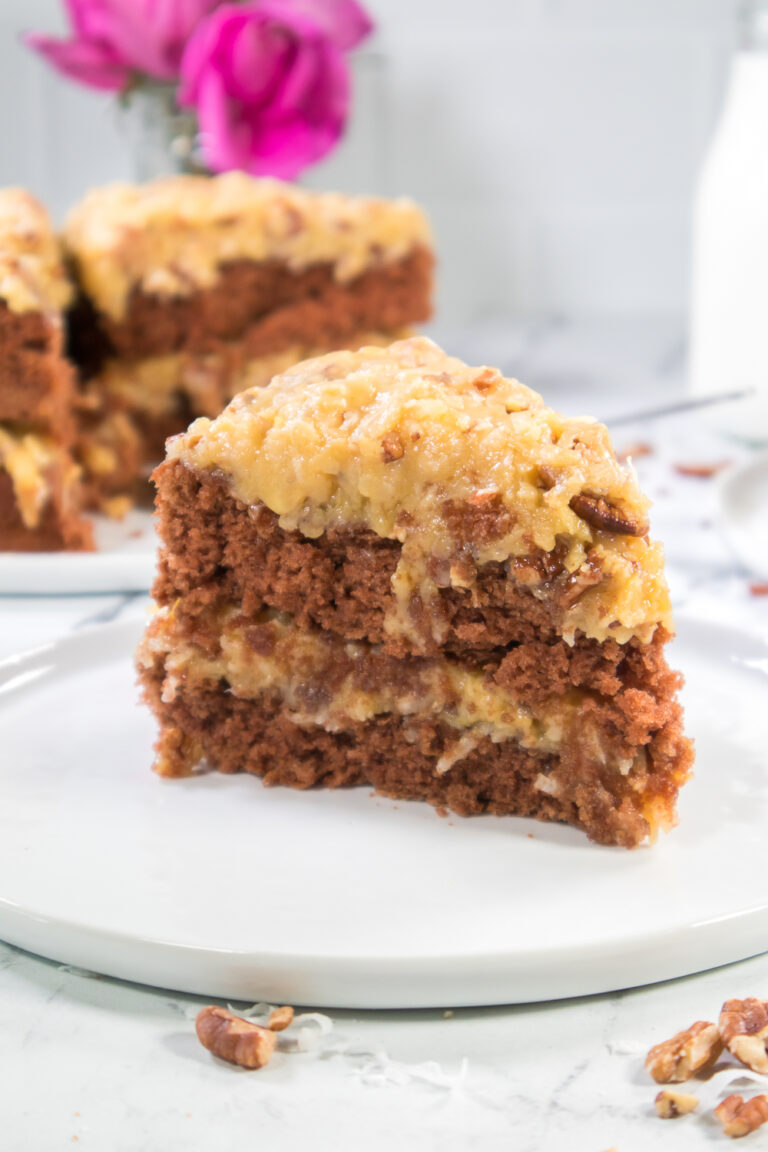 What is Different about German Chocolate Cake?
A German chocolate cake is not your average chocolate cake. But why? Two things make it different:
It's made with German chocolate. If you go to the baking section of your grocer and look at the baking chocolate (by the chocolate chips!), you'll see several varieties. Traditional German chocolate cake is made with German (sweet) baking chocolate (it usually comes in the green box!). Because it uses this special chocolate, it is usually a lighter brown instead of the deep almost-black color of normal chocolate cake. There is no cocoa powder in German Chocolate Cake.
The coconut pecan frosting. German chocolate cake is covered in a sweet and gooey frosting that reminds me of caramel and is swirling with coconut and pecans.
What is German Chocolate Cake Frosting Made of?
German Chocolate Cake is smothered in a special gooey, sweet, and decadent coconut pecan frosting (read more about it here).
It's made like a custard with sugar, milk (or in this case evaporated milk), egg yolks, butter, and vanilla. Then when it thickens, the coconut and chopped pecans are added to make the classic frosting that German Chocolate Cake is known for.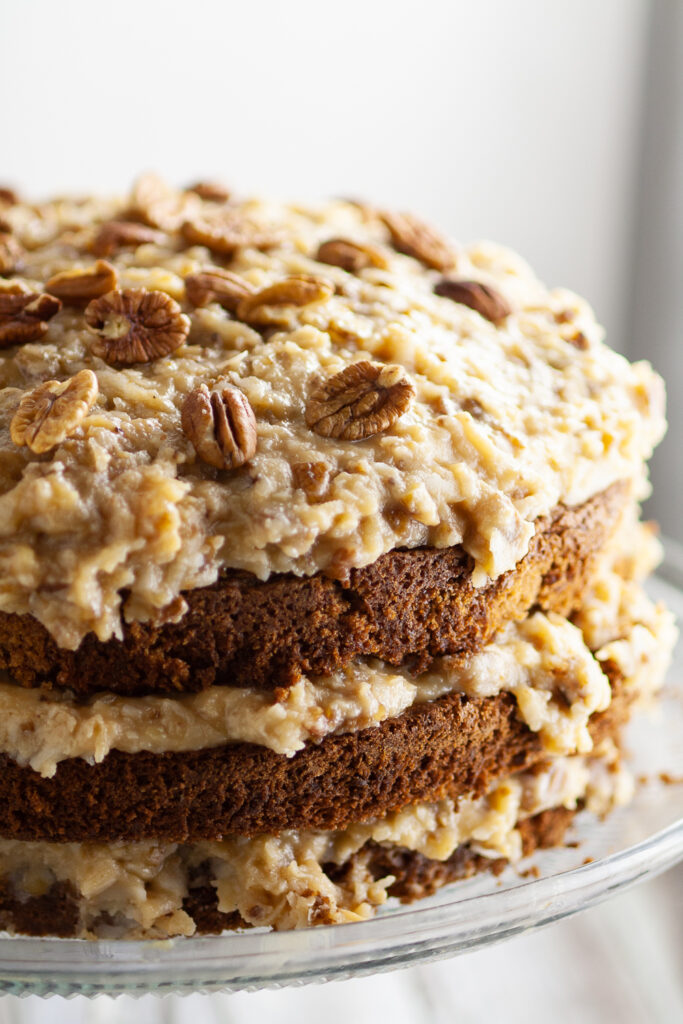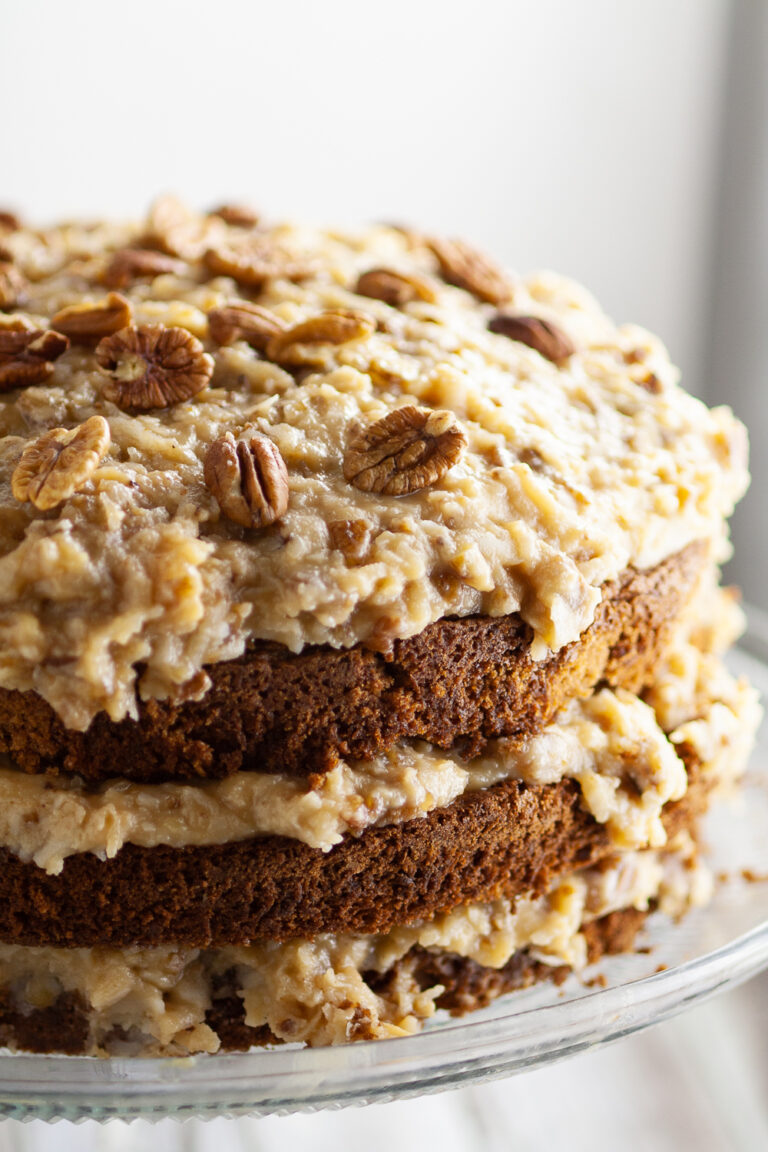 To Buttercream or Not?
Traditionally German Chocolate Cake is prepared with just the coconut pecan frosting. However, I have seen many recipes recently that include chocolate buttercream, and they do look really pretty.
I don't personally think chocolate buttercream is necessary, but if you'd like to do some decorating or make it extra pretty, here's a super easy chocolate buttercream to go with it:
Chocolate Buttercream
1 cup salted butter, softened
¾ cup unsweetened cocoa powder
3 ½ cups powdered sugar
1 teaspoon vanilla extract
2 tablespoons cream
In a large bowl, beat butter, cocoa powder, and powdered sugar until fluffy using an electric hand mixer. Add in cream and vanilla extract. Beat until combined and fluffy (if you feel any grittiness, that means you're not done beating yet!). Transfer to piping bag(s) for frosting.
More Cake Recipes You'll Love
German Chocolate Cake Video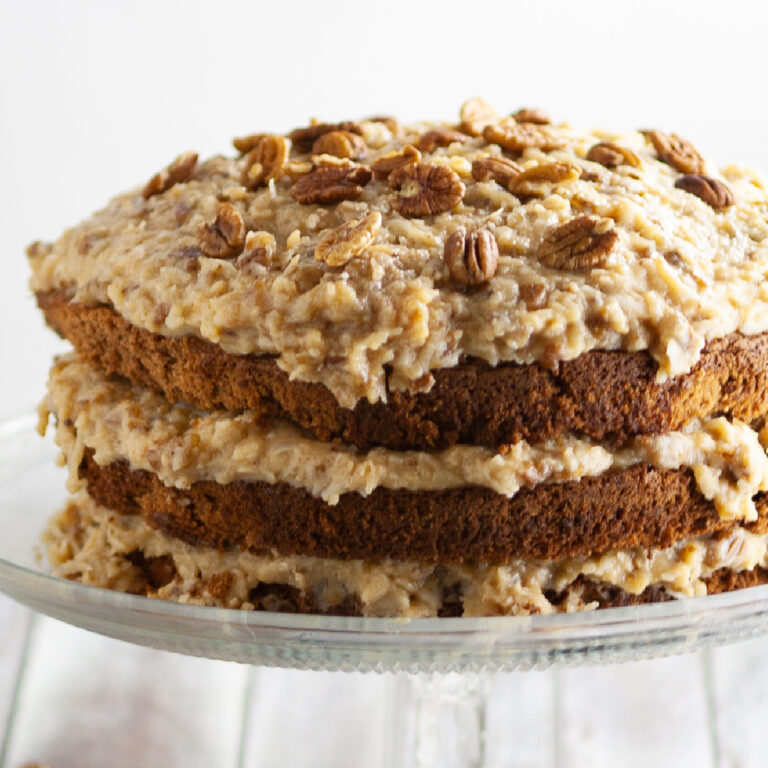 Traditional German Chocolate Cake
The most amazing traditional German Chocolate Cake that's moist, rich, and layered with gooey, sweet coconut pecan frosting. This homemade classic version is the best you'll ever have!
Print
Pin
Rate
Ingredients
For the Cake
2 ½

cups

cake flour

1

teaspoon

baking soda

½

teaspoon

salt

4

egg yolks

unbeaten

1

cup

buttermilk

1

cup

butter

room temperature

2

cups

granulated sugar

4

egg whites

(keep the yolks for the frosting!)

4

ounces

German baking chocolate

(1 bar)

1

teaspoon

vanilla
Coconut Pecan Frosting
2

cups

evaporated milk

2

cups

granulated sugar

6

egg yolks

1

cup

butter

2

teaspoons

vanilla

3

cups

shredded sweet coconut

2

cups

chopped pecans
Instructions
For the Cake
Grease three 8-inch cake pans (or two 9-inch) with butter. Line with parchment paper. Set aside.

Sift or mix flour, salt, and baking soda together in a bowl. Set aside.

Melt chocolate in a small bowl in the microwave for 30 seconds at a time, stirring between each interval, until chocolate is fully melted. When chocolate is fully melted, set aside to cool a bit.

In a large mixing bowl, cream together butter and sugar until light and fluffy.

Add yolks, one at a time, beating well after each addition.

Mix in cooled chocolate and vanilla.

Add ⅓ of the flour mixture. Beat until combined. Add in ⅓ of the buttermilk, beating again to combine. Continue adding flour alternately with buttermilk, until all ingredients are mixed in.

In a separate large clean mixing bowl, beat egg whites with a hand or stand mixer until stiff peaks form.

Fold stiff egg whites into cake batter mixture.

Pour into cake pans (three 8-inch or two 9-inch).

Bake at 350°F for 30-35 minutes, until cooked through.

Allow to cool for 15 minutes before turning out of pan onto a cooling rack to finish cooling.
Directions for Coconut Pecan Frosting:
Mix all ingredients, except coconut and pecans, together in a medium to large saucepan.

Cook over medium heat, stirring constantly, until thickened, about 12 minutes. Frosting will thicken a tiny bit more after cooling. Remove from heat when frosting has thickened.

Fold in coconut and pecans. Allow frosting and cake to fully cool before assembling.

To assemble, spread ⅓ of the filling mixture between each of the 3 layers. Top with the remaining third.
Notes
Buttermilk - If you don't have any buttermilk on hand, use this easy buttermilk substitute with ingredients you probably already have at home!
Cake Flour: If you don't have any cake flour on hand, simply add 2 ½ tablespoons cornstarch to the bottom of your measuring cup. Then fill the rest of your measuring cup(s) normally to measure the full amount of flour. (Only 2.5 tablespoons total) Check out this

cake flour substitute guide for more info

.
Chocolate Buttercream can be used to frost the outside of the cake and pipe along the edges for a more finished look, if desired.
Melt the chocolate in short intervals, stirring after each increment, to avoid seizing and burning.

It will take a few times to get it all the way melted, but it's really important to keep the chocolate from burning. 

9x13" Cake: Bake in a buttered 9x13" baking dish at 350

°F for about 40 minutes. Top with coconut pecan frosting.

Make Ahead Instructions: Prepare and bake cake. Wrap individual layers tightly and refrigerate for up to 2 days. Make coconut pecan frosting to fill. Cover and refrigerate for up to 2 days. Bring to room temperature before assembling.
Storage: Cover leftover cake tightly and store in the refrigerator for 5 days.
Freezer Instructions: Frosted cake freezes well, up to 3 months. Freeze, then cover tightly and return to freezer for up to 3 months. Thaw overnight in the refrigerator, bring to room temperature or serve cold.
Nutrition
Serving:
1
slice
|
Calories:
811
kcal
|
Carbohydrates:
79
g
|
Protein:
10
g
|
Fat:
52
g
|
Saturated Fat:
29
g
|
Cholesterol:
193
mg
|
Sodium:
418
mg
|
Potassium:
318
mg
|
Fiber:
4
g
|
Sugar:
59
g
|
Vitamin A:
980
IU
|
Vitamin C:
1
mg
|
Calcium:
139
mg
|
Iron:
2
mg
Did you make this recipe?
I love seeing your creations. Snap a quick photo and mention @TheGraciousWife or tag #thegraciouswife on Instagram! Leave a STAR rating below!
UPDATE INFO: This recipe was originally published in October 2014. It was updated with new pictures, tips, and video and republished in September 2022.
Never Miss a Thing!
Join our newsletter to get new recipes, tips, tricks, and tutorials every week!