Make these adorable and easy Bunny Butt Cupcakes as a silly Easter treat. Little bunny butts on top of your favorite cupcakes will make the cutest Easter cupcakes around!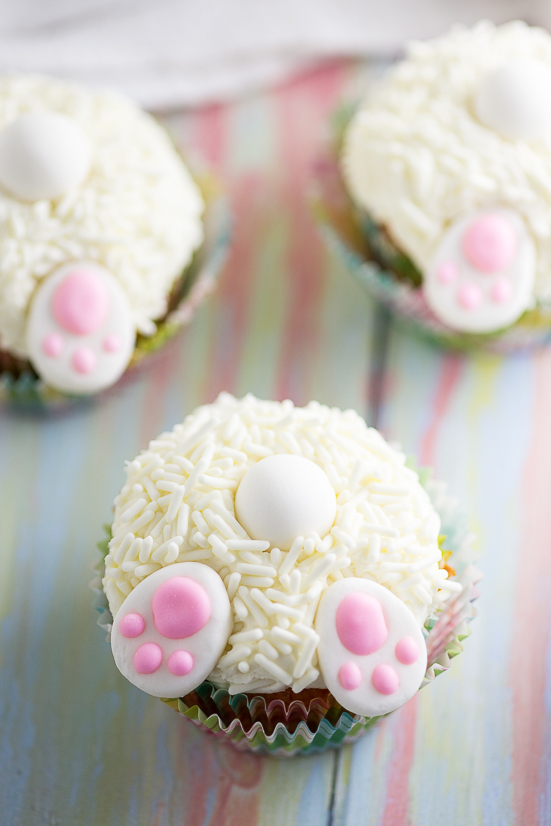 Bunny Butt Cupcakes
Guys, guys, GUYS! I'm so excited to share this today!  I've been seeing cute little bunny butt cupcakes and cookies on Pinterest and Facebook and just pretty much everywhere else.  And I know it's a controversial foodie topic.  You either love them or you hate them.  I, however, am in the "love it!" camp, but I've just put off making them because it looks like too much work.  I thought I'd just leave the bunny butts to the more ambitious bakers and/or Pinterest moms.
But lo and behold! I was Easter shopping on Amazon (yes, online, because when you live 45+ minutes away from Walmart and you have 3 kids, that's just how you roll sometimes). But anyway Amazon recommended that I might also like this adorable bunny butt kit! And yes, Amazon. You are right, I do also like it!


So basically it's super duper easy to make your own bunny butts now with the awesome Wilton Bunny Butt Kit.  Just one word of caution.  The tails are hard, almost like a jawbreaker.  So if you're making these for tiny preschoolers, you may want to sub out the tails in the kit for marshmallows.  Still super easy.  This kit has enough supplies for 12 cupcakes.  If you're making more than 12, grab 2 or 3.
Directions for making Bunny Butt Cupcakes:
1.  Bake up the cupcakes, however many you need.  I wanted the cupcakes to be pink to match the little feet, so I made strawberry cupcakes.  I have this delicious strawberry cupcake recipe made with REAL strawberries, or you can take the easy route with a box mix.  Try baking your cupcakes in some of these adorable Easter cupcake liners:
2.  Make enough frosting for a liberal amount on each cupcake.  You can buy jarred frosting, but I just cannot resist homemade buttercream.  Ahhhh. Fluffy and creamy and sweet and heavenly.... Anyway, I made a vanilla almond buttercream (which was basically this classic vanilla buttercream recipe with an added teaspoon of almond extract) to put on my strawberry cupcakes.  Super tasty.
3.  Now we'll frost the cupcakes.  To make it super easy, scoop your frosting into a gallon freezer bag or a pastry bag, cut a corner or the tip off and just squeeze it out onto each cupcake.  This way really is easier.  Frosting with a spatula takes FOR-EV-VER compared to piping it on.  And it doesn't need to be pretty either.  You're about to mash it down so don't even worry about a pretty tip on the bag or anything.
4. When your cupcakes are frosted, dump the white sprinkles into a flat dish.  Dip each cupcake into the sprinkles to fully coat.
5.  Now place a bunny tail (the round part or a marshmallow substitute) on top in the middle of each cupcake.  And add 2 bunny feet to the outside of each cupcake.
Ta-da! Now you made bunny butts too, and it was sooooo easy, right?!
Share your bunny butts with me on Instagram by tagging @thegraciouswife and #TheGraciousWife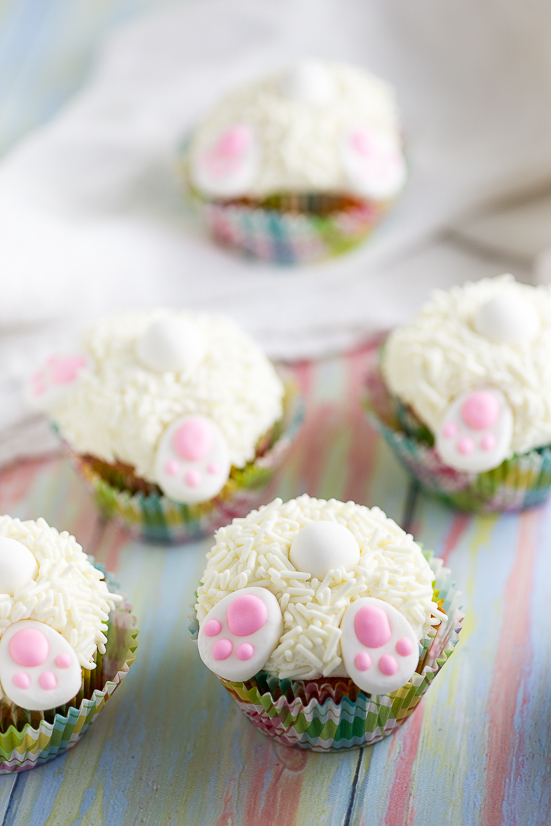 Did you like this Bunny Butt Cupcakes tutorial? Find more on my Easter and Cakes & Cupcakes boards on Pinterest!
If you liked this Bunny Butt Cupcakes tutorial, you might also like
Easter Egg Rice Krispie Treats
88 Adorable Easter Treats Ideas
Never Miss a Thing!
Join our newsletter to get new recipes, tips, tricks, and tutorials every week!