Butternut Squash Bisque is a rich, but healthy vegetarian fall soup that is sweet and creamy with just a touch of heat.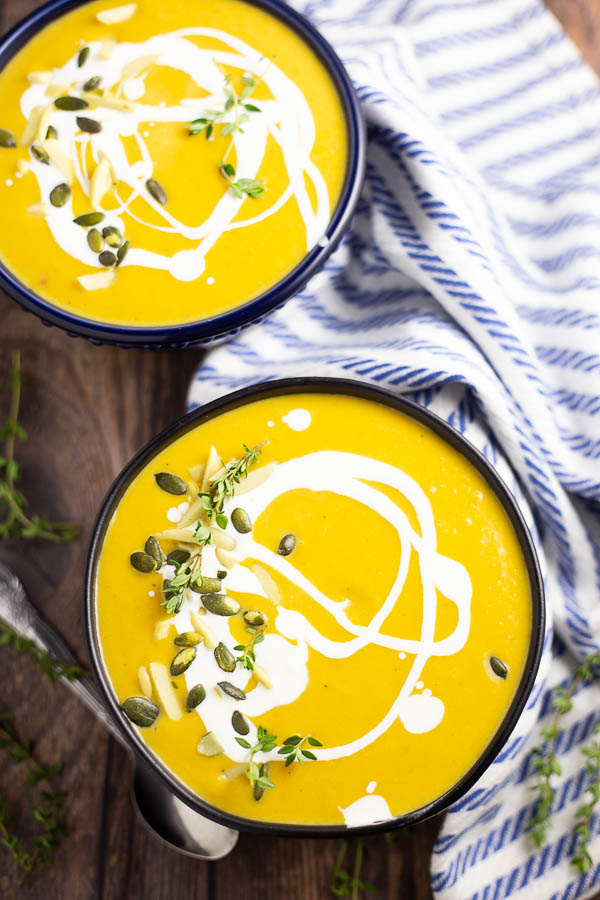 Butternut Squash Bisque
This butternut squash bisque is the perfect way to start fall. Even better than a PSL. There. I said it.
It's just a touch sweet from the ripe roasted butternut squash and apple. Plus, it has a little spicy kick from the jalapeno. The ingredients are simple, fresh, and healthy, but so flavorful and delicious.
It's smooth, creamy, sweet, and spicy. Hits all of the aspects that makes any dish amazing. It's so rich, that you would never guess it has only 175 for a bowl!
(For vegan and dairy free options, check the recipe notes!)
How to Pick a Good Butternut Squash
A too-ripe butternut squash can be mushy and tasteless, while an under-ripe butternut squash may not have developed its signature sweetness and taste yet. Picking a "just right" squash is important.
The best time of year to buy locally in the U.S. is September and October. It is still available throughout the year as an import.
Look for these four things when picking a butternut squash:
Solid beige color. The color should be solid and matte without any deep cuts or bruises.
Heavy. The squash should feel heavy for its size. Compare it to other squash if you're unsure.
Give it a knock. A ripe butternut squash will sound hollow, like a carving pumpkin.
Full stem. It should have a full, firm stem. When the stem is intact, it will keep for longer.
After you've picked the perfect butternut squash, store it in a cool dark part of the kitchen for up to several weeks. It does not need to be refrigerated.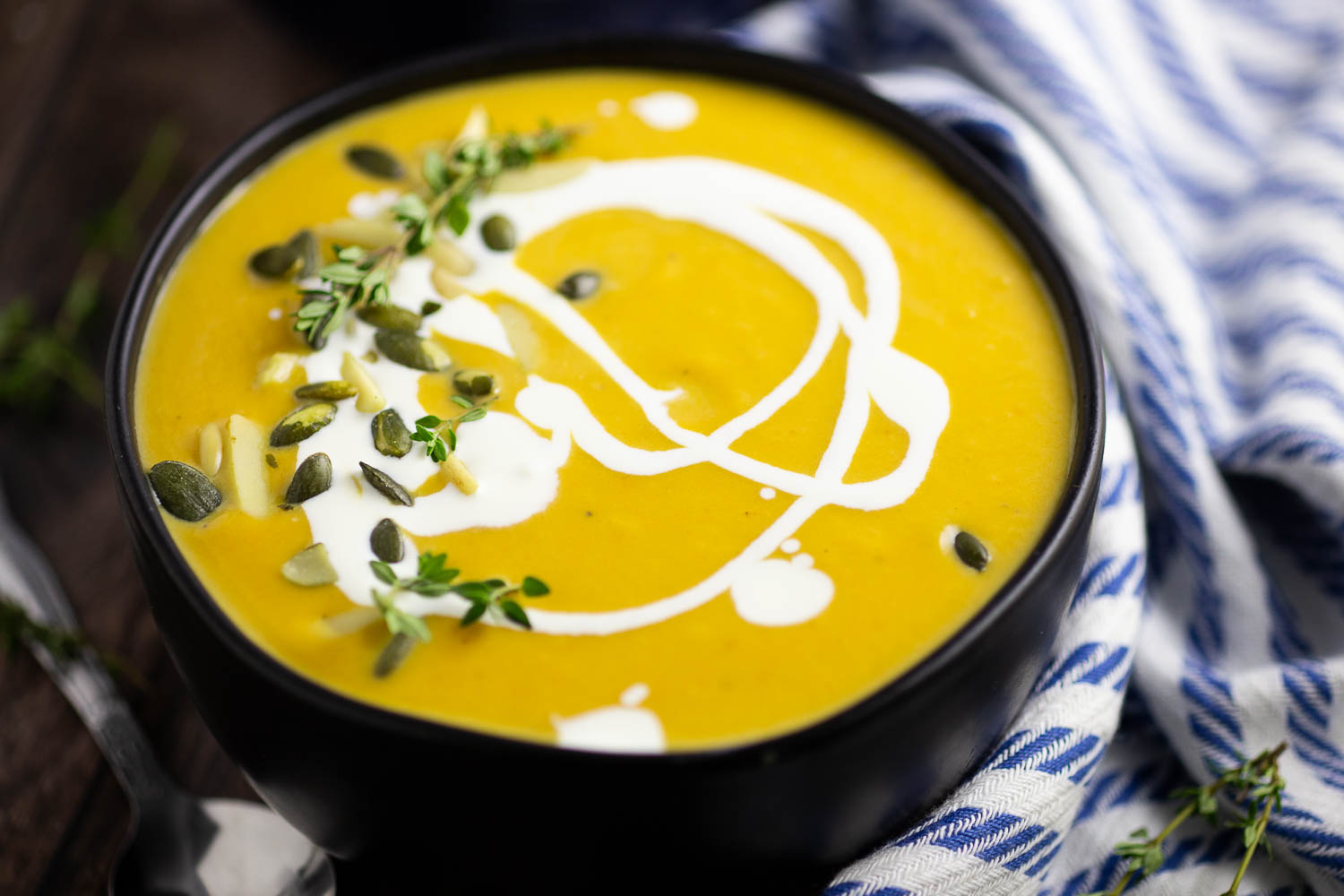 How to Roast Butternut Squash
Roasting the butternut squash might be an extra step, but it's totally worth it in my opinion because peeling and chopping it is a real pain.
Plus, while it's roasting you can prep the rest of the veggies.
To roast butternut squash, preheat your oven to 375°F, and line a baking sheet with foil or a silicone baking mat.
Make sure you have a clean squash. Just rinse with cold water.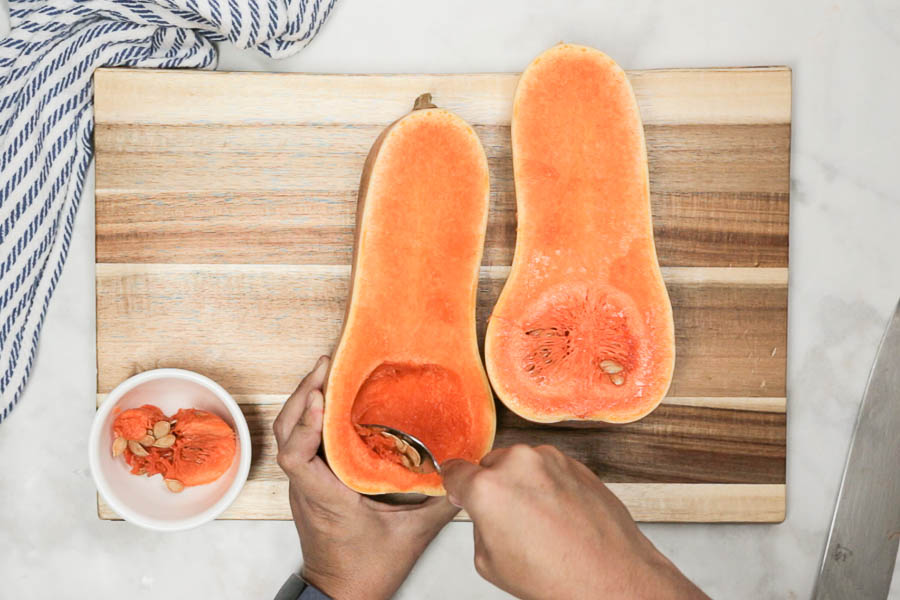 Cut the butternut squash in half length-wise, and scoop out seeds with a spoon.
Place squash on the prepared baking sheet. Drizzle with olive oil, and season with salt and pepper.
Bake in 375° oven for about 45 minutes, until tender. Scooping it out should be easy. Test by poking with a fork to check for tenderness.
Allow squash to cool before removing the flesh from the skin, and setting aside to use in the recipe (you can throw away the skins).
More Fall Vegetarian Recipes You'll Love
Butternut Squash Bisque Video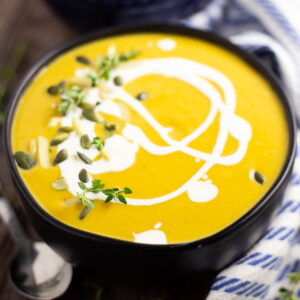 Butternut Squash Bisque
Butternut Squash Bisque is a rich, but healthy vegetarian fall soup that is sweet and creamy with just a touch of heat.
Print
Pin
Rate
Ingredients
1

large

butternut squash

¼

cup

butter

1

medium onion

chopped

1

large carrot

chopped

1

celery stalk

chopped

1

jalapeno pepper

seeds removed, chopped

3

garlic cloves

minced

1

large sweet apple

peeled, cored and cubed

4

cups

chicken or vegetable broth

1

teaspoon

ground ginger

½

cup

heavy cream

Salt and pepper

to taste
Instructions
Prepare butternut squash: Cut rinsed squash in half length-wise. Scoop out seeds, and place on a lined baking sheet. Drizzle with olive oil and season with salt and pepper. Bake in a 375°F for about 45 min until tender. Allow to cool. Scoop out flesh and set aside for the recipe.

In a large stockpot or Dutch oven, melt butter over medium-high heat.

Add onion, celery, carrot, jalapeno, and garlic. Saute, stirring frequently, until vegetables are tender, about 10 minutes.

Add apple, squash, broth, and ground ginger. Stir to combine.

Bring to a boil. Reduce heat and let simmer for about 25 minutes, until apples are tender. Remove from heat.

Blend soup with an immersion blender until smooth. Be careful of splatter!

Stir in cream, and season with salt and pepper to taste. Cook a few more minutes to increase the temperature, if necesary. But do NOT bring to a boil (your cream will curdle!).
Notes
Have fun with toppings! Top your soup with pepitas, roasted sunflower seeds, chopped pecans, or croutons for a little crunch.
Add cheese! Cheese makes everything just a little better. Try adding smoked Gouda, Parmesan, or sharp cheddar when adding the cream.
Butternut Squash Bisque is naturally vegetarian and gluten free. To make dairy free, substitute the heavy cream for coconut cream or a different milk substitute, such as almond or cashew milk.
To make vegan: Use vegetable broth, substitute heavy cream for canned coconut cream, and use coconut oil instead of butter.
Consider adding ½ to 1 teaspoon turmeric or curry powder for extra flavor or health benefits. Add it in step 4 with the ground ginger.
How to Use Fresh Butternut Squash: Remove skin and seeds from squash, and cube. Add squash to the pot when adding the apples. Boil until tender before continuing to the next step.
An immersion blender is the easiest way to puree this soup. This is my favorite immersion blender.
Do not boil after cream is added. Boiling cream will make it curdle and separate. Not pretty.
Use disposable gloves (like these) while preparing jalapenos. Oils from the peppers can burn your skin. Unfortunately, I found this out the hard way and it is NOT pleasant!
To freeze: Prepare soup according to instructions, stopping before adding the cream. Place in a freezer safe container for up to 3 months. When ready to use, thaw in the refrigerator overnight (I place in a bowl to do this to prevent leakage). Reheat. Then stir in cream and season with salt and pepper to taste.
Nutrition
Serving:
1
bowl
|
Calories:
173
kcal
|
Carbohydrates:
18
g
|
Protein:
2
g
|
Fat:
12
g
|
Saturated Fat:
7
g
|
Cholesterol:
36
mg
|
Sodium:
497
mg
|
Potassium:
508
mg
|
Fiber:
3
g
|
Sugar:
5
g
|
Vitamin A:
11667
IU
|
Vitamin C:
33
mg
|
Calcium:
73
mg
|
Iron:
1
mg
Did you make this recipe?
I love seeing your creations. Snap a quick photo and mention @TheGraciousWife or tag #thegraciouswife on Instagram! Leave a STAR rating below!
UPDATE INFO: This recipe was originally published in October 2014. It has been republished in September 2019 with new pictures, new video, and more detailed directions and cooking tips.
Never Miss a Thing!
Join our newsletter to get new recipes, tips, tricks, and tutorials every week!