This easy Baba Ganoush is a creamy roasted eggplant dip flavored with sesame, olive oil, lemon, and garlic. A lovely, healthy dip that's great for a snack or a party.
Easy Baba Ganoush
This easy Baba Ganoush recipe uses authentic Mediterranean flavors to create a simple, creamy dip. That somehow has no cream or dairy in it at all (which is the crazy part to me with how rich and creamy it is!).
It is healthy and naturally low carb and vegan. It is a delicious, nutritious snack and is still elegant and tasty enough to serve as an appetizer for company.
What is Baba Ganoush?
Baba Ganoush is a Mediterranean roasted eggplant dip. It usually contains roasted eggplant, olive oil, tahini, lemon, and seasonings.
What is the Difference Between Baba Ganoush and Hummus?
The primary difference between baba ganoush and hummus is that baba ganoush is made with roasted eggplants, and hummus is made with chickpeas (or garbanzo beans).
Other than that, they are fairly similar! They are both Mediterranean dips made with olive oil, tahini, and lemon.
They are both nutritious and delicious!
How to Choose the Best Eggplant
Picking out a great eggplant can be a bit overwhelming, as it's not an ingredient used regularly here in the US. Here are some tips to pick out great eggplant.
Firmness - Eggplant should be firm, but not hard. If the eggplant feels soft, it's too ripe. It should have some give, but not be squishy like a tomato.
Smooth and shiny - wrinkles are a sign that the eggplant is old and past prime. Brown blemishes and soft spots should be avoided, like most produce. A smooth and shiny and even-in-color eggplant is best.
Small or medium - In the world of eggplant, bigger isn't better. In fact, large eggplant are the most bitter. So choose a small or medium one, which will have a softer flavor.
How to Serve Baba Ganoush
Baba Ganoush makes a yummy and nutritious snack, appetizer, or even light lunch. Serve it with veggies and pita bread or pita chips.
You can also serve it more elegantly as part of a crudité platter with vegetables such as carrots, bell pepper strips, and radish slices.
This dip doubles as a spread, as well. Spread it onto bread (or pitas) instead of mayo for a deeper, richer flavor on your favorite sandwich.
Baba Ganoush Recipe Variations
Grill or Roast the Eggplant Over an Open Fire.
You can also choose to leave your eggplant whole and roast with skins on over an open fire such as a gas stove or grill for an extra smoky flavor.
Turn on gas burner or grill to medium heat. Place the eggplant directly over the flame. Using a pair of tongs, turn the eggplant every 5 minutes or so until it is tender and the skin is charred and crispy on all sides (20 minutes.) The eggplant should deflate and become super tender. supposed to. If you don't have a gas burner you can use a grill.
Set eggplant in a colander and allow it to drain for about 5-10 minutes.
Baba Ganoush Flavor Variations
Without straying too far from the basic recipe to preserve its authenticity, here are some ideas to add different flavor.
Roasted Peppers or Tomatoes - some regions include roasted tomatoes or peppers in their dip or to garnish it.
Pomegranate molasses - sweetness is sometimes added using this ingredient. If you'd like to try it add ½ to 1 tablespoon. Taste test after ½ tablespoon to see if you'd like more.
Plain yogurt - an equal amount of tahini and plain yogurt can be added to increase creaminess.
Spices - Spices can be the easiest way to change up flavor. Try adding or garnishing with cumin, smoked paprika, or red pepper flakes.
Herbs - This recipe calls for parsley, but basil or cilantro can be substituted to change up the flavor.
More Cold Dip Recipes You'll Love
Easy Baba Ganoush Video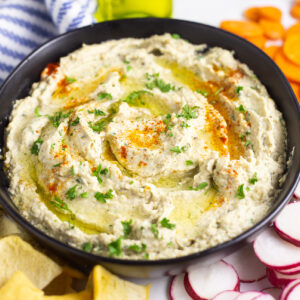 Easy Baba Ganoush
This easy Baba Ganoush is a creamy roasted eggplant dip flavored with sesame, olive oil, lemon, and garlic. A lovely, healthy dip that's great for a snack or a party.
Print
Pin
Rate
Ingredients
To Prepare Eggplant
2

medium eggplants

sliced into ½-inch rounds

Olive oil

for roasting and serving

1

teaspoon

salt
To Assemble the Dip
2

garlic cloves

⅓

cup

fresh lemon juice

⅓

cup

tahini

½

teaspoon

salt

2

tablespoons

chopped fresh flat leaf parsley
Instructions
Prepare the Eggplant.
Place eggplant in a colander in the sink. Sprinkle with salt. Let sit for 15 minutes.

After 15 minutes, rinse eggplant and pat dry.

Arrange eggplant on a lined baking sheet. Drizzle with olive oil and a pinch of salt.

Roast for 30-35 minutes, flipping once halfway through, until eggplant is soft and golden brown.

When cool enough to handle, peel away skin and place flesh into a food processor.
Prepare the Dip
Add garlic, lemon juice, and tahini. Process until smooth.

Add parsley and pulse to incorporate.
Serving
Cover the baba ganoush and chill in the fridge for 30 minutes to an hour.

To serve, transfer the baba ganoush to a rimmed serving dish or a bowl. Top with a good drizzle of extra virgin olive oil, if you like.
Notes
Nutrition facts include only the dip (not additional toppings or food for dipping unless listed in the recipe).
Parsley: Cilantro or basil can also be used.
Storage: Store in the refrigerator in an air-tight container for up to 4-6 days. 
Freezer Directions: Freezing baba ganoush can change its consistency and may cause separation, but you can freeze in an air tight container for up to 3 months. Thaw in the refrigerator overnight before using. Pulse in a food processor to re-combine ingredients.
Nutrition
Serving:
1
serving
|
Calories:
153
kcal
|
Carbohydrates:
10
g
|
Protein:
3
g
|
Fat:
13
g
|
Saturated Fat:
2
g
|
Polyunsaturated Fat:
3
g
|
Monounsaturated Fat:
7
g
|
Sodium:
443
mg
|
Potassium:
327
mg
|
Fiber:
4
g
|
Sugar:
4
g
|
Vitamin A:
118
IU
|
Vitamin C:
8
mg
|
Calcium:
28
mg
|
Iron:
1
mg
Did you make this recipe?
I love seeing your creations. Snap a quick photo and mention @TheGraciousWife or tag #thegraciouswife on Instagram! Leave a STAR rating below!
Never Miss a Thing!
Join our newsletter to get new recipes, tips, tricks, and tutorials every week!