DIY Fishbowl Valentine Printable - Cute homemade Valentine's Day idea for kids to make for school.  Plus FREE printables to make your own at home!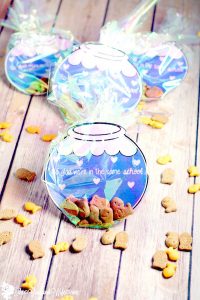 DIY Fishbowl Valentine Printable for Kids
My second son, Baby Boy, is absolutely obsessed with Nemo, and I thought it would be really fun for him to bring fish Valentines to school this year.  So I whipped up a Fishbowl Valentine Printable graphic, printed it out, and made this cute and easy DIY Fishbowl Valentine.
You can download and print the fishbowl Valentine printable for yourself, too.  Just scroll to the bottom and click on the link!
What you'll need:
Directions for DIY Fishbowl Valentine Printable
1.  Cut out the fishbowls (You can download and print from the link below).
2.  Cut out cellophane squares big enough to wrap around the fishbowl. (These cellophane bags
 would probably work well too)
3.  Place a fishbowl on a square of cellophane.  Add some goldfish crackers on top of the printable.
4.  Wrap the printable and crackers in the cellophane, leaving the fluffy edges on top.  Seal with ribbon or a twist tie.
Did you like this Fishbowl Valentine Printable idea? Find more on my Valentine's Day and DIY & Crafts boards on Pinterest!
If you liked this Fishbowl Valentine Printable idea, you might also like
Valentine's Day Paper Heart Garland
Valentine's Day Felt Heart Garland
See More Valentine's Day Recipes and Ideas
Never Miss a Thing!
Join our newsletter to get new recipes, tips, tricks, and tutorials every week!