Kids can get a little stir crazy when they're stuck indoors for the winter. Keep your kids happy and occupied with these Fun Indoor Winter Activities for Kids that the whole family will love.
Fun Indoor Winter Activities for Kids
I don't know about you, but the sudden extreme cold has started to make the kids and me a little bit stir crazy!  Here we were wondering if winter was even going to come this year, and now that it has, we're all antsy being cooped up inside!
But never fear! There's still fun to be had! Beat winter boredom with these 25 Fun Indoor Winter Activities for Kids!
25 Fun Indoor Winter Activities for Kids
1.  Head to the Library - Pick out some favorite or winter-themed books, and read together at the library. Or check the books out, bring them home, and snuggle up on the couch for a cozy read-aloud session.
2. Go Bowling - Bring them to the bowling alley to get them out of the house and release some of their pent up energy.
3. Go Ice Skating - Even if it's too cold for outdoor ice skating, you can find an indoor rink to have a blast with this winter classic.
4.  Make a Hot Cocoa Bar - Whip up some hot cocoa, like this Homemade Mint White Hot Chocolate, and have the kids help you prep and set out the toppings.  Everyone can personalize their own cozy drink.
5.  Have a Dance Party - Turn up the music, and bust out your best moves.
6. Build a Fort - Gather some blankets, chairs, couch cushions, and whatever else you can find to make your own personal family get away, right at home.
7.  Go Roller Skating - Loud music and constant movement is a sure-fire way to tame the cabin fever, and the whole family will have a blast.
8. Make a Pine Cone Bird Feeder - Not only will the kids be occupied while they're making the bird feeder, the kids will also have fun watching the birds that come to visit for a snack.
9. Make Snow Ice Cream - When it's too cold to go out, bring the outside in! Try making some tasty ice cream out of snow, like this yummy Peppermint Snow Ice Cream.
10.  Have a Family Game Day - Get out your favorite board games or card games and have a board game tournament.
11.  Do Puzzles - Put their brains to work with some jigsaw puzzles.  Just make sure they're age appropriate so the puzzles will keep the kids' interest.
12.  Make Indoor S'mores - Use your fireplace or stove-top to make some yummy indoor s'mores.  Or you can opt for these easy indoor Microwave S'mores.
13.  Host a Living Room Camp Out - Put the tent up in the living room, and grab your sleeping bags and pillows for a little indoor adventure.
14.  Go through Family Photos and Videos - The kids will love seeing pictures of themselves (and you!) when they were younger!
15.  Bake Some Goodies -  Bake some of your favorite cookies and treats. I know my kids love cracking the eggs.  Or you can opt for some simple no-bake treats like these Mint Oreo Truffles or Toffee Crunch No Bake Cookies.
16.  Put on a Play or a Puppet Show - Make some costumes or sock puppets for your play or puppet show.  Video record it for some extra fun watching the action again later.
17. Go Through the Closets and Playroom - Sort out all the toys and clothes you no longer need. Ones that are still usable can be donated.
18. Play in a Rock Band - Make some homemade instruments: pots and wooden spoons for drums or a shoebox and rubber bands for a guitar, and make some noise!
19.  Make Indoor Snow - When it's too cold to play in the snow, make some instead. Try this Glittery Sensory Snow Dough recipe.
20.  Have a Movie Marathon - Pop some popcorn, grab some blankets, and turn on your favorite movies for a day of cozy family fun.

21. Jump on an Indoor Trampoline - It's amazing how much energy kids have, and even more amazing how crazy they can get when they've been cooped up too long.  We have these indoor trampolines
set up next to our laundry room, and whenever the kids start getting particularly stir crazy, I suddenly feel the urge to tackle the pile of laundry.  Two birds with one stone!
22.  Have an Indoor Picnic - Spread a blanket out on the living room floor and make some finger foods for lunch or dinner for your own indoor picnic.  A change in scenery will do the kids good.
23.  Make Dream Collages - Put your old magazines to good use! Have the kids find pictures in magazines to show the things they love now and what they dream of in the future. (Great for grown-ups trying to stick to the New Year's resolutions too!)
24. Make Paper Snowflakes - A simple art project like cutting out paper snowflake is a surprising effective way to keep kids busy. Make it a competition by giving out awards like "Most Unique" or "Most Sparkly."
25.  Plan a Summer Vacation - If you can't get past the cold weather blues, dream of the days when it will be warmer.  Make a list of places you'd like to visit during Summer or your Summer Bucket List.
Did you like these Fun Indoor Winter Activities for Kids ideas?  Find more on my Parenting and Winter boards on Pinterest!
If you liked these Fun Indoor Winter Activities for Kids ideas, you might also like
10 Mom and Son Date Night Ideas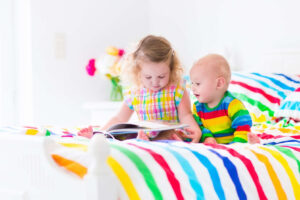 See More Parenting Tips and Ideas
Never Miss a Thing!
Join our newsletter to get new recipes, tips, tricks, and tutorials every week!
Photo credits: DollarPhotoClub.com