Get perfectly straight caulk lines in your bathroom and kitchen with this ingenious household caulking tip.
Make Perfectly Straight Caulk Lines
Last summer, we totally remodeled our bathroom.  Top to bottom, totally gutted.  It was, quite frankly, a mess. But the end result is lovely (stay tuned in the next few weeks for the reveal!).
Mr. Gracious did most of the work himself with some help from family here and there, and as always, he had a few fun tricks that he did along the way.  I wanted to share a very useful one with you today!
Perfectly Straight Caulk Lines
We re-tiled the bathroom: floor, shower, and even a tub surround.  So we needed to finish off the tile by caulking all the edges, corners, and around the tub.
Mr. Gracious started by doing it the traditional way: putting a line of caulk on and smoothing it with his fingers.  It worked well enough.  However, Mr. Gracious is somewhat of a perfectionist, and he didn't like that after all his hard work grouting, he had a slightly messy caulk line.
Enter his ingenious trick.
It's simple really.  Use painter's tape
along to line the edges.
Place the painter's tape
evenly on both sides of your desired section, leaving an adequate gap for the caulk.
Then just caulk as normal and remove the tape when you're done.
Voila! Perfectly straight caulk lines. Matches the grout lines pretty great, right?!
Did you like this Caulking Tip idea? Find more household tricks on my For the Home, DIY, and In the Kitchen boards on Pinterest!
If you liked this Caulking Tip you might also like: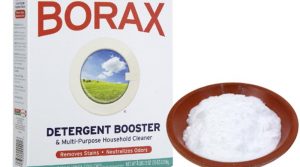 33 Surprising and Fun Uses for Borax
64 Unexpected Uses for Baking Soda
See More Ideas For the Home
Never Miss a Thing!
Join our newsletter to get new recipes, tips, tricks, and tutorials every week!