An amazing but simple Kitty Cat Birthday Cake tutorial that looks seriously impressive, but is really easy to make.  Perfect for the kitty cat lover in your life.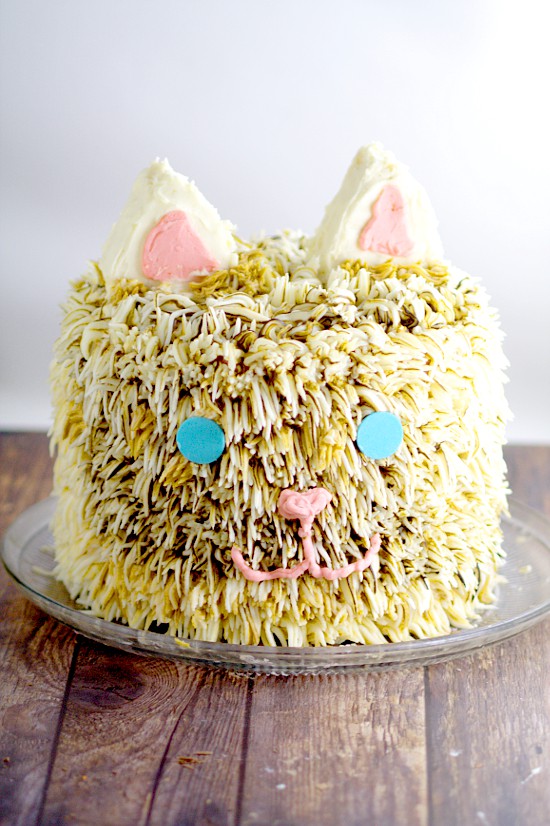 Kitty Cat Birthday Cake
It was our baby Princess' 2nd birthday this past Fall.  She started talking shortly after her first birthday, and let it be known right away that she loved cats.  "Cat" may have been her first word, come to think of it.  In any case, it was pretty clear to me what kind of birthday she needed this year. Kitty cats!
So I wanted to design a kitty cat birthday cake that looked really amazing, but would suit my rather amateur cake decorating skills.  I had the idea to use a "grass"cake decorating tip to make the fur look kind of real, and just make a simple, classic cat face.
 
Supplies to Make Your Own Kitty Cat Birthday Cake
Kitty Cat Birthday Cake Directions
1.  Start by dirty icing or crumb coating your cake, which is basically just adding a thin layer of frosting over the cake to fill in any cracks, gaps, or holes and to keep any cake crumbs from making their way into your final, smooth design. I just use a straight spatula like this one
to make it smooth, and I made it just a little thicker than normal for this cake.  If you want to see it being done, you can check out this video.  It's really very simple.  When you're done crumb coating your cake, pop it back in the refrigerator to chill again for about an hour.
2. While you're waiting for your cake to chill, we'll prep the frosting and the Rice Krispies.  Start by frosting the krispy treats with plain white frosting.  Smooth them out with your straight spatula. Then pop them in the fridge for a minute.
3.  Take about ½ cup of the buttercream, place it in a separate bowl, and add pink food coloring
.  Mix well to combine and transfer to a decorating bag with the Size 5 Round Decorating Tip
attached.
4.  Remove your krispy treats from the refrigerator.  Draw triangles in the center with the pink frosting, then fill in.  Smooth with a flat butter knife or spatula and return to fridge.  Set aside the pink frosting.
5.  Attach your #234 large multi-opening tip
to a decorating bag.  Using your paint brush
and the brown food coloring
, paint 6-8 stripes from the tip to the edge of the bag on the inside.  Fill the bag with as much buttercream as you can handle.  Pipe some of the frosting back into the bowl until the stripes start to appear in the frosting.  That will mean your brown and white shag frosting is ready to go.
6.  When the  cake is done chilling, apply a small amount of frosting to the top to attach the ears on opposite sides of the cake, but facing the same direction.
7.  Using the brown and white frosting bag, begin piping the fur onto the top of the cake by holding your pastry bag at a 90° angle to the cake and piping straight up.  You can check out this video on how to use a multi-opening tip to see it being done.  Continue piping until it's entirely covered.  Then do the same for the sides, all the way around the cake.  If you need to refill your decorating bag, be sure to repeat step 5 so you'll have nice vibrant and similar colors for the whole cake.
8.  Once your kitty cat has her fur, add 2 candy melts for the eyes.
9.  Then grab your pink frosting again. Draw a small heart shape under the eyes, and fill in with the pink frosting.  Then draw the mouth.
Your cake is now ready for the celebration! Be sure to keep refrigerated so that your buttercream won't melt on you!
Did you like this Kitty Cat Birthday Cake tutorial? Find more on my Cakes & Cupcakes, Party Cakes, and Party Ideas boards on Pinterest!
If you liked this Kitty Cat Birthday Cake tutorial, you might also like
Winter ONEderland Snow Princess Birthday Party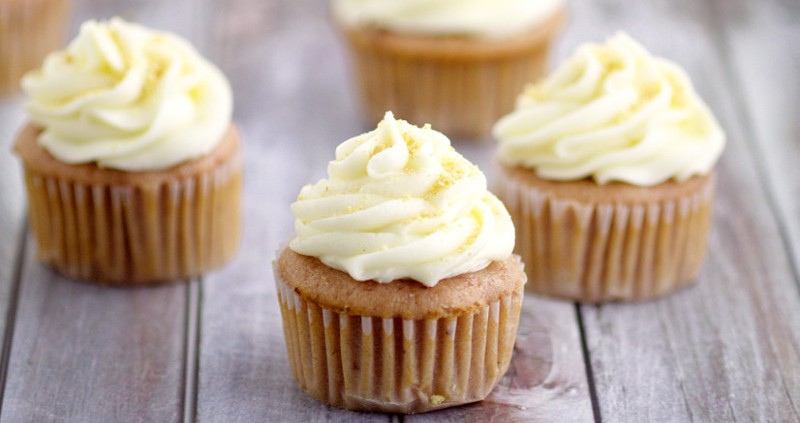 Strawberry Cheesecake Cupcakes
Never Miss a Thing!
Join our newsletter to get new recipes, tips, tricks, and tutorials every week!