Free Printable Ring Pop Valentines that are easy to put together and perfect for kids to hand out at their school Valentine's Day party.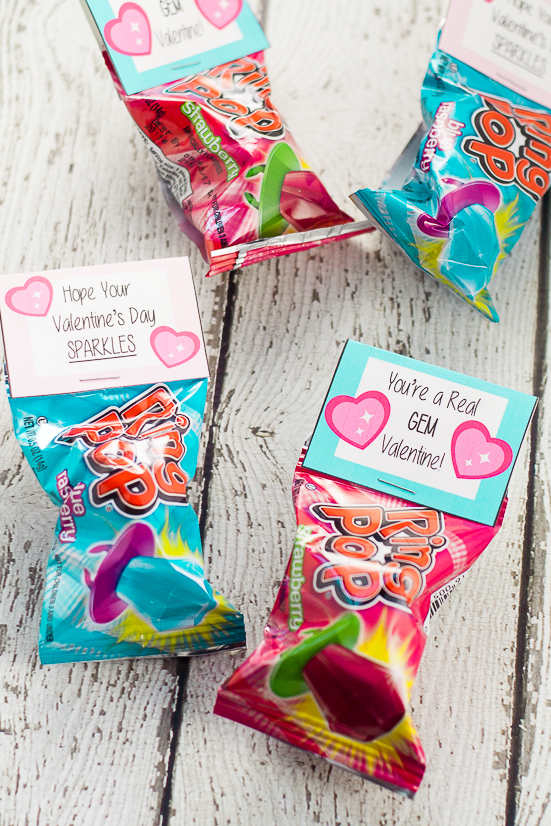 Ring Pop Valentines Printables
For these Ring Pop Valentines Printables, I kept the design super simple. Plus, the Ring Pops are already pre-packaged, so it's one less thing to do!
Follow the directions below to assemble your Valentines, and at the very bottom are directions for downloading.
Printable Ring Pop Valentines Directions
What You Need:
Printable Ring Pop Valentines download (below)
Scissors
1. Download and print your free valentines (see bottom of post) onto white cardstock or computer paper. There are two different valentine designs and 8 valentines per page.
2. Cut out valentines on the lines. Be sure NOT to cut on the center line for folding.
3. Fill out the "To" and "From" on each Valentine, and fold it in half on the line.
4. Place the Valentine on top of the Ring Pop package so that the Ring Pop is between the 2 halves of the Valentine. Staple the whole thing shut. Repeat for remaining valentines.
Enjoy your FREE Ring Pop Valentines!
More Valentines Ideas You'll Love

GET YOUR FREE PRINTABLE RING POP VALENTINES NOW!
You can get your Printable Ring Pop Valentines FOR FREE by filling out the form below! Your valentines will be sent to the email you provide. It will be in PDF format, so make sure you have a PDF reader on your device to view.

Please make sure you check your spam folder if you don't see it! The email should be immediate, but sometimes we run into glitches. If you haven't received your printable pack after an hour or 2, feel free to email me, and I will send it over to you.

These Printable Ring Pop Valentines are copyrighted and for PERSONAL USE ONLY, not to be redistributed. Feel free to send your friends over to get their own copies, though!