Adorable slice-and-bake Rainbow Sugar Cookies that the kids will love.  Fun to make AND eat, and perfect for parties and St Patrick's Day.
Rainbow Sugar Cookies
I'm on a rainbow kick lately! They're so pretty, right?! And my kids just loved these Rainbow Sugar Cookies. We took them to the school party, and they were a big hit there too.
This sugar cookie dough is freezer friendly so you can even make them, freeze them, and slice-and-bake them later.
Supplies to Make Your Own Rainbow Sugar Cookies
Rainbow Sugar Cookies Directions
1.  Start by separating your cookie dough into 6 sections.
2.  Dye your dough into each of the 6 rainbow colors
(red, orange, yellow, green, blue, and purple) by adding a little food coloring to the dough and then kneading it in until the dough is completely dyed.  I used gloves for this part to save my hands from being rainbow too.
3.  Chill your dough for about 30 minutes to an hour.
4.  When your dough is chilled, grab your first color, and roll into a long snake-like shape, about a ½ inch thick.
5.  Grab your second color and roll it out to about ¼ inch thick between 2 pieces of wax paper. Remove the wax paper and wrap the second color dough one time around the first color.  Trim off any excess and pinch the seam together.
6.  Repeat step 5 for the remaining colors.
7.  When your colored dough is all assembled, place on a baking sheet, and return to the fridge for about an hour.
8.  After dough is chilled, remove from fridge and slice into ¼ inch slices.  For rainbows, cut each circle in half.
9.  Bake at 350° for about 5-7 minutes.
Did you like this Rainbow Sugar Cookies tutorial? Find more on my Desserts and St Patrick's Day boards on Pinterest!
If you liked this Rainbow Sugar Cookies tutorial, you might also like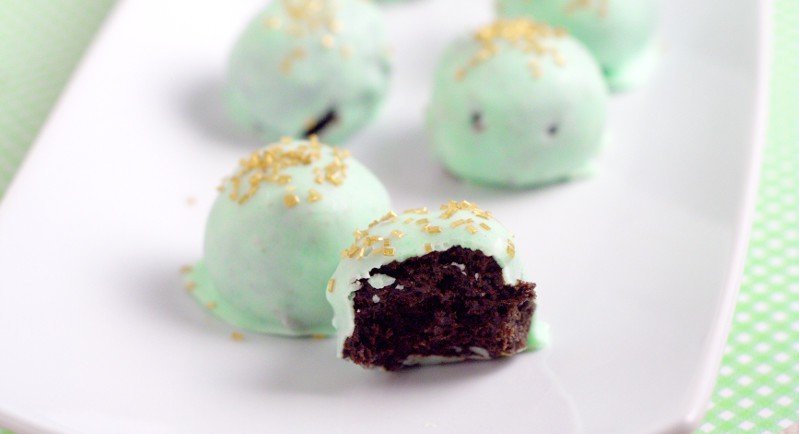 See More St Patrick's Day Recipes and Ideas
Never Miss a Thing!
Join our newsletter to get new recipes, tips, tricks, and tutorials every week!