Back to school time can be expensive! Save a little money, stay under budget, and send your kids back to school in style with these 6 tips to save money on back to school clothes.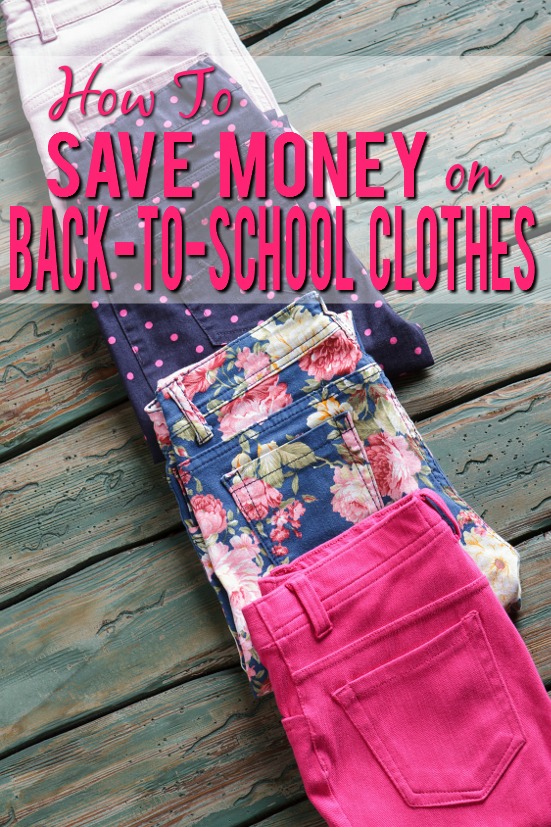 How to Save Money on Back to School Clothes
Between the way kids grow and the way they wear out their clothes playing, by the time a new school year starts they often need a whole new wardrobe! Luckily you don't have to break your budget to clothe your kids this school year. Instead, you just need to use some clever tips and tricks! Check out these handy tips on How to Save Money on Back to School Clothes!
6 Tips to Save Money on Back to School Clothes
1. Mend and Update
The number one way to save money on back to school clothes is to not buy new clothes at all! If you're considering buying your kids new clothes because their current clothes have some damage, see if you can't just mend them instead. Simple tears can easily be sewn, while with bigger damage you may want to consider adding a fashionable patch. Check out these 7 simple fixes for clothing damage for more ideas.  And if you were thinking of getting your kids new clothes because their old clothes aren't "stylish" anymore, why not do a simple DIY to make them stylish? You can easily dye clothes or add a decal to make something old look new!
2. Profit from the Old
What do you usually do with your kids' old school clothes? Donating their clothes is great, but if money is tight and you have the time,  you may want to sell the clothes on ebay or through a local consignment shop instead. Then put the profits from the old clothes toward buying new clothes!
3. Avoid Fancy Name Brands
Some kids, especially teens, may love to wear fancy name brand clothes, either because they love fashion or because of peer pressure. Either way, buying name brand clothes can quickly deplete your budget. Instead, try to stick with more inexpensive brands and get your clothes from stores like Target, Walmart, and Old Navy. As a compromise, you may want to let your kid get just one or two articles of name brand clothing.
4. Buy Used
You often wouldn't believe that the clothes in Goodwill are used, as many look brand new! Garage sales are also a great place to save money on back to school clothes, as other parents are getting rid of old clothes at the same time you're looking for new clothes! And if you prefer to shop online, eBay or Craigslist can be great places to find new-to-you school clothes (other parents are probably looking to make money on their gently used clothes during the same time when you're selling and buying!)
5. Take Advantage of Coupons and Sales
If you're trying to save money on back to school clothes, then you need to really keep an eye out for coupons and sales! Kid clothing sales shouldn't be hard to find during back to school season, but you can usually find clothes that are even further discounted on stores' discount racks, especially if you're shopping very close to the start of the school year. Also remember to check store circulars and your newspaper for any coupons, and double-check RetailMeNot for any other coupons you may have missed!
6. Make Clothes
If you want to save money on clothes for any reason, sewing is a wonderful skill to have! You can easily make a fashionable outfit for much less cost than if you got it in a store, and you can customize it exactly to your kids' tastes! If you're not that skilled with a sewing machine, why not try doing a clothing upcycle project? Old clothes can often be converted into new outfits by cutting parts (turning jeans into shorts), combining different pieces of clothing, or other such creative tasks! People have even made dresses from oversize shirts!
Do you usually go over-budget buying back to school clothes? Tell me your saving tips for the back to school season in the comments!
Did you like these 6 Tips to Save Money on Back to School Clothes? Find more on my Back to School, Parenting, and Frugal Living boards on Pinterest!
If you liked these 6 Ways to Save Money on Back to School Clothes, you might also like
How to Save Money on School Supplies
How to Keep Your Kids Organized This School Year
Never Miss a Thing!
Join our newsletter to get new recipes, tips, tricks, and tutorials every week!