25 Stocking Stuffer Ideas for Men, all under $10.  Fill your man's stocking with goodies he'll love with these fun, practical, and manly Stocking Stuffer ideas for men.
$10 Stocking Stuffer Ideas for Men
Shopping for men is hard, and so is shopping on a budget.  So combine the two together and you have a bit of a mess on your hands.  These stocking stuffer ideas for men are fun, practical, manly, and frugal so you can fill his stocking with goodies he'll love without breaking the bank.
25 Stocking Stuffer Ideas for Men for $10
1.  Sriracha Refillable Keychain
- He can have his favorite hot sauce everywhere he goes with this refillable Sriracha keychain! Full disclosure: It ships empty so you may want to stock up on some Sriracha Hot Chili Sauce
to fill 'er up.
2.  365 Sports Facts-A-Year 2016 Page-A-Day Daily Desk Calendar
- This fun page-per-day sports calendar is perfect for his desk.
3.  Marvel Grid Collage Bi-Fold Wallet
- A new wallet is a great stocking stuffer. And of course, you can the traditional leather wallet route, but isn't this superhero one so much fun?! Superheroes for your superhero.
4.  All-in-One Screwdriver
- Because you can never have too many screwdrivers and this one can do it all. It switches out to Phillips, slotted, and nut driver. Plus all of these pieces are contained in the screwdriver so they don't get lost (We have one in our kitchen drawer, and even I haven't lost any pieces, which is impressive, because I have a tendency to lose everything!).
5.  Headphones
- Go with traditional like these black ear buds
(bottom), or have a little fun with them like these Dots Candy Headphones
(top).
6.  Golf Tees
(top) and Golf Balls
(bottom) - Replenish his stash or get him started with a new hobby.
7.  Car Fresheners
- Give him something to keep his car smelling nice like these Fresh Linen Vent Stick Air Freshener
(left). Or you can go the more natural route with Moso Natural Air Purifying Bag
(right) that can last for up to 2 years!
8.  Stainless Steel Hip Flask & Funnel Set
for those particularly rough days.
9.  Mistral Men's Soap, Sandalwood Bamboo scented
Nothing's better than a clean, nice-smelling man. Get him some nice manly-scented soap to indulge in the shower.
10.  Touch Screen Gloves
- These touchscreen gloves are awesome! They keep your hands warm and you can operate your smartphone or tablet while wearing them. These ones also come in lots of other colors.
11.  Fun Printed Boxer Shorts for Men
- Clean, fresh, non-holey underwear is a win for everyone. Check out some in fun patterns like these Bacon ones.
12.  Tactical Folding Knife
- Pocket knives are a great gift and incredibly useful. Mr. Gracious has one in his pocket pretty much all the time, and I'm always surprised at just how useful it can be.
13.  Magnetic Wristband
- Help him stay organized while he's working on that honey-do list. This magnetic wristband will hold all the screws and nuts and bolts so that he doesn't accidentally lose any pieces.
14.  Portable Phone Charger
- You can charge your phone anywhere with this nifty little gadget! (This one is compatible with most phones)
15.  Wall Mount Bottle Opener
is perfect for a man-cave and this vintage rustic one would even look nice in the kitchen!
16.  Wood Stud Finder
- A simple but effective gadget that he'll love and you will too (Picture hanging, anyone?!).
17.  Thermal Travel Mug
- Is it just at our house or do your travel mugs constantly disappear too? A new (replacement) travel mug so he can get his caffeine fix during his commute.
18.  Pure Badger Shaving Brush
- New shaving gear for a smooth, comfortable shave.
19.  Personalized Square Rocks Glass Tumbler
- A personalized tumbler is the perfect touch for his favorite drink.
20.  Wireless Bluetooth 4.0 Handsfree Headset
- Make sure he's safe in the car and on the go with a bluetooth headset. This one is compatible with most smartphones.
21.  Stainless Steel 4-piece BBQ Tool Set
- Give you master-of-the-grill a new set of tools (Plus, maybe he'll want to cook dinner more often!)
22. Flashlight
- This little flashlight is perfect for a glove-box or drawer. Because you can never have too many flashlights!
23. Retractable Ballpoint Pen
- A nice pen to jot down all of his thoughts.
24.  Aqua Notes
- All of the best ideas happen in the shower. Give him a place to write them down so he doesn't forget with this mountable waterproof writing pad.
25.  Journal
- For the traditional man who would rather write things out than type it up, give him a nice leather journal.
Did you like these Stocking Stuffer Ideas for Men? Find more on my Gift Ideas and Christmas boards on Pinterest!
If you liked these Stocking Stuffer Ideas for Men, you might also like
$25 and Under Gift Guide for Everyone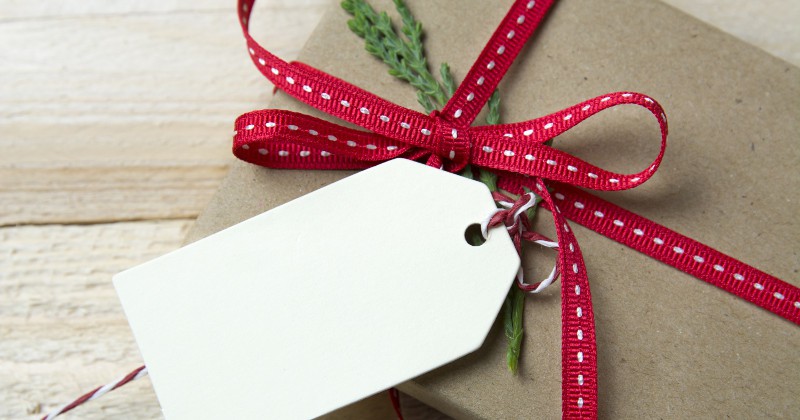 Christmas Gift Planner Printable
See More Gift Ideas
See More Christmas Ideas and Recipes
Never Miss a Thing!
Join our newsletter to get new recipes, tips, tricks, and tutorials every week!