Buy your Christmas gifts on a budget with this $25 and Under Gift Guide for EVERYONE! Gift Ideas for EVERYONE under $25! Him, Her, Babies, Toddlers, Girls, and Boys! Updated for 2015!
$25 and Under Gift Guide for Everyone
Time to start shopping for holidays, if you haven't already! If you're stuck for ideas, this list should come in handy, with ideas for EVERYONE, all under $25.
To view the full product, simply click on the corresponding link!
Disclaimer:  Prices do not include tax or shipping.  Prices were valid and true at the time of writing this post, however prices are subject to change.  The Gracious Wife is not responsible for, nor can we change, any price discrepancies or changes.  
$25 and Under Gift Guide for Everyone
Gift Ideas For Him Under $25
1. MLB 60-Ounce Glass Pitcher
- A pitcher perfect for game day! Comes with the team logo of your choosing $25
2. 3-Piece Grilling Tool Set with Grill Glove
-Grill like a pro with this 3 piece grilling set.  It would go great with the grilling apron below! $22.99
3. Breakfast Sandwich Maker
- This nifty gadget can have a breakfast sandwich ready to go in just 5 minutes! $24
4. Black & Decker AD600 6-Volt Alkaline ¼-Inch Hex Cordless Drill/Driver with Accessory Assortment
- A powerful battery-powered screwdriver.  He can get that honey-do list done twice as fast! $18.61
5. Xacto Basic Knife Set
- A knife set that includes a variety of blades to help him out on almost any project he's working on.  $16.29
6. U.S. Polo Assn. Classic Men's Analogue Black Dial Watch
- A classic analogue watch.  $21.99
7.  Dockers Men's Trifold Wallet
- A handsome real leather wallet, also comes in black. $16.80
8. Single Serve Coffee Maker
- This would be great for anyone really.  Coffee that you don't have to share.  $19.99
9. The Grill Sergeant BBQ Apron
- Get him ready to man the grill with this BBQ apron with handy pockets for tools and sauces.  $14.84
10. Doctor Who Figural Tardis Mug
- Great for any Doctor Who fan, and the lid makes it perfect for a hot winter drink.  $19.49
11. Home Brewing Root Beer Kit
- Great gift for a hobbyist.  $19.99
Gift Ideas For Her Under $25
1. Large Roomy Canvas Tote Purse Travel Bag w/ Attached Coin Purse
-  A large, cute tote that's a great multi-tasker.  You could use it for almost anything: travel, beach, even a diaperbag or a purse.  More colors and styles are available. $23.99
2. 12-Piece Rocket Blender
- A blender, perfect for pureeing or making smoothies.  Comes in additional colors.  $24.99
3. Conair Foot Spa with Vibration and Heat
-  Give the gift of relaxation with this heat-retaining bubbling foot spa.  $24.99
4. Hyzrz Hot Cute Lovely Lady's Kitchen Fashion Flirty Apron for Women with Pockets
- Adorable, flirty apron.  Bake and cook in style with these!  Available in MANY more colors and styles.  $9.66
5. Heshe® 2015 New Women Fashion Waxy Vintage Genuine Leather Rose Pattern Long Wallet
-   A classic zip-around wallet that comes in additional colors.  $24.50
6. Rhinestone Accent Rose Gold Dress Watch
-  A beautiful analogue dress watch that comes in an elegant rose gold.  $19.99
7. Purple three-layer lint jewelry box with drawers
- Help her organize her sparkles with this layered jewelry box with drawers.  $20.99
8. Burt's Bees Tips and Toes Kit
-   Pamper her with this tips and toes nails, hands, and foot care kit.  $11.69
9. The Body Shop Skin Care Set
  - This skin care kit would be a lovely, decadent addition to a nice, relaxing bubble bath.  Also available in different scents.  $18
10. SHANY Professional 13-Piece Cosmetic Brush Set with Pouch - Make her feel beautiful with make-up brush kit that comes with a pouch to keep it organized.  More colors are available.
$12.95
Gift Ideas For Baby Under $25
1. Fisher-Price Cuddle 'n Play Gym, My Little Snugapuppy
 - A gym is a baby must-have.  Snag this awesome deal with adorable lions for the holidays this year.
$22.44
2. Hape Double Bubble
 - This adorable bead maze will help baby develop fine motor skills.  $16.66
3. Tomy Lamaze Musical Inchworm
 - A sensory toy that sings, crinkles, and rattles.  $15.99
4. Nuby Octopus Bath Time Toss
 - Have some fun in the tub with this Octopus hoop toss. $6.99
5. Fisher-Price Bright Beginnings Activity Walker
 - A great toy for babes getting ready to walk.  We have this toy out for our just-turned-one-year-old to play with, but my three and four year olds still love it!  $21.98
6. Infantino Spiral Activity Toy
 Keep baby occupied on the go.  This twisty toy can wrap around the car seat bar or the stroller bar.  It would also work on a shopping cart handle or a high chair at a restaurant!  $11.99
7. Babyjorn Soft Bib, 2 Count
 - This is my kind of bib! Rubber and easy-to-clean with a food catcher to save baby's pants from getting messy too!  $18
8. Bound Keepsake Memory Book of Baby's First 5 Years
 - Give your baby the gift of memories with this keepsake book for the first 5 years. $22.50
9. Kids Preferred Disney Baby Dumbo Melamine Set
and  Skip Hop Zoo Melamine Plate and Bowl Set, Owl
- Feed Baby in style with these adorable plate and feeding sets.  $18.73 and $11.99 (respectively)
10.Burt's Bees Baby Bee Gift Set with Keepsake Photo Box
 - Give baby a little pampering with this skin care kit that comes with a keepsake photo box as a bonus! $19.97
11. Infantino Activity Toy Set
 - A fun rattle and sensory play set.  $10
12. Animal Fun 8 Piece Baby Rattle and Teether Toy Gift Set
 -  Classic rattle and teether set featuring cute, fun zoo animals.  $14.95
13. Munchkin Gone Fishin' Bath Toy - Go fishing in your own home with this fishing bath toy.
$9.99
14. Bright Starts Playful Pinwheels Bouncer
 - Another baby must-have at a steal!  My middle son basically lived in his bouncer for the first three months of his life.  He loved it so much, and it was one of the only things that would keep him from crying.
$19.99
Gift Ideas For Toddler Under $25
1. Mega Bloks First Builders Big Building Bag
 - Big blocks for little hands that are easy to hold and put together.  A greater starter set for building kits.  $15
2. Melissa & Doug Shape Sorting Cube
 - This shape sorter will help your little one with fine motor skills and learning shapes.  $13
3. Fisher-Price See 'n Say The Farmer Says Toy
- A classic animal noise spinner that your little guy will love. $14.99
4. LeapFrog Shapes and Sharing Picnic Basket - My one year old got this for her birthday, and not only does she love, but she has to fight off her brothers to play with it.  A winner for everyone.
$15.39
5. Hungry Hungry Hippos
 - Have a fun family game night with easy-to-play Hungry Hungry Hippos  $13.99
6. Fisher-Price Laugh and Learn Smart Stages Puppy's Smart Train
 - A fun musical train set $22.16
7. LeapFrog Poppin' Play Piano
 - A classic toy that's always a hit.  Get your toddler making some music with his very own piano. $24
8. VTech KidiBeats Drum Set
- Make some noise with this light-up drum set.  $15.79
9. Little Tikes Count 'n Play Cash Register - Teach math and counting, plus imaginary play, with this cash register.
$13.99
10. Melissa & Doug Deluxe Pounding Bench
 - Let them blow off some energy with this durable pounding bench.  $12
 Gift Ideas For Boys Under $25
1. LEGO DUPLO Creative Play All-in-One-Box-of-Fun - Legos are pretty much a childhood must.  My boys play with theirs daily, and this is a great starter set.
$23.99
2. Melissa & Doug Deluxe Mix 'n Match Peg Puzzle 3 Pack Bundle
 -  THREE wooden peg puzzles.  These are very sturdy and a great way to pass the time during the winter months.  $19.99
3. Marvel Avengers Captain America Flying Shield
 - Every little boy wants to be a super hero.  Now he can be Captain America with this play shield!  $14.99
4.  Melissa & Doug Magnetic Car Loader
 - You can pretty much never go wrong buying anything with wheels for boys, and this fun toy has lots and lots of wheels! $17.77
5. Connect 4 Game
 - A fun game the whole family will enjoy! $10.94
6. Tadpoles Dino Playmat Set - A soft dinosaur play mat.  Perfect for all those wrestling matches!
$24.98
7. Nickelodeon, Paw Patrol - On A Roll Marshall
 - Paw Patrol.  Fire Truck.  Two awesome things combined in one.  $19.97
8.  CAT Tough Tracks The Feel of Real Dump Truck
 - It's pretty much a rule that all boys NEED a dump truck.  Or two... Or ten...  You can never have too many dump trucks, right?! $12.99
9. Jake and the Never Land Pirates: Splashin' Bucky Bath Toy
 - Discover adventure and treasure right in your very own bathtub! $11.99
10. Marvel Avengers Hulk Action Figure, 12-Inch
 -  Super hero action figures are an awesome versatile toy.  My boys also play with theirs daily and never get sick of them.  $9.49
Gift Ideas For Girls Under $25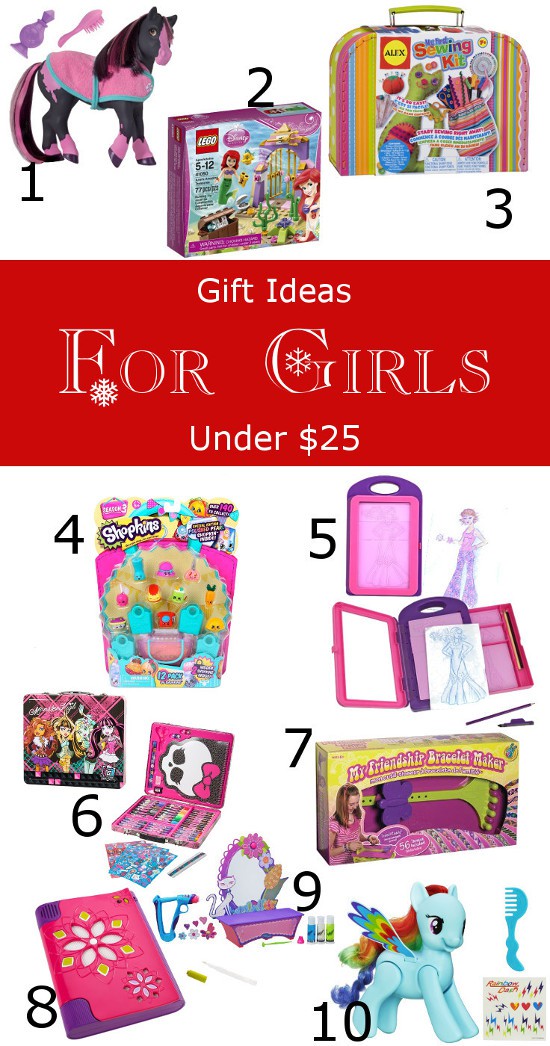 1. Breyer Jasmine Color Surprise Bath Toy - A pony bath toy that changes color in the warm tub.
$15.94
2. LEGO Disney Princess Ariel's Amazing Treasures
 - Disney Princess Lego starter set.  Ariel was always my favorite! $12.59
3. My First Sewing Kit
 - A starter sewing kit that would be great for passing the winter months inside.  $17.99
4. Shopkins Season 3 (12-Pack)
 - Don't forget the popular new shopkins!  $8.95
5. Melissa & Doug Fashion Design Activity Kit
 - Design your own fashion clothes with this cool kit.   $13.59
6. 150pc Kids Art Supplies Set Gift Tin Case Stationary Art and Craft Kit Organizer Drawing Monster High
 -  A Monster High art kit and tote.  The possibilities are endless.  $16.00
7. My Friendship Bracelet Maker Kit
 - An awesome friendship bracelet maker.  I must've made hundreds of these when I was younger! My nieces love making them too.  $19.99
8. My Password Journal
 -  Every girl needs a special place to keep her special thoughts.  $16.40
9. DohVinci Style & Store Vanity Design Kit
$13.99
10. My Little Pony Flip and Whirl Rainbow Dash Pony Fashion Doll Pet
 - Rainbow Dash My Little Pet with brush-able hair.  $16.75
Did you like these $25 and Under Gift Ideas for Everyone? Find more on my Gift Ideas and Christmas boards on Pinterest!
If you liked these $25 and Under Gift Ideas for Everyone, you might also like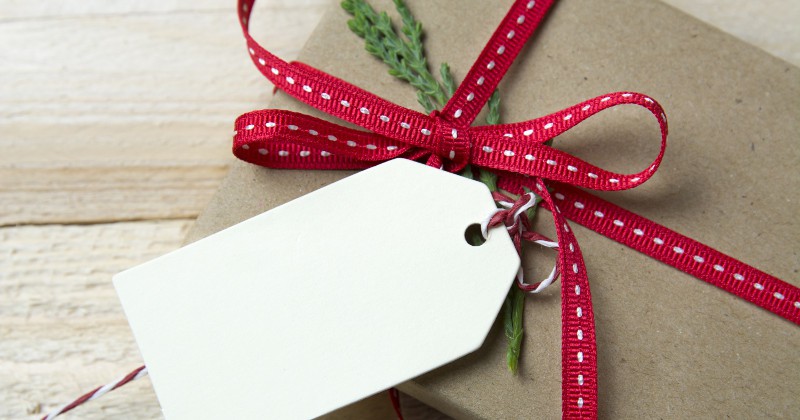 Christmas Gift Planner Printable
Gift Ideas for Kids... That They'll Actually Use
10 Gifts for Friends and Neighbors Under $5
See More Christmas Ideas and Recipes
Never Miss a Thing!
Join our newsletter to get new recipes, tips, tricks, and tutorials every week!