Going camping this Summer?  Make your camping trip the best ever with these 50 clever and useful Tips for Camping this Summer.
50 Tips for Camping This Summer
Are you ready for outdoor fun and camping galore? Camping is one of those activities that can really make or break your summer depending on how well you plan. When it comes to being prepared, it's always better to be over prepared. Here are 50 tips for camping this summer to make your summer great!
Make Camping this Summer Awesome
1. Get a pop-up tent. Pop-up tents are awesome and save a lot of time that could be spent enjoying nature.
2. Bring extra clothes. You never know what mother nature will decide to bring you on your camping trip. Always bring more than enough clothes.
3. Bring extra blankets. It can get really chilly during the night. Make sure to bring more than just your sleeping bag.
4. Remember bug spray. Ticks, mosquitoes, and spiders love to grab a little bite out of you, so stock up on the bug spray.
5. Spray your tent with bug spray when you set it up. You don't want bugs hovering around your sleeping area, so spray away as soon as you set up to keep them away.
6. Always zip your tent up. Even spraying with bug spray won't keep the spiders away, so always keep your tent zipped up.
7. Take two coolers with you. You will want one cooler for drinks and one cooler for food to keep your camping experience less chaotic.
8. Bring a lantern. Flashlights are nice, but a lantern allows you to have more light which makes it a lot easier to camp.
9. Bring trash bags. You never want to litter in the campgrounds, so always bring trash bags to clean up your mess.
10. Remember the wipes. There isn't usually running water to clean up with, so bring some baby wipes for washing hands and bodies.
11. Take hand sanitizer to use. You won't be able to wash your hands after you use the bathroom, so make sure to bring hand sanitizer.
12. Take protein snacks. When you hike through the woods, you can get extra hungry. Be sure to bring extra protein bars, shakes, or foods with you. Or consider a well-rounded trail mix.
13. Always have extra water. Water is a necessity when you are camping. Be sure to bring water with you whenever you leave the tent.
14. Bring a pair of flip-flops. If you have to go to the bathroom in the middle of the night, you don't want to struggle with putting on shoes. Plus, if you do get a chance to shower at the campsite, you'll want to wear them in the shower.
15. Don't wear synthetic garments. Some synthetic garments can easily catch fire, so be mindful of your clothing material.
16. Bring your own fire starter kits. Starting a fire isn't always a piece of cake. Bring cotton swabs with petroleum jelly, small sticks, and dryer lint to help you start your fires.
17. Gather smooth rocks for around the fire. This will help prevent forest fires and keep your fire contained.
18. Prep your meals at home. If you can, do your seasoning, cutting, and prepping at home to save time when cooking over the fire.
19. Use block ice instead of crushed ice. One big block of ice will last a lot longer and keep your food colder.
20. Organize your camping gear. I like to use plastic bins with storage drawers so I can easily and quickly find the things I need while camping.
21. Use a plastic storage bin for your dirty dishes. You won't be able to wash your dishes in the kitchen sink, so bring something to tote them home in.
22. Cook food that is campsite friendly. Look for recipes that are geared specifically for camping out, like these 25 Easy Camping Recipes from Country Living
23. Bring a campfire grill to place over the fire. You can easily find these at stores like Amazon or Walmart, like this one, and it will make cooking, especially for a crowd, much easier.
24. Bring toilet paper. When nature calls, you won't be able to track back to the campsite each time. Keep your toilet paper close.
25. Put your toilet paper in an old plastic coffee can to prevent it from getting wet, or moist outside.
26. Bring sage to throw in the fire. Sage is a natural insect repellent and will keep those pesky bugs away.
27. Save space in your coolers. Pack your cooler before adding ice. Place bottles and jars on the bottom and other stuff on the top to fit more into the cooler.
28. Cool all your drinks in the fridge or freezer a few days before packing your cooler to go camping. This will keep them cooler longer.
29. Keep your clothes warm by putting them in the sleeping bag with you while you sleep. Some mornings can be quite chilly.
30. If all else fails, Doritos can be used for kindling. There is just something the fire loves about Doritos as much as you do.
31. If you want coffee while you camp, pre-make coffee tea bags. Use a coffee filter, put scoops of coffee in it and tie it up with floss. Put in hot water and you have coffee.
32. Do you have kids who may pee the bed? Bring a portable washer. You will need a 5-gallon bucket filled with water and detergent. Put a hole in the bucket lid, stick a plunger in and plunge those clothes clean.
33. You can cook almost anything on the grill with tin foil. So, bring all the tin foil you can!
34. Bring a rake if you have a large family. You can easily cook all your hot dogs at one time on a rake.
35. Make the ground more comfy with a yoga mat. The ground is hard and cold, but you can make it much more comfortable by laying down a yoga mat or foam tiles.
36. Know what poisonous plants look like before you go camping. You want to avoid camping near poison ivy or oak. Start with this simple Poisonous Plants Guide.
37. Use a tick repellent like tea tree oil and water. Spray it on your shoes, clothes, and hair to keep ticks off.
38. Invest in a two person sleeping bag especially if you have a significant other. This saves on space and keeps you both warmer. Check out this one from Amazon.com.
39. Pack a first aid kit. You won't be able to get to medical personnel quickly, so you will want to keep band aids, antibiotic ointment, alcohol swaps, and a wrap.
40. Bring aged cheeses as snacks. Aged cheese can last almost a week without needing to be refrigerated.
41. Gather firewood the first night for the entire time you will be there. This will give you more time to have fun.
42. Freeze gallon jugs of water to use instead of ice. Much like the ice block, it will stay cooler longer.
43. Bring a lot of socks. Whether it's hot and your feet get sweaty or it's cold and wet, you can never have enough socks. Bring multiple pairs of socks for each day.
44. If you are bringing kids, give them boundaries. You want them to explore, but you, also want them to be safe.
45. Use a hanging shoe organizer to keep your campsite kitchen organized. You can use this for other items as well.
46. Use Orajel to stop the itch from mosquito bites and other insect bites. Grab some HERE.
47. Invest in a portable camping organizer that clamps onto a grill, table, or stakes into the ground, like this one.
48. Bring duct tape with you. You never know when you will need it and duct tape can come in handy for anything.
49. Put your clothes in plastic bins with lids. There isn't always enough room for your clothes to be piled in the tent. Plastic bins will protect your clothes even outside your tent.
50. Bring a torch lighter. They make it easier to start fires and don't get lost like regular lighters.
What other tips do you have for camping? Let us know some of the ways you have made camping awesome in the comments below!
Did you like these 50 Tips for Camping This Summer ideas? Find more on my Summer Days board on Pinterest!
If you liked these 50 Tips for Camping This Summer, you might also like
Secrets for Traveling with Toddlers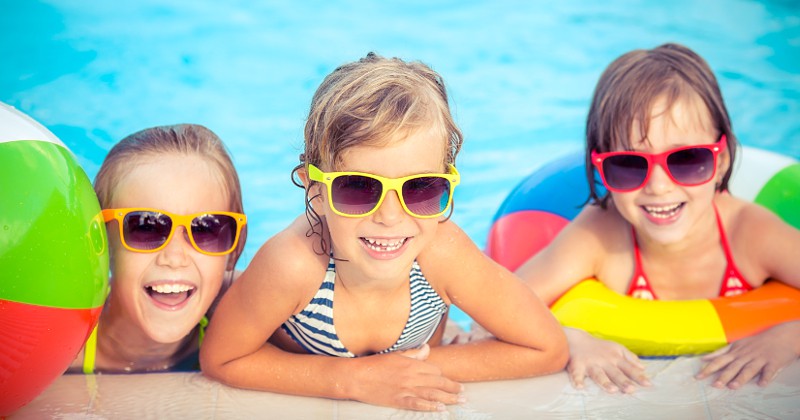 Tips for Making Sure the Whole Family Sleeps Well on Vacation
See More Ideas for Summer Fun
Never Miss a Thing!
Join our newsletter to get new recipes, tips, tricks, and tutorials every week!