The BEST Air Fryer Hush Puppies that are perfectly seasoned, crispy and golden on the outside, but have a soft, warm, savory center. This delicious take on a classic southern comfort food will make you not even miss the deep fryer!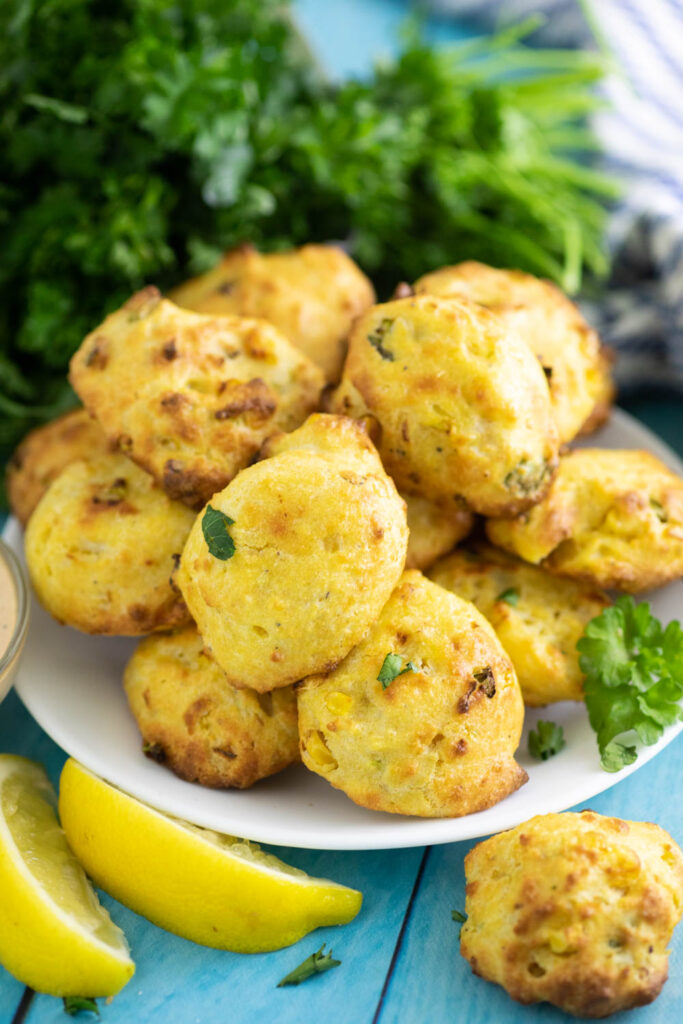 Air Fryer Hush Puppies
Hush puppies are cornmeal bread bites, that are deep fried to achieve a golden crispy exterior.
These Air Fryer Hush Puppies are perfectly seasoned, golden and crispy on the outside, and soft and warm on the inside, all in the air fryer instead of a deep fryer. They remind me of my favorite seafood restaurant, and best of all you can make them right at home!
Plus, these air fryer hush puppies are freezer-friendly so that you can make them in batches and then freeze for later use, making life so much easier!
The Great Sugar Debate 2.0
I know there's some contention about whether hushpuppies should have sugar between Southerners and Yankees. And yes, it's totally regional, and it's definitely up to you! (And yes this is our second sugar debate. Our first one was for Southern Skillet Cornbread)
So if you're on Team No Sugar, you might be scoffing about my addition of 1 tablespoon of sugar in this recipe. But don't run off yet. I'm actually on Team No Sugar, too. The tiny bit of sugar doesn't add much sweetness to this recipe, but it does allow the outside to darken just a little bit more and adds just the right amount of crispy to the outside. You can absolutely omit it, but there won't be much difference flavor-wise either way, as the sugar is more of a texture component here.
If you're on Team Sugar, there's nothing wrong with that! You can add up to ¼ cup sugar to this recipe. After that, I think you're venturing more into cake than hushpuppies. I would not recommend honey to this recipe, as it will make the batter runnier and more difficult to work with in the air fryer.
Air Fryer Hush Puppy Variations
This is a great basic, but certainly flavorful recipe. If you're looking for even more flavor, or even just some variety, try these simple add ins
Louisiana-style hot sauce - This is my favorite kind to use because it adds a little heat without altering the overall flavor
Red Pepper flakes - 1 teaspoon to 1 tablespoon depending on your heat tolerance level
Diced jalapenos - Use about ¼ cup of fresh or pickled jalapenos. You can also use serrano or habanero peppers to up the spiciness even more.
Cheese - ½ cup cheese adds a little more savory-ness to these. I love adding cheddar, but Parmesan would also work nicely.
Cajun or Creole seasoning - add 1 teaspoon for some extra flavor. These will also add heat and saltiness, so you may want to taste before adding any other salt.
How to Keep Air Fryer Hush Puppies from Sticking
Prior to testing this recipe, I was very worried about sticking and dripping. However, my hush puppies ended up only dripping a little bit, even without any of the following precautions. So I recommend doing a small test batch (of 1 or 2 hush puppies) to see how your own air fryer will handle it.
Otherwise, the best method is to trace parchment paper in the shape of your air fryer basket. Place it in the bottom of the basket and scoop the hush puppies on top. Then just air-fry as normal. There are also pre-cut parchment paper rounds that are made specifically for air fryers and have holes to allow air circulation.
You can also use foil similarly to the parchment paper (but not wax paper because it will melt). A light spray of cooking oil can also help if your test batch had problems with sticking.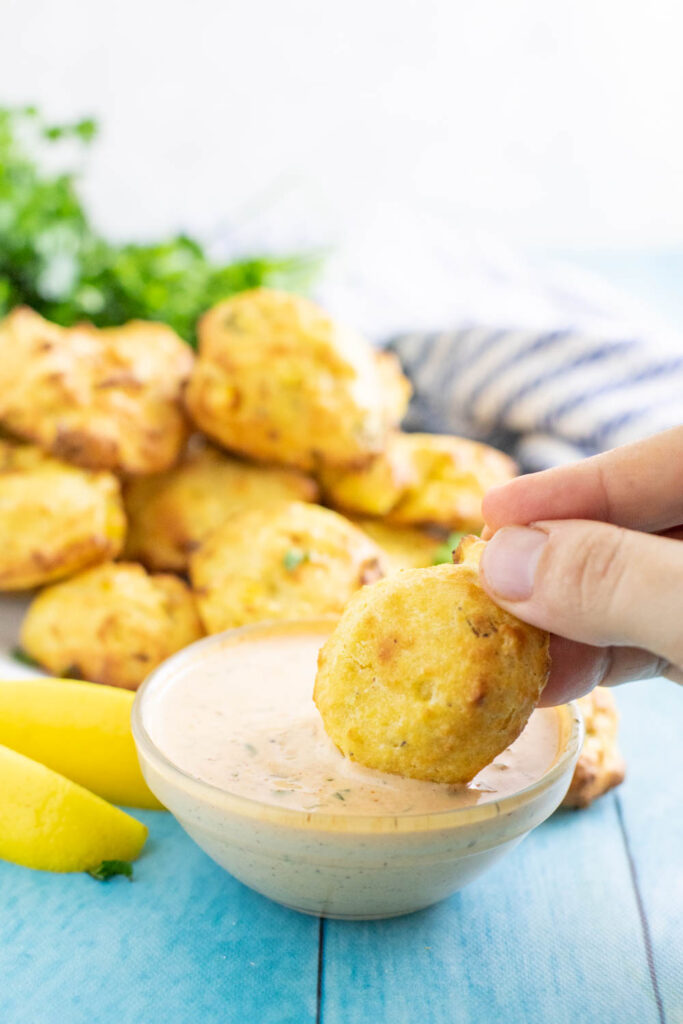 What Goes Well with Air Fryer Hush Puppies?
Traditionally, hush puppies are served with fish, and these air fryer hush puppies will pair perfectly. We also serve coleslaw and classic French fries for the complete meal. Here are a few of our favorite recipes:
Can You Freeze Air Fryer Hush Puppies?
Yes! Cook according to recipe instructions. Then lay out on a baking sheet and place in the freezer for about 1 to 2 hours. Then transfer for a freezer bag and freeze for up to 3 months. To reheat, air fry at 370°F for about 5-10 minutes.
How to Cook Frozen Hush Puppies in the Air Fryer
Cook pre-made frozen hush puppies in the air fryer at 380°F for about 8 minutes. Check for doneness and gently toss. If they are not cooked through and crispy yet, cook for an additional 3-8 minutes.
More Air Fryer Recipes You'll Love
Air Fryer Hush Puppies Video
Air Fryer Hush Puppies
The BEST Air Fryer Hush Puppies that are perfectly seasoned, crispy and golden on the outside, but have a soft, warm, savory center. You won't even miss the deep fryer!
Print
Pin
Rate
Ingredients
1

cup

cornmeal

⅓

cup

all purpose flour

1½

teaspoons

baking powder

1

tablespoon

sugar

½

teaspoon

salt

½

teaspoon

black pepper

½

cup

buttermilk

2

tablespoons

butter

melted

1

large egg

room temperature

⅓

cup

minced onion

4

green onions

minced

⅓

cup

whole kernel corn

2

tablespoons

minced celery
Instructions
In a large mixing bowl, add flour, cornmeal, baking powder, sugar, salt, and pepper, and whisk to combine.

To the flour mixture, add buttermilk, melted butter, and eggs. Whisk to combine.

Fold in remaining ingredients.

Allow batter to rest for 10 minutes at room temperature.

Line inside of air fryer basket with parchment paper.

With a tablespoon or cookie scoop, scoop out dough and make into round balls (as much as possible. You won't be able to roll it, as the mixture will be too wet)

Place inside lined air fryer basket so that they're not touching. (You may need to work in batches.)

Cook in air fryer at 380°F for 5 minutes. Carefully turn them over and cook for an additional 5 minutes. Serve when cooked through and crispy on the outside. 
Notes
Add some spice with a tablespoon or 2 of finely chopped jalapenos. You can also add a couple dashes of Louisiana-style hot sauce or some red pepper flakes to the batter.
Remember all air fryers put off a varying degree of heat, so be sure to check them and cook a few extra minutes if needed.
Buttermilk: If you don't have any buttermilk on hand, use this super easy

buttermilk substitute

.
Sugar: The sugar in this recipe adds some crispy browness to the edges. You can omit it completely if you'd rather, or up the amount to ¼ cup if you're actually a fan of the sweetness.
Corn: Fresh off the cob, frozen, or canned corn all work equally well for this recipe. I like to thaw the frozen, and make sure corn is patted dry to not increase the moisture in the batter.
Storage: Store covered in the refrigerator for up to a week. Reheat in the air fryer at 370

°F for 3-5 minutes until crisp and heated through.

Freezer Directions: After cooking the hushpuppies, freeze flat on a baking sheet. Once frozen, transfer to a freezer bag or container. Freeze for up to 6 months. Reheat from frozen in the air fryer at 390

°F for 4-5 minutes until heated through and crispy.
Nutrition
Serving:
1
hush puppy
|
Calories:
82
kcal
|
Carbohydrates:
12
g
|
Protein:
2
g
|
Fat:
3
g
|
Saturated Fat:
1
g
|
Polyunsaturated Fat:
0.4
g
|
Monounsaturated Fat:
1
g
|
Trans Fat:
0.1
g
|
Cholesterol:
16
mg
|
Sodium:
110
mg
|
Potassium:
114
mg
|
Fiber:
1
g
|
Sugar:
2
g
|
Vitamin A:
113
IU
|
Vitamin C:
1
mg
|
Calcium:
34
mg
|
Iron:
1
mg
Did you make this recipe?
I love seeing your creations. Snap a quick photo and mention @TheGraciousWife or tag #thegraciouswife on Instagram! Leave a STAR rating below!
Never Miss a Thing!
Join our newsletter to get new recipes, tips, tricks, and tutorials every week!