This Copycat Taco Bell Quesadilla Sauce is creamy and spicy and tastes JUST like the original. From a former Taco Bell worker and current Taco Bell lover.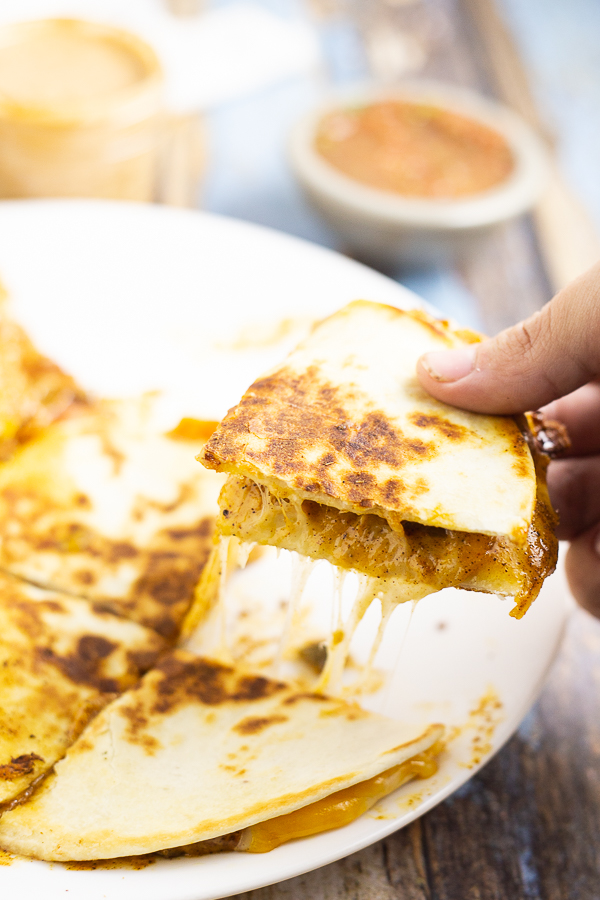 Copycat Taco Bell Quesadilla Sauce
I have a little confession to make.
I LOVE Taco Bell. It's my guilty pleasure. 🙈
I know, I know. It's not even real Mexican food, but I just love it. I actually used to work at Taco Bell in college! Gotta pay tuition somehow!
My favorite go-to item is a cheese quesadilla. The only thing that really makes a Taco Bell quesadilla different from any other quesadilla on the street is the Taco Bell Quesadilla sauce.
AKA - The creamy jalapeno sauce, or CJ sauce, as we used to call it when I worked there.
So, in an effort to save money (as always) and to feel slightly less guilty about the junk-food-factor, I've come up with this copycat Taco Bell Quesadilla Sauce recipe that is 💣
This will satisfy your Taco Bell quesadilla craving and it tastes Just. Like. The original. I swear it.
The Jalapeno Juice
You might notice that the recipe calls for jalapeno juice.
What the heck is jalapeno juice? It's what I'm calling the liquid from a jar of canned/jarred jalapenos. It could also (probably more accurately) be called pickled jalapeno brine.
You don't need to buy it separately. It's just in the can or jar from the jalapenos you're using!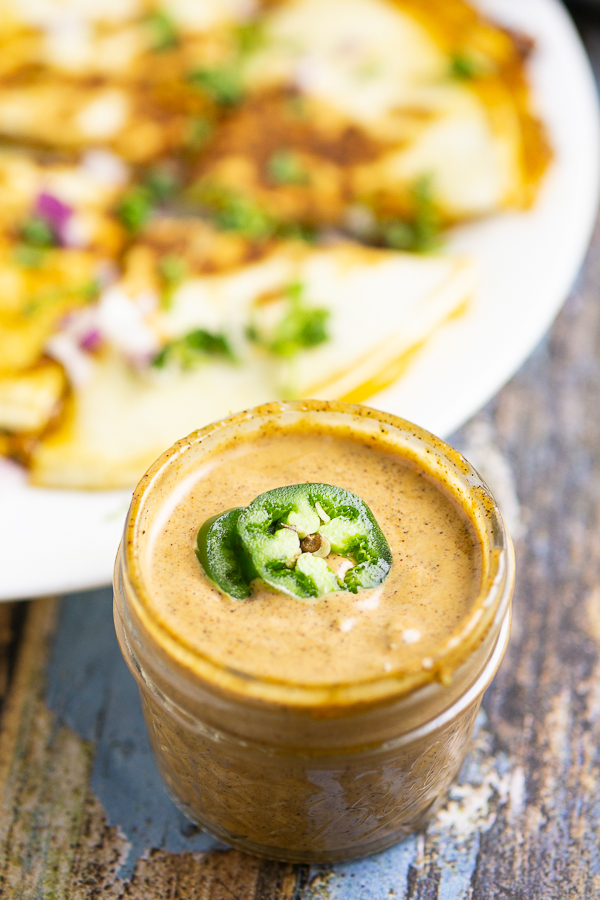 Delicious Quesadilla Add-ins
Even though I love cheese quesadillas best, sometimes it's fun to mix it up. Try these ideas for some fun new flavors.
Ground beef - great way to use up leftover taco meat!
Steak - grill it or fry it in a pan. For the tenderest steak, cook it whole, let rest, then slice against the grain.
Chicken - grill it, bake it, cook it in the slow cooker, or even get it pre-packaged from the store.
Pulled pork - another great use for leftovers.
Black beans and corn - makes a yummy vegetarian, Tex-Mex style quesadilla.
Jalapenos - Spice it up with some spicy peppers. You can also try green chiles, serranos, or habaneros.
Bacon - because you should put bacon on everything.
What Do I Serve with Them?
A simple, fresh green salad is always a winner.
I also like to serve it with sour cream, homemade salsa (I always have some in my fridge because you never know when a salsa craving will strike!), and homemade guacamole.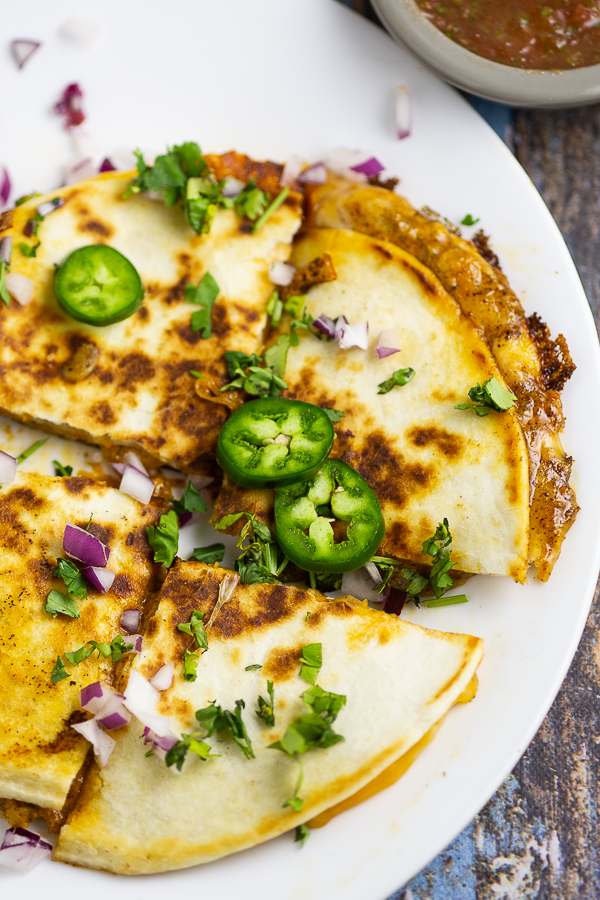 What Else Can You Use Copycat Taco Bell Quesadilla Sauce for?
Maybe you have extra or maybe you just love this stuff. Either way, there's lots of ways to use up this yummy sauce.
Dip - Use it as a dip for chips or just dunk your quesadilla right in.
Taco Sauce - Use it on any tacos or fajitas.
Burrito Bowl - A little drizzle on a burrito or taco bowl will add just the right amount of creamy kick.
Burgers - Use it instead of mayo on a burger piled high with your other favorite toppings, like fresh jalapenos, avocado, and cheese.
Chicken Tenders - Maybe not the most refined plate choice, but still yummy on occasion. Dip in the creamy jalapeno sauce for a spicy kick.
Nachos - Drizzle it on top with cheese and all your favorite toppings.
Sour cream substitute - use it in place of sour cream in your favorite Tex-Mex or Mexican inspired recipes, like the filling in these Green Chile Chicken Enchiladas.
More Mexican Inspired Recipes You'll Love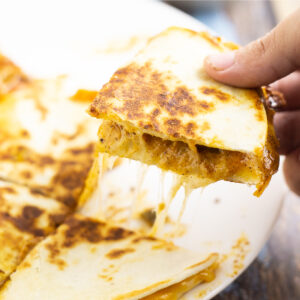 Copycat Taco Bell Quesadilla Sauce
Cheese Quesadillas with Copycat Taco Bell Quesadilla Sauce tastes JUST like the original. From a former Taco Bell worker and current Taco Bell Quesadilla addict.
Print
Pin
Rate
Ingredients
¼

cup

mayo

2

tablespoons

minced pickled jalapeno slices

1

tablespoon

juice from jarred jalapenos

½

teaspoon

chili powder

½

teaspoon

cumin

¼

teaspoon

garlic powder

⅛

teaspoon

cayenne
For the quesadillas
½

tablespoon

butter or oil

½

cup

shredded cheese

per quesadilla

2

flour tortillas

(or one large burrito size) per quesadilla
Instructions
Add all sauce ingredients to a medium mixing bowl. Whisk until combined.

Cover and chill in the refrigerator for at least 2 hours or until ready to use.
To Make Quesadillas
Add butter or oil to a skillet and heat over medium heat.

Assemble quesadilla(s): Layer a tortilla, shredded cheese, add-ins (see notes above), and 2 tablespoons quesadilla sauce.

Cook in hot skillet until both sides are golden and cheese is melted (about 5 minutes).
Notes
Nutrition facts are for the quesadilla sauce only. One serving is two tablespoons (2 T), or about 30g.
This recipe is naturally keto, gluten free, and dairy free.
If you have a food processor, you can throw all of the ingredients in for the sauce, mix it up, and it's done.
Do I have to chill it? No, you can eat it right away if you can't wait. But it's really best after the flavors mingle, so I highly recommend chilling at least 2 hours if possible.
Grate your own cheese! Pre-shredded cheese has powder to help it not stick together, so freshly grated cheese melts so much smoother and gooier!
Cover your quesadillas while you cook them to steam them and make sure the cheese melts all the way through. 
Storage: Store covered in the refrigerator for up to 2 weeks.
Nutrition
Serving:
2
tablespoons
|
Calories:
103
kcal
|
Carbohydrates:
0.5
g
|
Protein:
0.1
g
|
Fat:
12.1
g
|
Saturated Fat:
1.5
g
|
Polyunsaturated Fat:
7
g
|
Monounsaturated Fat:
2.5
g
|
Trans Fat:
0
g
|
Cholesterol:
10
mg
|
Sodium:
137.3
mg
|
Potassium:
22
mg
|
Fiber:
0.2
g
|
Sugar:
0.2
g
|
Vitamin A:
120
IU
|
Vitamin C:
2.25
mg
|
Calcium:
16.9
mg
|
Iron:
0.3
mg
Did you make this recipe?
I love seeing your creations. Snap a quick photo and mention @TheGraciousWife or tag #thegraciouswife on Instagram! Leave a STAR rating below!
UPDATE INFO: This post was originally published in September 2014. It has been updated and republished in September 2020 with new pictures, tips, and video.
Never Miss a Thing!
Join our newsletter to get new recipes, tips, tricks, and tutorials every week!