Free up your oven with this simple and classic Crockpot Stuffing! A traditional recipe with onions, celery, and herbs, cooked to perfection in the slow cooker!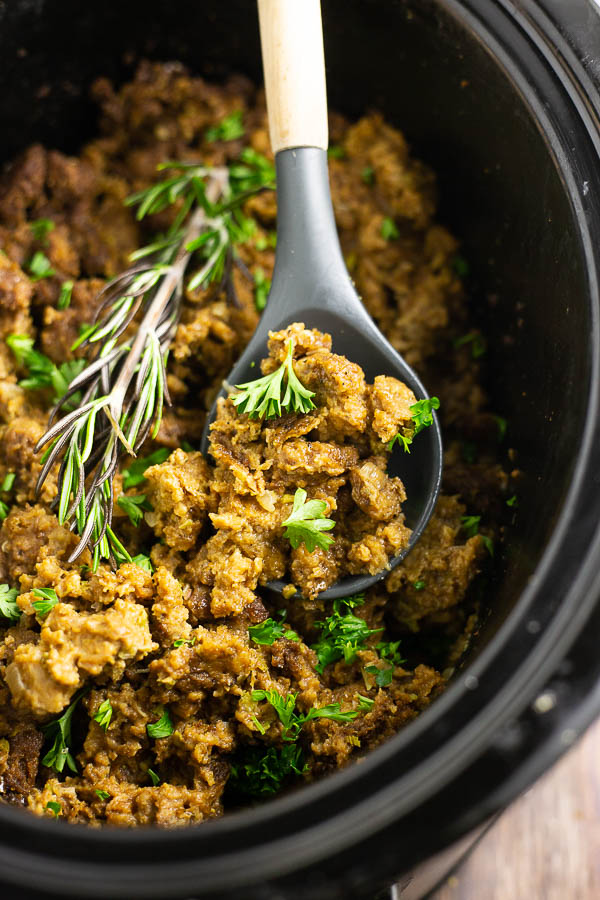 Crockpot Stuffing
My grandma makes the best stuffing. Seriously, like, ever. I normally don't care for stuffing, but hers... I could eat it for days (and frequently do after holidays!)
But my grandma's stuffing recipe wasn't written down! So I've watched her do it about a dozen times, and finally I've been able to replicate it. I shared her original traditional stuffing recipe here. This Crockpot Stuffing is her famous, amazing, loved recipe turned slow cooker!
Crockpot stuffing is amazing for the holidays because it tastes just like your favorite traditional stuffing, but it also frees up your oven for the turkey!
This Crockpot Stuffing recipe includes classic ingredients such as celery and onion for fresh pops of crunchy flavor, butter, and herbs, coming together to make the best stuffing you've ever tasted.
What's the Difference Between Stuffing and Dressing?
Is there even a real difference between stuffing and dressing at all?!
One difference between stuffing and dressing is geographical region. If you're from south of the Mason-Dixie line, you probably call it dressing. Whereas, it's typically referred to as stuffing in the more northern states.
There is also one major technical difference.
Stuffing is cooked inside the turkey (i.e. stuffed in the bird! Get it?!). On the other hand, dressing is cooked outside the turkey, typically in some sort of baking or casserole dish.
So long story short, there is technically a difference in cooking methods for stuffing and dressing. But generally, you can use the words interchangeably, and we'll all still know what you're talking about.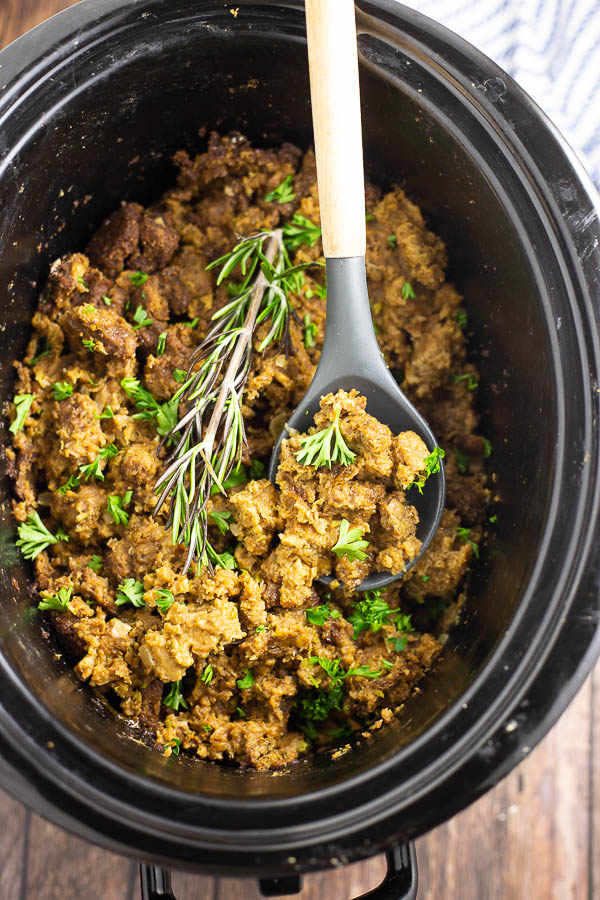 How to Dry Bread for Stuffing
In my experience the best method of making dried bread cubes is tearing the bread into bite-sized bits, laying it out on a baking sheet or large casserole dish, and letting it sit there for 2-3 days, tossing it or stirring it every once in a while to make sure all the pieces get air time.
You can also use store-bought bread cubes.
If you're like me and you often forget to do either of those things, and now you have to make the stuffing, like TODAY, you can also use the oven method.
To quickly dry out your bread, tear it in bite-sized pieces, and lay it out on a baking sheet (you may need to do this in batches!). Then toast it in a 275°F oven for about 40-50 minutes, stirring halfway through, until bread is hard and dry (but not burnt).
To Convert Any Stuffing Recipe into Crockpot Stuffing
You can actually convert any recipe into a slow cooker version. You just need to make a few simple tweaks. So if you have a favorite stuffing recipe that you don't want to let go of, but you still want to free up your oven, try this:
Up the amount of eggs to at least 1 egg per one pound loaf of bread
Use about 25% less liquid (so if your recipe calls for 1 cup liquid, use ¾ cup)
Butter the inside of the slow cooker to prevent sticking
Slow cook on HIGH for 30 minutes, then LOW for an additional 3-4 hours.
More Holiday Recipes You'll Love:
Crockpot Stuffing
Free up your oven for the turkey with this moist, tender, crispy, and cozy Crockpot Stuffing recipe. An instant sanity-saving holiday classic.
Print
Pin
Rate
Ingredients
12

cups

dried bread cubes

½

cup

chopped onion

1

cup

chopped celery

1¾

cup

chicken or turkey stock

4

tablespoons

butter

softened

1

teaspoon

poultry seasoning

½

teaspoon

sage

1

teaspoon

salt

½

teaspoon

black pepper

2

eggs

beaten
Instructions
In a large baking dish, toss together bread cubes, celery, and onions.

Add stock to the bread mixture and gently squeeze the mixture together with your hands to wet all of the bread.

Place the softened butter in small pats on top of the wet bread mixture and gently work in with your hands.

Add poultry seasoning, sage, salt, and pepper and work into the mixture until incorporated. Taste to test seasoning, and adjust if necessary.

Add beaten eggs and mix in until incorporated.

Transfer stuffing mixture to a buttered slow cooker.

Cook on HIGH for 30-45 minutes. Then switch to LOW and cook for an additional 3-4 hours.

Serve when done, or switch slow cooker to warm until ready to serve.
Notes
Customize your stuffing! We almost always add finely chopped gizzards to our stuffing, added at the same time as the eggs. You can add different meats, cheeses, and herbs to make it your own. Check out these yummy stuffing variations.
Do NOT lift the lid while cooking, as tempting as it may be! It will make it take longer to cook as the heat will escape, and it doesn't need stirring anyway!
A large (6 quart or more!) slow cooker is best with this amount of stuffing. Consider opting for a programmable Crock Pot like this one since holidays get chaotic. Then you won't have to think about it, and it won't be overcooked.
Bread needs to be damp but not soaking. See my video for my grandma's "squeezing out" technique.
Keep slow cooker on warm until ready to serve.
Make Ahead: Prepare the stuffing from steps 1-5 up to 24 hours before. Then cover and refrigerate until ready to cook. Don't transfer to the slow cooker until ready to cook (a cold slow cooker will increase the cook time by a lot). Increase cooking on HIGH to about 1 hour, then reduce to low and continue with the recipe.
If you'd like to try my grandma's original stuffing recipe, find it here.
Nutrition
Serving:
1
serving
|
Calories:
301
kcal
|
Carbohydrates:
43
g
|
Protein:
11
g
|
Fat:
10
g
|
Saturated Fat:
5
g
|
Monounsaturated Fat:
0
g
|
Trans Fat:
0
g
|
Cholesterol:
56
mg
|
Sodium:
991
mg
|
Potassium:
215
mg
|
Fiber:
4
g
|
Sugar:
6
g
|
Vitamin A:
298
IU
|
Vitamin C:
1
mg
|
Calcium:
134
mg
|
Iron:
3
mg
Did you make this recipe?
I love seeing your creations. Snap a quick photo and mention @TheGraciousWife or tag #thegraciouswife on Instagram! Leave a STAR rating below!
UPDATE INFO: This recipe was originally published in October 2015. It has been updated with new pictures, video, and detailed instructions in October 2019.
Never Miss a Thing!
Join our newsletter to get new recipes, tips, tricks, and tutorials every week!