A classic, traditional Thanksgiving stuffing that is perfectly moist and perfectly seasoned with onion, celery, and sage. It will be the star of your feast, and the only stuffing recipe you'll ever need!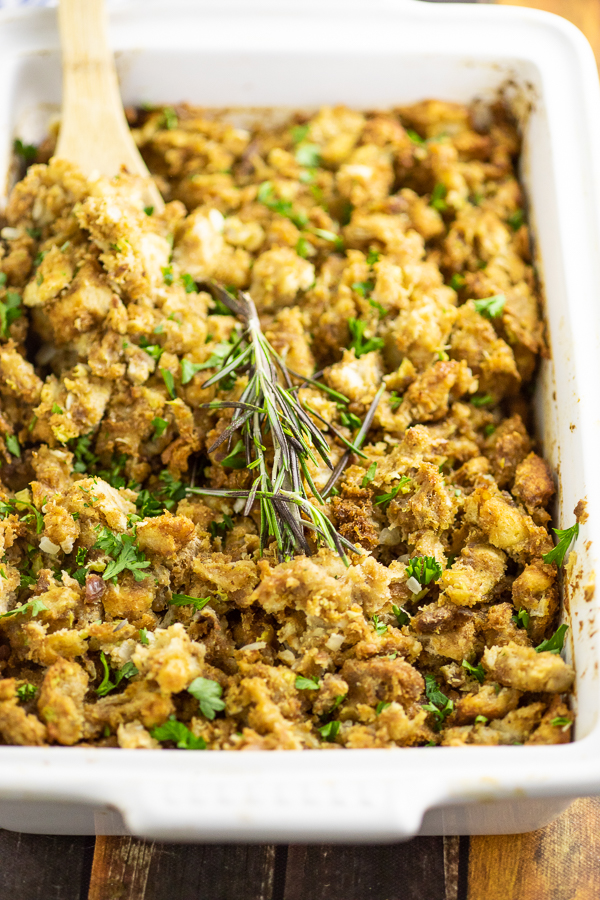 Best Traditional Thanksgiving Stuffing
When it comes to a traditional Thanksgiving feast, the turkey plays second fiddle to the stuffing. And if you don't think so, maybe it's because you've never had my grandma's classic stuffing recipe.
My grandma makes the BEST stuffing. No joke. It's amazing. Everyone that I've ever come across that has said, "I don't like stuffing," (myself included) has liked my grandma's stuffing. And it's literally the ONE thing that has to be at all of our family holidays. You can change the meat, you can change the dessert, but there has to be grandma's stuffing. It's perfectly moist and perfectly seasoned.
While this traditional Thanksgiving stuffing is pretty much a classic stuffing recipe, she had two kind of strange techniques that apparently make all of the difference. I'll tell you the tricks here, so pay attention!
Is it Stuffing or Dressing?
Technically, it's dressing since we're not "stuffing" the bird with it (get it?!). But calling it stuffing or dressing is also regional. I discuss that more here.
If you're here, for a Southern Cornbread Dressing situation, head over here because this is not that recipe.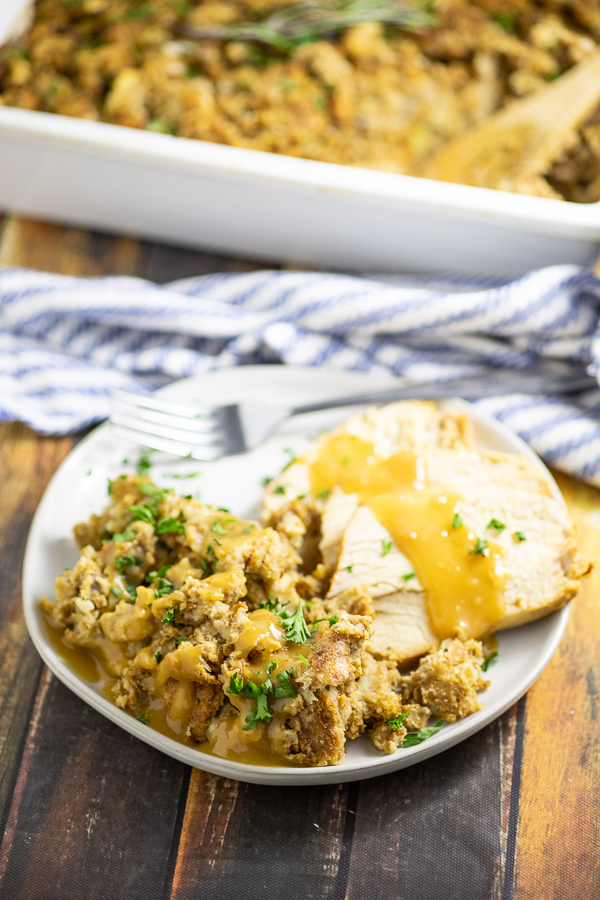 Can I Stuff This Inside My Turkey to Bake?
Yes, you can bake this stuffing inside of a turkey. The internal temperature of the stuffing itself will need to reach 165-degrees Fahrenheit to be safe to eat. The interior of the turkey and the stuffing will be the last to reach this temperature, increasing your overall cooking time and making your white meat greater than 165 degrees, potentially drying it out.
It is easier (and probably better for your turkey) to cook your stuffing separately in a baking dish (or in a slow cooker! Check out how to cook any stuffing in the Crock Pot here!)
What Kind of Bread Should I Use for Stuffing?
For this recipe, I always just use half white sandwich bread and half wheat sandwich bread, cubed and stale or dried.
You can also use French or sourdough for a little bit stiffer stuffing.
What Else Can I Add to the Stuffing?
Stuffing can be personalized to basically anything your heart desires! You can go a little sweet, you can go a little savory, or if you're brave a little mix of the two. I have an article about fun and tasty add-ins for stuffing that's definitely worth giving a read. Here are some other quick ideas.
Cheese - From cheddar to Parmesan to smoked Gouda, a little cheese can add just the right amount of creaminess and decadence.
Sausage - Sage sausage, smoked sausage, chorizo, apple sausage,... sausage adds a savory element that brings it to the next level.
Dried fruit - dried cranberries, cherries, or golden raisins are the perfect way to add a little sweetness
Veggies - Red peppers, jalapenos, mushrooms, and butternut squash are all great fresh ways to add some extra flavor to the stuffing.
Get more ideas here
Can I Make this Thanksgiving Stuffing Ahead of Time?
Yes! You can prep this up to 2 days before without baking, and store covered in the refrigerator. Your bake time will need to be increased by about 10-20 minutes to account for the dish going in the oven cold.
You can also try my Crock Pot Stuffing recipe, as it's still our family favorite, only it frees up the oven!
Grandma's Weird Stuffing Making Technique
Okay. I know this is weird. But my grandma's stuffing is the best stuffing you could ever taste, hands down. So we will continue to do it this way because who can dispute the best stuffing maker ever. Certainly not me.
Anyway. What she does is slightly over moisten the bread with liquid, then squeeze it out in balls. You can see this method in the video below also.
More Thanksgiving Recipes You'll Love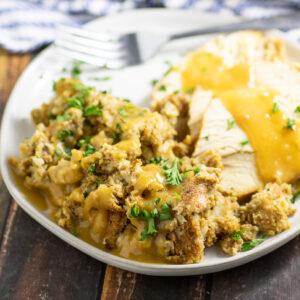 Traditional Thanksgiving Stuffing
A classic, traditional Thanksgiving stuffing that is perfectly moist and perfectly seasoned with onion, celery, and sage. It will be the star of your feast, and the only stuffing recipe you'll ever need!
Print
Pin
Rate
Ingredients
2

large loaves of bread

(about 2 pounds) cut into cubes, stale or dried

2-3

cups

water or turkey/chicken broth

½

cup

finely chopped onion

½

cup

finely chopped celery

1

teaspoon

dried sage

½

teaspoon

poultry seasoning

Salt and pepper to taste

4

tablespoons

butter

room temperature

2

eggs

beaten

Giblets from turkey

finely chopped (optional)
Instructions
Butter a 9"x13" baking dish.

In the baking dish, toss together bread cubes, celery, and onions.

Add broth or water to the bread mixture and gently squeeze the mixture together with your hands to wet all of the bread, squeezing out any excess.

Add sage, poultry seasoning, salt, and pepper and work into the mixture until incorporated. Taste to test seasoning, and adjust if necessary.

Add softened butter in small pats, beaten eggs, and giblets (if using) and gently work in with your hands until incorporated.

Bake in the 350°F oven for 40-60 minutes, covering halfway through if stuffing is browning too much.
Notes
Giblets are not included in nutrition facts.
To Dry Your Bread in the Oven: First cut into cubes. Then transfer to a baking sheet or casserole dish. Bake for about 15 minutes in a

350°F oven, tossing if necessary, until crisp. You may need to use multiple baking sheets or do it in batches.

To Stuff in Your Turkey: Be sure to cook your turkey until the internal temperature of the stuffing itself reaches 165

°F. Be aware that this will increase the cooking time of your turkey.

Make Ahead: You can prepare this stuffing, without baking and store covered in the refrigerator for up to 2 days. The baking time will increase by about 10-20 minutes to account for the cold dish.
Storage: Store leftovers covered in the refrigerator for up to 5 days. Reheat in the microwave.
Freezer Directions: Freeze baked stuffing for up to 3 months. Thaw overnight in the refrigerator. Reheat it in a 350°F oven for 30-40 minutes, or until warmed through, before serving.
Nutrition
Serving:
1
serving
|
Calories:
190
kcal
|
Carbohydrates:
29
g
|
Protein:
7
g
|
Fat:
5
g
|
Saturated Fat:
2
g
|
Polyunsaturated Fat:
1
g
|
Monounsaturated Fat:
1
g
|
Trans Fat:
1
g
|
Cholesterol:
28
mg
|
Sodium:
437
mg
|
Potassium:
151
mg
|
Fiber:
3
g
|
Sugar:
4
g
|
Vitamin A:
135
IU
|
Vitamin C:
3
mg
|
Calcium:
87
mg
|
Iron:
2
mg
Did you make this recipe?
I love seeing your creations. Snap a quick photo and mention @TheGraciousWife or tag #thegraciouswife on Instagram! Leave a STAR rating below!
Never Miss a Thing!
Join our newsletter to get new recipes, tips, tricks, and tutorials every week!